Qualifying - Hamilton and Vettel on Austin front row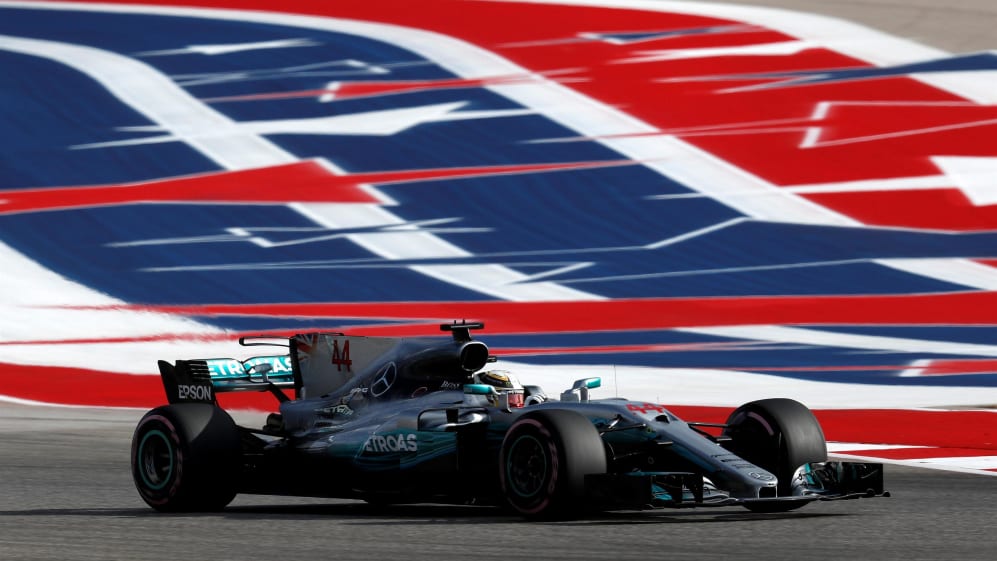 Lewis Hamilton eased to pole for Mercedes in Saturday's qualifying for the 2017 Formula 1 United States Grand Prix, but Sebastian Vettel will have every chance of keeping his title hopes alive tomorrow after putting his Ferrari second on the grid, three-tenths down on the championship leader.
In the second Mercedes Valtteri Bottas took third, ahead of Daniel Ricciardo and Kimi Raikkonen, who set identical times for Red Bull and Ferrari respectively. Max Verstappen, facing a 15-place grid penalty, was sixth, followed by Force India's Esteban Ocon.
Carlos Sainz was eighth in his first qualifying session for new team Renault, while McLaren's Fernando Alonso and Force India's Sergio Perez completed the top ten.
As it happened – Q1
As Hamilton lapped in 1m 34.822s in windier conditions in Q1, to pip Verstappen's 1m 34.899s, it looked for a moment as if rookie Brendon Hartley would get through to Q2 in his Toro Rosso. But in moments his 1m 36.889s lap was displaced and he dropped from 15th to 18th.
As Haas's Romain Grosjean, having survived a near miss with Williams' Lance Stroll, made it through to 15th place, the fallers were Marcus Ericsson on 1m 36.842s for Sauber, Stroll on 1m 36.868s with an engine problem, Hartley, Pascal Wehrlein who had set a very good first time to go fastest initially but thereafter only improved slightly to 1m 37.179s for Sauber, and Kevin Magnussen, on 1m 37.394s for Haas.
Stewards penalised Magnussen with a three-place grid drop for impeding Perez after Haas mistakenly told him that the Force India behind was not on a fast lap. Stroll was given the same penalty for impeding Grosjean, with the stewards noting that Williams should have given their driver more warning of the Haas's approach.
As it happened – Q2
Mercedes set a huge pace in the second phase, in the 1m 33s thanks to Hamilton and Bottas; they both improved again towards the end, when Raikkonen joined them but Vettel couldn't break the 1m 34s. Ricciardo, Verstappen, Perez, Sainz, Alonso and Ocon followed.
In the closing stages drivers went up and down the order, but when the music stopped it was Felipe Massa who had the 11th chair for Williams with 1m 35.155s, ahead of Daniil Kvyat's Toro Rosso on 1m 35.529s, Stoffel Vandoorne's McLaren on 1m 35.641s and Grosjean's Haas on 1m 35.870s. Nico Hulkenberg did not record a lap for Renault, saving his new engine for the race.
As it happened – Q3
Hamilton kept up the pace with 1m 33.108s on his first run on Q3, though Bottas set a faster first sector time. The Finn dropped back on the other two, however, but was second on 1m 33.568s as Raikkonen, Vettel and Verstappen were all right together, on 1m 33.852s, 1m 33.867s and 1m 33.868s respectively. Ricciardo was sixth, on 1m 34.130s.
Vettel was the big improver with 1m 33.347s on the second runs, jumping to second ahead of Bottas, who did not protect his team mate as he failed to go faster. Neither did Hamilton, with 1m 33.229s, but 1m 33.108s was good enough for his 72nd pole.
Behind Bottas in third place, Ricciardo did a great job to beat Raikkonen, though they shared the same lap time of 1m 33.577s, while Verstappen could only muster 1m 33.658s on this occasion, for sixth.
Ocon yet again showed his class with 1m 33.647s for seventh ahead of Sainz, who was delighted to place eighth on his Renault debut with 1m 33.852s.
Alonso couldn't quite make the 1m 33s, and was ninth on 1m 34.007s, as Perez completed the top 10 for Force India with 1m 34.148s. In addition to Magnussen and Stroll, several other drivers already have grid penalties for Sunday's race, all for use of additional power unit elements: Verstappen, 15 places; Hulkenberg, 20 places; Hartley, 15 places; and Vandoorne, 5 places.
The provisional grid, after penalties:
Hamilton, Vettel; Bottas, Ricciardo; Raikkonen, Ocon; Sainz, Alonso; Perez, Massa; Kvyat, Grosjean; Ericsson, Vandoorne; Wehrlein, Stroll; Verstappen, Magnussen; Hulkenberg, Hartley.