Report
QUALIFYING: Hamilton beats Vettel to pole at rain-hit Spa
As the rain that's been threatening all weekend finally arrived at Spa-Francorchamps, Lewis Hamilton mastered the difficult conditions to take pole for Mercedes ahead of his main title rival, Ferrari's Sebastian Vettel, while Esteban Ocon and Sergio Perez completed a dream day for the new-look Force India by locking out the second row of the grid.
With rain arriving for Q3 following two dry segments, Hamilton kept his cool to claim his fifth pole at Spa and surpass Juan Manuel Fangio and Ayrton Senna's qualifying records at the historic Belgian circuit.
In an incredible day for Force India, the two pink cars ended up P3 and P4 ahead of the Haas of Romain Grosjean and the second Ferrari of Kimi Raikkonen, with the Finn missing out on gunning for pole after an apparent strategic mistake from his team that left him consigned to the garage.
With conditions improving as the session progressed, the Red Bulls of Max Verstappen and Daniel Ricciardo - both running low-drag set-ups - were stuck in a disappointing seventh and eighth, ahead of the Haas of Kevin Magnussen and the second Mercedes of Valtteri Bottas - although P10 on the grid on race day will be occupied by Toro Rosso's Pierre Gasly, with both Bottas and Renault's Nico Hulkenberg set to start from the back of the grid after taking engine penalties.
Q1 – SAINZ OUT EARLY AS RAIKKONEN GOES QUICKEST
Risk of rain was called at 90% ahead of the session, but it was amid bright sunshine that the cars headed out onto the 7.004km track. Raikkonen put down a strong early marker, banging in a 1m 42.484s on his first flying lap on the soft tyres. It was an effort that wasn't to be beaten, while Bottas was second, around three-tenths off Raikkonen, and Hamilton third.
It was an edgy session for Red Bull's Daniel Ricciardo, who was forced to make two attempts on the fastest supersoft tyres to be comfortable enough to make it through into Q2. He managed it, however, ending up P7 and behind the Haas of Romain Grosjean, while the main casualty from Q1 was the man Ricciardo will replace at Renault for 2019, Carlos Sainz, with the Spaniard ending up P16, and complaining of a lack of rear grip.
Out with Sainz went his fellow countryman Fernando Alonso, the two Williams of Sergey Sirotkin and Lance Stroll in P18 and P19, while the miserable home showing continued for Stoffel Vandoorne, with the Belgian having finished last in each of the sessions he's competed in so far this weekend. Those drivers would take some comfort, though, from the fact that they'd jump two places forward for race day with Hulkenberg and Bottas' penalties.
Q2 – VETTEL FASTEST AS SAUBER BOW OUT
Several drivers' lives were made easier in the second session of qualifying, with the Renault of Nico Hulkenberg opting out of running in the segment. With clouds beginning to darken but the rain holding off, Vettel was the paceman now, claiming the outright track record with a 1m 41.501s, 0.032s ahead of team mate Raikkonen. Red Bull continued to struggle for Mercedes and Ferrari-bothering pace, with Verstappen ending up fifth and Ricciardo eighth, the pair split by the Force India of Sergio Perez and the Haas of Romain Grosjean.
Out with Hulkenberg went the Toro Rossos of Pierre Gasly and Brendon Hartley – with Hartley suffering a spin at the end of the session after locking his rear brakes at La Source – and the Saubers of Charles Leclerc and Marcus Ericsson. That was a disappointing end for Sauber, who had looked strong candidates for Q3 after Leclerc had ended up P7 in FP3. Meanwhile, despite his grid penalty, Mercedes opted to send out Bottas, with the Finn ending up fourth and thus available to act as a tow for his team mate in Q3 if his team required…
Q3 – HAMILTON SNATCHES RECORD-BREAKING POLE AS FORCE INDIA CAUSE A SENSATION
Finally the rain arrived at Spa, with the wind picking up as well – and chaos ensued! The drivers all headed out on dry tyres, but as the rain began to fall on their out laps, Bottas had a terrifying moment, losing his Mercedes at the fearsomely fast Blanchimont. In the end it was a scary-but-harmless spin, but with the track getting wetter and wetter, Mercedes put a kibosh on their slipstreaming idea and parked Bottas in the garage.
Elsewhere on the track, Sergio Perez had his own scary-but-harmless moment, nearly sliding his Force India into the wall at Raidillon as the rain came down and he and team mate Ocon soldiered on on slicks. It was time for intermediate tyres, and the runners duly dived into the pits for them.
What followed was one of the most dramatic sessions of the year so far. With the rain having stopped and the track still greasy but getting quicker and quicker, Hamilton punched in the fastest time, taking Mercedes' sixth straight – and perhaps most unlikely – pole position in Spa after the Silver Arrows had failed to top a session all weekend. Hamilton's time was mighty, pipping second-placed Vettel by 0.726s as the German rued Ferrari getting their timing wrong. Below the two title contenders, the order was far from normal. Force India timed their runs to perfection, and when the chequered flag flew, the team in pink's cars were P3 and P4, Ocon heading Perez. For a team that was in very real danger of not even competiting at Spa a few weeks ago, it was a truly remarkable turnaround.
Having been surprisingly off the pace all weekend, Romain Grosjean got it together in Q3 to wind up P5. Meanwhile, the Ferrari team whose engine powers Grosjean's Haas were left ruing what looked to be a strategic error, failing to fuel Raikkonen sufficiently to allow the Finn more than one run after he had initially set the pace in the segment. And while that denied us the possibility of a Raikkonen pole at Spa, it was at least better than Red Bull, who, after a similar strategic error, could only manage seventh and eighth, ahead of the Haas of Kevin Magnussen.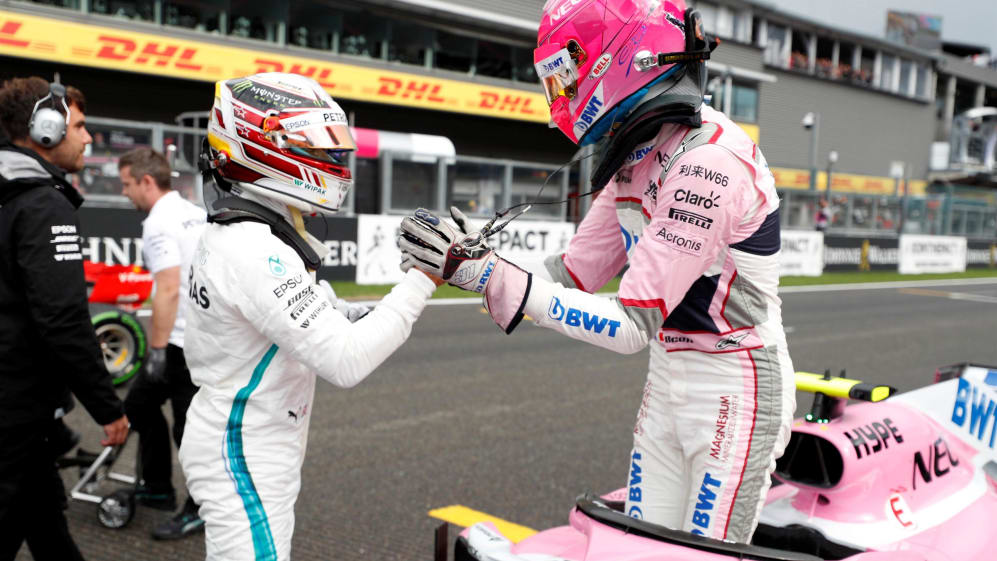 The key quote
"That was one of the toughest qualifying sessions I can remember... I can't express to you how difficult it was. None of us have driven in the rain this weekend. You saw I went off at Turn 1, you're tiptoeing, you don't know where the limit is, the track looks dry in some places but it's actually wet. With these tyres, it was so hard. I went off twice, but I managed to keep it together." – Lewis Hamilton
The key stats
It was Hamilton's fifth pole at Spa, surpassing Juan Manuel Fangio's record on the old track and Ayrton Senna's record on the new one.

Kimi Raikkonen will be disappointed to start sixth – but that was also where he started when he took his last win at the track, back in 2009…

In starting third and fourth, Esteban Ocon and Sergio Perez have both equalled their best ever starting positions for a race.

It's the sixth consecutive race that both Haas cars have made it into Q3.

Spa marked the 18th consecutive race that Stoffel Vandoorne has been outqualified by Fernando Alonso.

Vandoorne has also been the slowest qualifier at two of the last three Grands Prix, and was out in Q1 for the sixth straight race.

That session marked the second time that Carlos Sainz has been out in Q1 in the last four events.

It's the second straight race that no Red Bull car has appeared in the top six.

Spa was the seventh consecutive time that Max Verstappen has outqualified Daniel Ricciardo.

Hamilton's pole marked the seventh straight pole position for a Mercedes-powered car at Spa, stretching back to Jenson Button's 2012 pole for McLaren. The Mercedes team have headed the grid at Spa even since Lewis Hamilton's 2013 pole position.
Onboard pole lap
What's next?
The racing will kick off at Spa at 1510 local time on Sunday, 1310 UTC and, unlike qualifying, it's predicted to be a dry but cool day, with highs of 17 degrees Celsius and patchy cloud around.