Report
Qualifying - Hamilton edges Vettel for China pole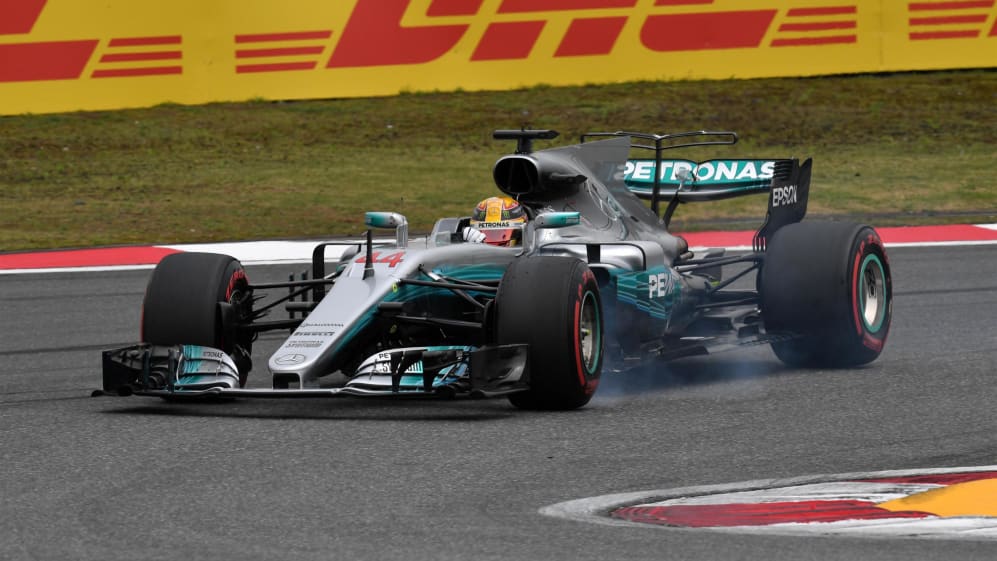 Lewis Hamilton claimed his sixth successive pole position on Saturday, as he pulled out all the stops to top qualifying for the 2017 Formula 1 Heineken Chinese Grand Prix, after Ferrari had led the first two phases of the session. It was another close fight between Mercedes and the Scuderia, with Sebastian Vettel splitting the silver cars, only a tenth off Hamilton and just a thousandth of a second ahead of Valtteri Bottas in third.
At the other end of the grid, Red Bull's Max Verstappen will start from the back row.
Vettel yet again stamped Ferrari's authority on Q1, taking away Hamilton's 1m 33.333s top spot with 1m 33.078s as Raikkonen was third on 1m 33.341s from Bottas on 1m 33.684s. Interestingly, where everyone else opted for supersoft tyres, the Ferrari drivers used softs… Also outstanding were Stroll, who lapped his Williams fifth fastest in 1m 33.986s, and Alonso who was 10th for McLaren on 1m 34.499s.
The unluckiest man appeared to be Romain Grosjean. He was completing a second lap after recording 1m 48.622s when he spun his Haas exiting the final corner, Turn 16. He ruined his tyres and sustained a puncture as a result, but was fortunate enough to limp home and improve to 1m 35.223s to take 17th slot behind Stoffel Vandoorne on 1m 35.023s for McLaren.
However, Pascal Wehrlein stand-in Antonio Giovinazzi also blotted his copybook there when he spun and heavily damaged his Sauber against the wall. But he was in P15 at the time, and his indiscretion prevented anyone behind from beating him. Thus the really unlucky one was Verstappen who was struggling with an engine software problem and could only do 1m 35.433s in his RB12, which left him 19th behind a troubled Jolyon Palmer on 1m 35.279s in his Renault, and just ahead of an equally unhappy Esteban Ocon on 1m 35.496s in his Force India.
There was a delay of 10 minutes as walls were repaired. And it was announced that both Grosjean and Palmer were under investigation for ignoring yellow flags.
Vettel was again fastest in Q2, with 1m 32.391s, but Hamilton was close with 1m 32.406s ahead of Bottas on 1m 32.552s and Raikkonen on 1m 32.602s. But with the sectors divided up as BOT, HAM, VET, nobody could be said to have achieved an optimum lap yet. As Mercedes stayed in the garage, the Ferraris ran again; Vettel did not improve but Raikkonen went fastest with 1m 32.181s.
This time the fallers were Carlos Sainz on 1m 34.150s in his Toro Rosso, Kevin Magnussen on 1m 34.164s in his Haas, Alonso on 1m 34.372s and Marcus Ericsson on 1m 35.046s in his Sauber, thanks to last-minute jumps from Hulkenberg and Perez for Renault and Force India respectively.
Thus Q3 shaped up as a humdinger. Could Mercedes wrest back their usual advantage, or would the Prancing Horse continue to hold sway?
In the first runs Hamilton aced it with 1m 31.902s despite a big slide in the second sector, with Vettel next on 1m 32.086s from Bottas on 1m 32.265s and Raikkonen slumping with 1m 32.616s complaining of poor rear-end grip and asking whether his previous settings had been changed.
Could Hamilton hang on to a 63rd pole?
Yes, was the answer, as a tidier lap yielded 1m 31.678s. Vettel cut down to 1m 31.864s, snatching second place back from Bottas. Raikkonen still struggled, though, and had to be content with fourth on 1m 32.140s.
Ricciardo did his usual great job to put Red Bull fifth on 1m 33.033s as Massa pushed his Williams into sixth on 1m 33.507s ahead of Hulkenberg on 1m 33.580s, Perez on 1m 33.706s, Kvyat on 1m 33.719s and Stroll on a decent 1m 34.220s.
Thus the provisional grid will line up as: Hamilton, Vettel; Bottas, Raikkonen; Ricciardo, Massa; Hulkenberg, Perez; Kvyat, Stroll; Sainz; Magnussen, Alonso; Ericsson, Giovinazzi, Vandoorne; Grosjean, Palmer; Verstappen, Ocon.