Qualifying - Hamilton flies to first Suzuka pole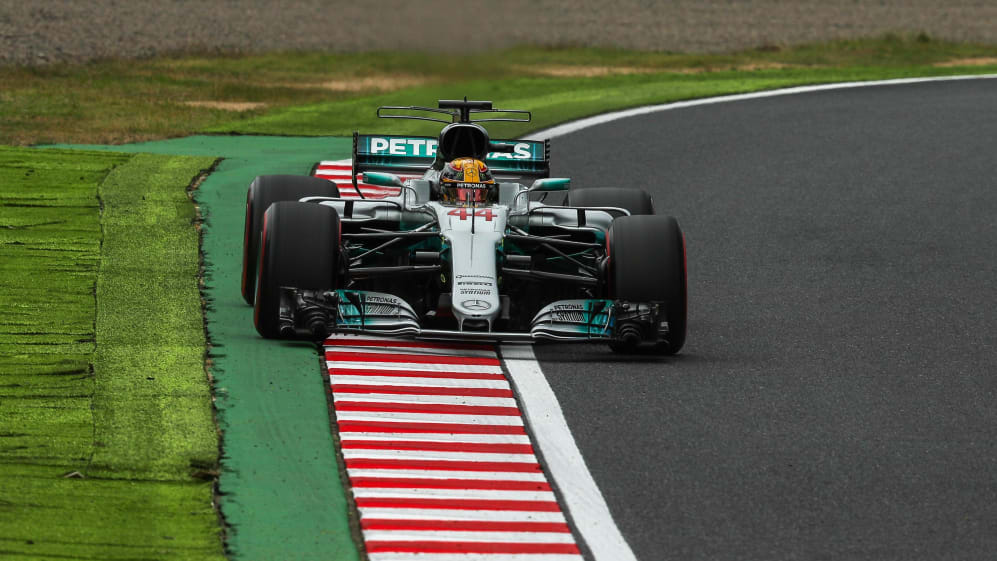 Lewis Hamilton and Mercedes staged a dramatic return to form in Suzuka, as the world championship points leader earned his 71st pole position – and his first at the charismatic Japanese track – after a stunning display that left rivals reeling. Team mate Valtteri Bottas was second, but a gearbox penalty for the Finn means it's Ferrari's Sebastian Vettel who will start alongside Hamilton on the front row.
Fourth and fifth fastest were the Red Bulls of Daniel Ricciardo and Max Verstappen, followed by Ferrari's Kimi Raikkonen, who like compatriot Bottas has a five-place gearbox penalty. The Force Indias of Sergio Perez and Esteban Ocon were seventh and eighth, with Williams' Felipe Massa and McLaren's Fernando Alonso completing the top ten.
Early in the hour, Q1 came to an explosive end as Romain Grosjean lost control of his Haas going up the hill behind the paddock, after putting a wheel over the kerb. It hit the outer tyre wall hard, removing its nose and the left front wheel, but the Frenchman walked away unharmed. With 1m 18s remaining, the session was not restarted.
Hamilton had set the pace with 1m 29.047s, from Raikkonen on 1m 29.163s and Verstappen on 1m 29.181s. Bottas, Vettel and Ricciardo followed, the Mercedes driver hugely lucky to get away with a massive slide into the dirt in Degner 2 on his first run. Interestingly, however, only Hamilton and Vettel were using the soft Pirelli tyres, the rest had supersofts.
The luckless Grosjean was the first to fail to get into Q2, his 1m 30.849s best beaten fractionally by team mate Kevin Magnussen. Then came Toro Rosso's Pierre Gasly on 1m 31.317s, Williams' Lance Stroll on 1m 31.409s, and the Saubers of Marcus Ericsson and Pascal Wehrlein on 1m 31.597s and 1m 31.885s respectively.
Having come close to Michael Schumacher's absolute track record of 1m 28.954s in Q1, Hamilton didn't just beat it in Q2, he unofficially pulped it, with a stunning lap of 1m 27.819s on supersofts. Vettel's best was 1m 28.482s on the same rubber, as Raikkonen got close to Hamilton's Q1 best on softs, with 1m 29.079s. That was soon bettered by Bottas, Verstappen and Ricciardo, however. Later, Vettel improved to 1m 28.225s, but Hamilton and Mercedes had made a massive statement ahead of Q3.
Further back, Alonso just aced McLaren team mate Stoffel Vandoorne, who on 1m 29.778s just failed to beat the Spaniard to the final Q3 slot. He was followed by Nico Hulkenberg's Renault on 1m 29.879s, Kevin Magnussen's surviving Haas on 1m 29.972s, Jolyon Palmer's Renault on 1m 30.022s, and Carlos Sainz's Toro Rosso on 1m 30.413s.
Bottas set the early pace in Q3 with 1m 27.986s, but Hamilton immediately beat that with 1m 27.345s before Vettel did likewise with 1m 27.797s. Ricciardo and Verstappen followed on 1m 28.444s and 1m 28.985s respectively.
Could Hamilton stay ahead and take pole for the first time at Suzuka?
Indeed he could, as he trimmed down to 1m 27.319s to head Bottas, who cut down to 1m 27.651s to beat Vettel, who improved to 1m27.791s. Verstappen momentarily went ahead of Ricciardo with 1m 28.332s, but the Aussie took fourth place back with 1m 28.306s as Raikkonen was left sixth on 1m 28.498s.
Behind them, Ocon held on to seventh with 1m 29.111s from team mate Perez on 1m 28.260s, with Massa close on 1m 28.480s and Alonso distant on 1m 30.687s.
Various grid penalties will mix up the starting order. In summary, penalised for using additional power unit components are Sainz (20 grid places), Alonso (35), Palmer (20). Bottas and Raikkonen, meanwhile, get five-place drops for unscheduled gearbox changes.
With those applied, the provisional grid reads: Hamilton, Vettel; Ricciardo, Verstappen; Ocon, Bottas; Perez, Massa; Vandoorne, Raikkonen; Hulkenberg, Magnussen; Grosjean, Gasly; Stroll, Ericsson; Wehrlein, Palmer; Sainz, Alonso.
WATCH: Qualifying highlights from Japan