Qualifying - Hamilton grabs Sepang pole, Vettel to start last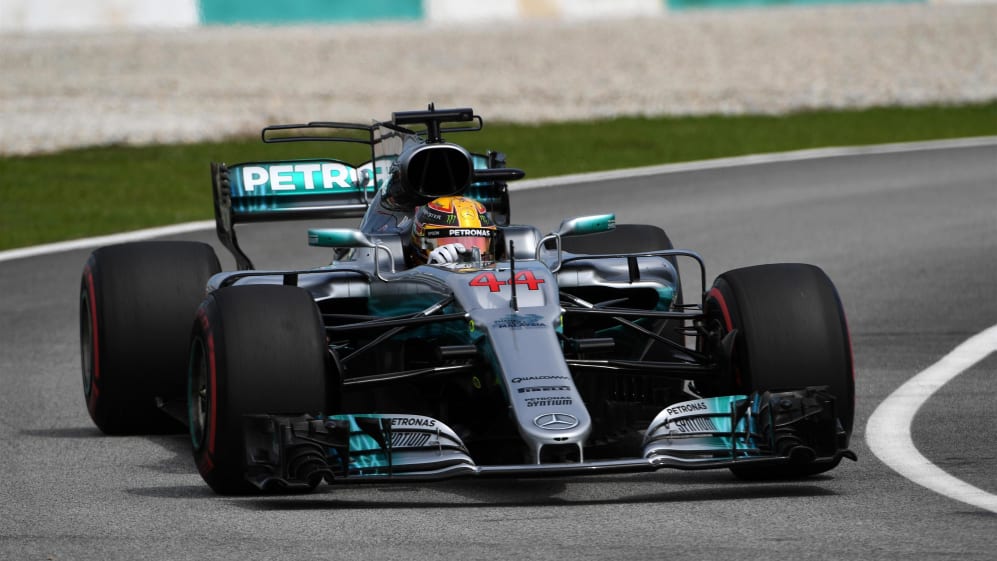 After struggling in practice, championship leader Lewis Hamilton delivered when it mattered on Saturday evening to take his fourth consecutive Malaysian pole position, the Mercedes driver fending off the challenge of Ferrari's Kimi Raikkonen – by just 0.045s – and Red Bull's Max Verstappen and Daniel Ricciardo.
However, there was bitter luck for Hamilton's title rival Sebastian Vettel, who failed to set a time after early power unit problems on his Ferrari.
Fifth in the final order went to Valtteri Bottas in the second Mercedes, the Finn followed by the Force India of Esteban Ocon, McLaren's Stoffel Vandoorne and Renault's Nico Hulkenberg. Force India's Sergio Perez and McLaren's Fernando Alonso completed the top ten.
As Hamilton set the early pace with 1m 31.605s on the soft Pirelli tyres, ahead of Verstappen, Bottas, Raikkonen and Ricciardo, there was a major shock in Q1 when Vettel, having had an engine change after his problems at the end of final practice, reported that he was limping home. It seemed that his turbocharger had gone awol, and though his crew had him apparently readied for a desperate last-moment run, it came to nothing. The title contender will thus start Sunday's race from the back of the grid.
Other notable Q1 moments were rookie Pierre Gasly impressively in eighth place ahead of Renault's Jolyon Palmer, and quicker too than his Toro Rosso team mate Carlos Sainz…
As Fernando Alonso just scraped into Q2 with 1m 33.049s, out of luck were the Haases of Romain Grosjean and Kevin Magnussen on 1m 33.308s and 1m 33.434s, and the Saubers of Pascal Wehrlein and Marcus Ericsson on 1m 33.483s and 1m 33.970s.
Bottas jumped up to the top on his second run in a close Q2 session, with 1m 30.803s to former pacesetter Raikkonen's 1m 30.926s. The Finn didn't do a second run, while Verstappen didn't improve on his 1m 30.931s from his first outing. Hamilton did, cutting down to 1m 30.977s ahead of Ricciardo.
Once again, Alonso scraped through, 24 hundredths ahead of Felipe Massa, who lapped his Williams in 1m 32.034s. Palmer also failed to make it, with 1m 32.180s, as did Williams' Lance Stroll on 1m 32.307s, and the Toro Rossos. This time Sainz led Gasly, but only marginally, with 1m 32.402s to 1m 32.558s. A great effort from the young Frenchman.
Could Raikkonen take his first pole since Monaco? Would Verstappen celebrate his 20th birthday in style, or could Hamilton find that extra time? Q3 was pregnant with possibilities, as they went into battle with Bottas, Ricciardo, Perez and Ocon, Hulkenberg and Vandoorne and Alonso.
Hamilton wasn't messing about, and slammed in a 1m 30.076s to displace Bottas from the top slot after the Finn had just got there with 1m 30.945s. Then Raikkonen moved up too, but not enough, with 1m 30.308s. Then Ricciardo and Verstappen jumped up to third and fourth with 1m 30.595s and 1m 30.634s apiece.
Hamilton didn't improve on his second run, but though Raikkonen did, 1m 30.121s wasn't quite enough, though he stayed second. Verstappen improved to 1m 30.541s to displace Ricciardo, who didn't, and Bottas' 1m 30.758s left him fifth.
Behind them, Ocon moved to sixth with 1m 31.478s ahead of Vandoorne on 1m 31.582s, Hulkenberg on 1m 31.607s, Perez on 1m 31.658s and Alonso on 1m 31.704s.
With currently no penalties to take into account, the provisional grid lines up thus: Hamilton, Raikkonen; Verstappen, Ricciardo; Bottas, Ocon; Vandoorne, Hulkenberg; Perez, Alonso; Massa, Palmer; Stroll, Sainz; Gasly, Grosjean; Magnussen and Wehrlein; Ericsson and Vettel.