Report
QUALIFYING: Hamilton on pole at rain-hit Suzuka as Vettel ends up P9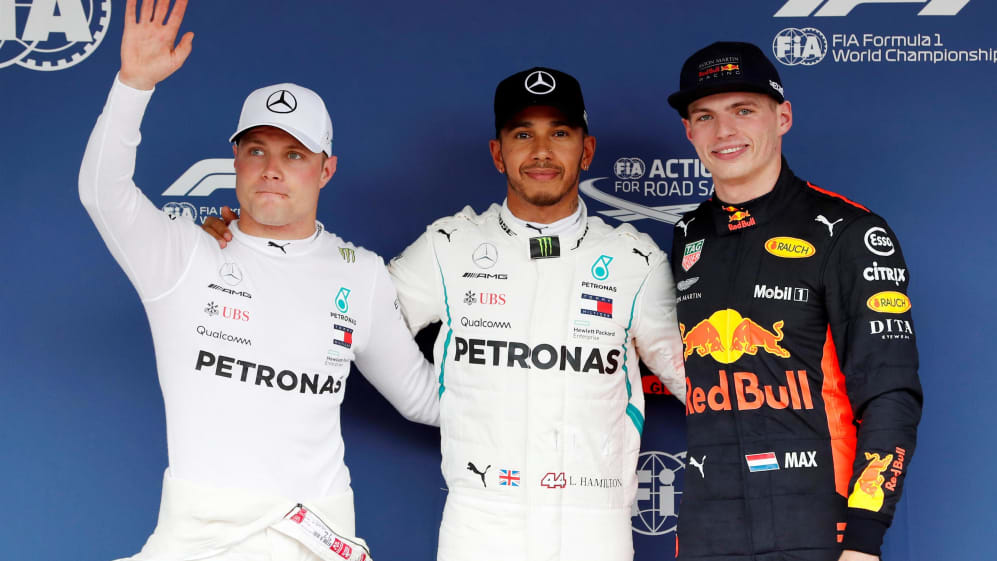 Mercedes dished out some more pain to rivals Ferrari in qualifying at Suzuka, with brilliant strategy helping Lewis Hamilton take his 80th F1 pole position ahead of team mate Valtteri Bottas, as Sebastian Vettel slumped to a disappointing ninth in changeable conditions.
Mercedes read the tricky weather perfectly in Japan, ensuring that both of their drivers were able to bang in their best laps early in Q3 before the rain arrived to secure their fifth consecutive one-two in qualifying at Suzuka.
Max Verstappen was third for Red Bull on a day when team mate Daniel Ricciardo dropped out of Q2 with suspected power unit issues. The Dutchman finished ahead of the leading Ferrari of Kimi Raikkonen, with the Haas of Romain Grosjean a spendid P5.
It was a great qualifying, meanwhile, for Toro Rosso, with Brendon Hartley claiming his best ever grid position in sixth, one place ahead of team mate Pierre Gasly at the track that engine supplier Honda built back in 1962.
Esteban Ocon was eighth, ahead of Vettel, with his Force India team mate Sergio Perez winding up P10.
This, however, is a day that would be remembered for a Mercedes 'masterstroke'...
Q1 – RED FLAGS AND SPINS AS HULKENBERG DROPS OUT
Marcus Ericsson's qualifying session lasted just eight minutes, after the Swede lost his Sauber going into the Dunlop curve, ending up in the barriers and with his car looking decidedly second-hand. The incident brought out a mid-segment red flag, and when the drivers headed back out on track, it was Lewis Hamilton who came out of the blocks quickest to continue his session-leading weekend.
He finished ahead of Sebastian Vettel, who ended up 0.347s behind his rival despite suffering an innocuous spin at the hairpin. The shock exit in Q1 was Nico Hulkenberg, with the Renault driver ending up P16 to crown a difficult day for the German after he spun into the wall in Free Practice 3 and needed a rush job to get his car repaired in time. He was joined in the elimination zone by the Williams of Sergey Sirotkin, the McLaren pairing of Fernando Alonso and Stoffel Vandoorne – the Spaniard outqualifying his team mate for the 22nd consecutive race – and Ericsson.
It was a positive segment for Lance Stroll, meanwhile, with the Williams driver scraping through into Q2 in fifteenth place.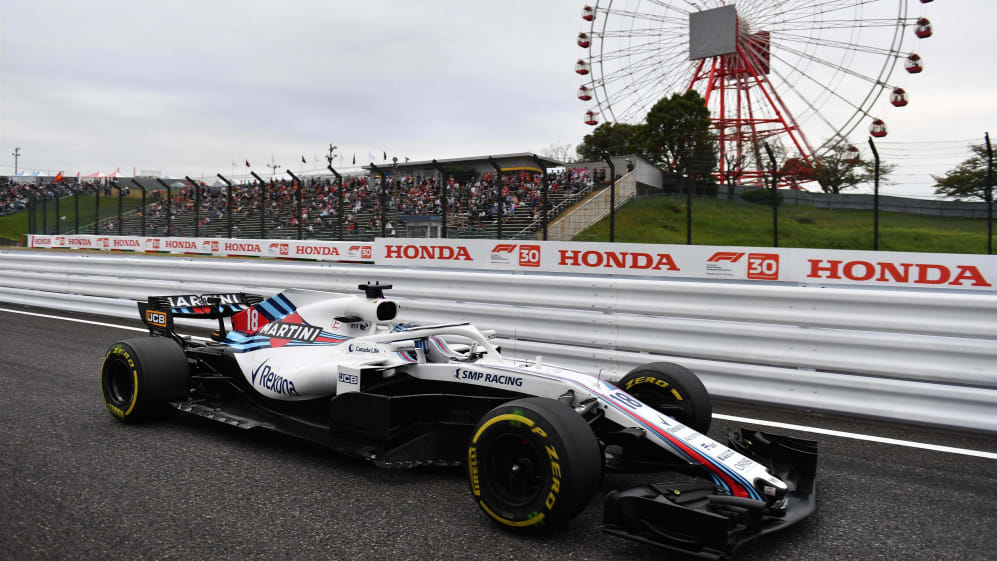 Q2 – BOTTAS TOP, RICCIARDO HITS PROBLEMS WHILE BOTH TORO ROSSOS MAKE IT THROUGH
Daniel Ricciardo had an early bath in Q2, the Red Bull driver having to be pushed down the pit lane after reporting a loss of power and failing to set a lap time. The Australian was heard screaming in frustration into his helmet as he trudged disgustedly away from his car.
It was a terrific segment for Toro Rosso, with both drivers making it through to Q3 at engine supplier Honda's home race. Less happy were Carlos Sainz, Kevin Magnussen and Charles Leclerc, with all three drivers failing to make it out of Q2, caught out by a rain late in the segment. Leclerc also suffered a low-speed spin at the first Degner curve before dropping out, along with the Williams of Stroll and Ricciardo.
Bottas headed the time sheets for the first time this weekend, leading team mate Hamilton by just 0.030s with the two Ferraris of Vettel and Raikkonen P3 and P4, once again shaded by the Mercedes. Tellingly, both Silver Arrows made it through having used the soft tyres - another potential advantage for Sunday's race - while everyone else bar Grosjean was on supersofts.
Q3 – HAMILTON SECURES POLE AS TITLE RIVAL VETTEL STRUGGLES
If ever Sebastian Vettel had needed to pull a pole position out of the back, it was now. In the event, the final segment of qualifying couldn't have gone much worse for the Ferrari driver. With rain in the air, a cautious Ferrari sent both Vettel and Raikkonen out on the intermediate tyres, hoping conditions would quickly worsen, while Mercedes opted to brave it out on the red supersofts.
"A masterstroke," is what a delighted Toto Wolff said to his engineers on the pit wall afterwards, as Hamilton drove to his 80th career pole – a monumental milestone – while Bottas joined him on the front row of the grid.
With all the best times coming on the first runs of Q3 as conditions worsened, Vettel could only manage ninth place after failing to be on track at the optimum time and then making a mistake at Spoon Curve. Already a massive 50 points behind Hamilton in the drivers' standings with five races to go, this can only be seen as another huge dent for the German.
Max Verstappen got the closest to the Mercedes pair in P3, albeit a massive 1.297s slower than Hamilton. He'll have been encouraged by the performance of the Honda-powered Toro Rossos too, with Brendon Hartley and Pierre Gasly trumping Force India in the midfield to go P6 and P7 – although Romain Grosjean beat both of them with a fantastic fifth for Haas.
But it was Lewis Hamilton who was once again the star performer in Suzuka, having now headed every session and segment of the weekend bar one.
"The call we made to go out in Q3," said Hamilton afterwards, "which is probably the most difficult call, you saw all of us fumbling and trying to figure out what to do – the team were spot on with it and it gave us an opportunity to grab this pole position."
Ahead of Sunday's race, you'd have to be very brave to bet against Hamilton claiming his fifth Japanese Grand Prix victory… and edging closer towards a fifth title in the process.
But as we've seen in the past, anything can happen at Suzuka.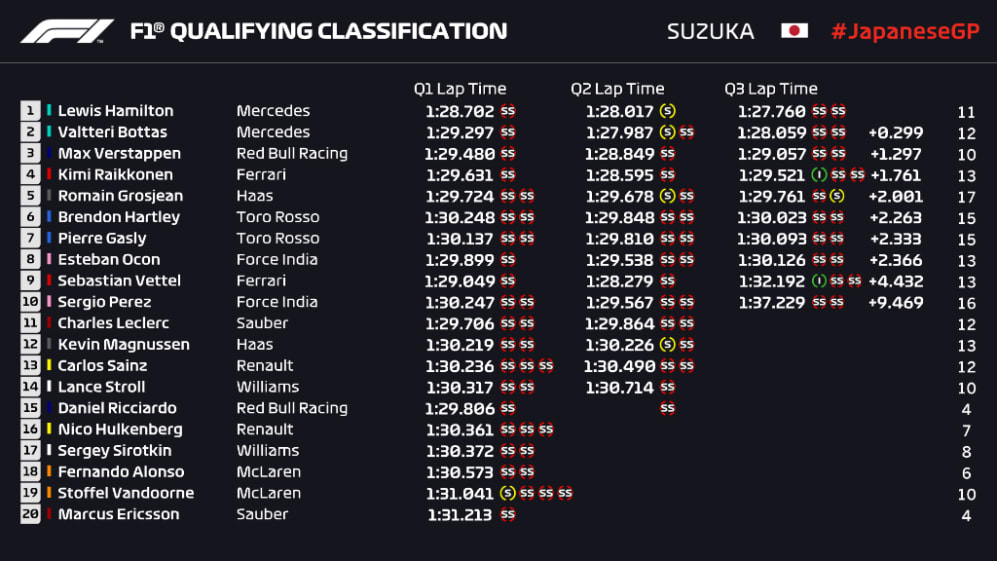 The key quote
"I couldn't have done this without the team. We worked so hard on this car to refine it, improve it in all areas – and even in ourselves and how we function, the processes we go through, our communication, everything. It's really such an honour to race for this team, for the guys and I'm just so thankful. A big thank you to everyone back at the factory. I'm so proud to be on this journey with them. Never in a million years thought I'd get to 80 [pole positions]." – Lewis Hamilton
The key stats
Mercedes were one-two in Q3 for the fifth consecutive year, although Bottas' engine penalty last year means it will be their first front row lockout since 2016.

It's not all over for Vettel yet. He started P9 at the 2014 Japanese Grand Prix but drove on to finish third.

Kimi Raikkonen – despite having won at Suzuka in 2005 – continued his astonishing run of never having started in the top three here in 14 attempts.

Romain Grosjean has now reached Q3 for the 10th time in a row – the best ever run of his career.

Grosjean's team mate Kevin Magnussen, meanwhile, was 12th for the second year in a row in Suzuka.

Before 2018, Daniel Ricciardo had only missed Q3 three times since joining Red Bull. However, in the last seven races, he's missed it five times.

Toro Rosso's performance marked the first time two Honda-powered cars have been in Q3 since 2006.

It was also the first time Brendon Hartley has outqualified Pierre Gasly in 10 races.

Charles Leclerc secured Sauber's best ever qualifying result in the post-2014 hybrid era with his 11th place.

Leclerc's performance was also the first time Marcus Ericsson has ever been outqualified by a team mate at Suzuka.
Onboard pole lap
What's next?
The Japanese Grand Prix starts at 1410 local time – that's a bleary-eyed 0510 UTC. And if Sebastian Vettel was hoping for rain to help his chances in the race, he was once again out of luck, with the forecast predicting little chance of any downpours (although there may be some rain overnight) while temperatures are set to be around the 26 degree Celsius mark, so nice and toasty.