Report
Qualifying - Hamilton storms to Baku pole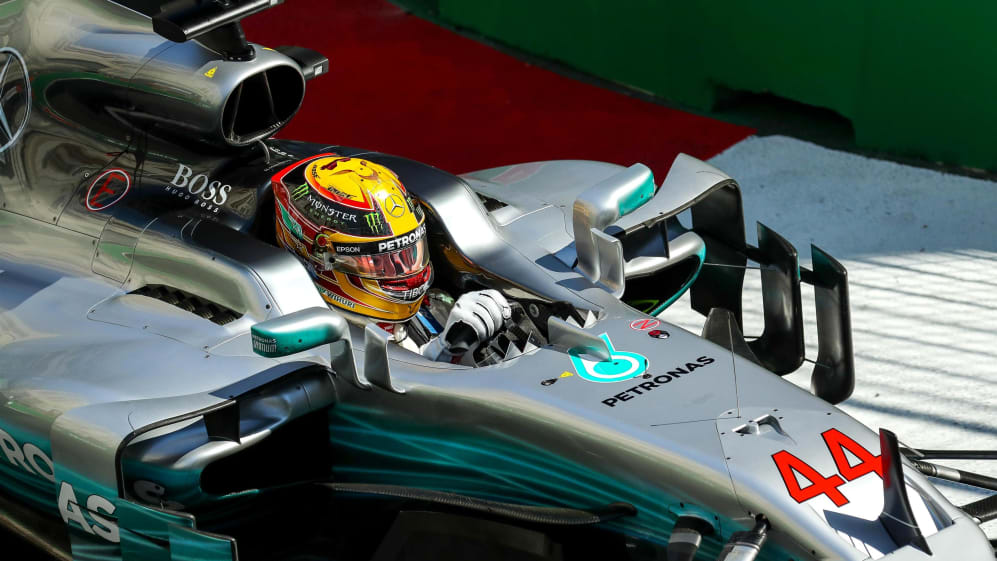 Lewis Hamilton will start the 2017 Formula 1 Azerbaijan Grand Prix from pole position after beating Mercedes team mate Valtteri Bottas by half a second in a frantic end to Saturday's qualifying session in Baku. Championship leader Sebastian Vettel finished fourth behind Ferrari partner Kimi Raikkonen.
Q3 was red flagged with 3m 33s remaining after Daniel Ricciardo lost the rear of his Red Bull on the exit of Turn 6 and clouted the wall, ending the Australian's hopes. It set up a barnstorming end to the hour when running resumed.
Max Verstappen was first on track and took the sole remaining Red Bull to fifth, ahead of the Force Indias of Sergio Perez and Esteban Ocon. Williams rookie Lance Stroll out-qualified team mate Felipe Massa for eighth, with the unfortunate Ricciardo completing the top ten.
Hamilton had dominated Q1 with a lap of 1m 41.983s which left Verstappen breathless on 1m 42.544s as Raikkonen, Ricciardo, Vettel (with a new 'old' engine in his Ferrari after his car developed a water leak in FP3) and Bottas followed.
Down the back, Kevin Magnussen saved what was looking like a disastrous session for Haas by bumping Fernando Alonso out of Q2 at the last moment. Thus the McLaren star was 16th on 1m 44.334s ahead of 'wallbanger' Romain Grosjean in the other Haas on 1m 44.468s.
Marcus Ericsson was the lone Sauber eliminated on 1m 44.795s as team mate Pascal Wehrlein had produced a great 15th fastest lap of 1m 44.317s, which left McLaren's Stoffel Vandoorne as the final dropout in 19th with 1m 45.030s, as Jolyon Palmer's Renault was still out of action following its FP3 fire.
Hamilton went even faster in Q2, drawing gasps with 1m 41.275s, which Bottas eventually got closer to with m 41.502s as Vettel claimed third with 1m 41.911s.
The Toro Rosso boys batted throughout and were the first fallers in 11th and 12th, with Daniil Kvyat on 1m 43.186s and Carlos Sainz on 1m 43.347s. Behind them, Magnussen was 13th on 1m 32.796s, as Nico Hulkenberg struggled to 1m 44.267s after electrical problems on his Renault, and Wehrlein lapped his Sauber in 1m 44.603s.
Hamilton looked set to dominate the first runs in Q3 again, but had a less than great third sector, so Bottas was the faster this time with 1m 41.274s to 1m 41.428s. That left them comfortably ahead of Verstappen on 1m 42.261s and Raikkonen on 1m 42.446s, however, as Vettel's hopes of improving on 1m 43.194s ended in the Turn 2 escape road.
Then Ricciardo's Red Bull stopped in Turn 6, after he broadsided and brushed the outer wall, bringing out the red flag. At the same time Raikkonen had gone off in Turn 2, and Perez brushed a wall, so team mate Ocon was the faster Force India in fifth on 1m 42.833s, ahead of Vettel.
Neither Williams had run by this stage.
After the nine-minute delay, would anyone be able to generate sufficient tyre and brake temperatures to improve in the three and a half minutes that remained?
Yes was the answer. Bottas improved, to 1m 41.027s, but Hamilton pulled out a stonker to snatch pole back with 1m 40.593s.
As Verstappen failed to improve on 1m 41.879s, Red Bull saw their second-row slot disappear as both Raikkonen and Vettel improved, to 1m 41.695s and 1m 41.841s apiece.
Perez jumped up too, to sixth in 1m 42.111s as Ocon failed to better his 1m 42.186s, while Stroll just edged out Williams team mate Massa, with 1m 42.753s to 1m 42.798s. Ricciardo was left 10th on his previous 1m 43.414s.
Both McLarens will start from the rear of the field on Sunday thanks to multiple grid penalties for use of additional Honda power unit elements, while Sainz will lose three grid spots for causing a collision last time out in Canada.
Saturday's qualifying result marks Mercedes' second front-row lock-out of the season, and Hamilton's 66th F1 pole - leaving him just two shy of matching Michael Schumacher's all-time record.