Qualifying - Hamilton takes pole record, Stroll to start second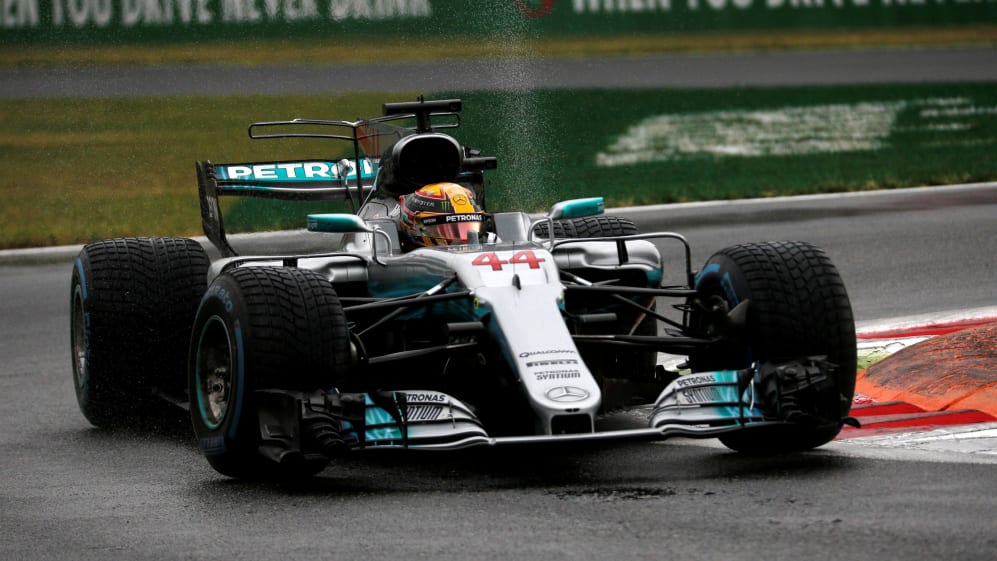 Mercedes' Lewis Hamilton has more poles than any man in history – 69 – after topping a wet and rain-disrupted qualifying session in Monza on Saturday. Red Bull's Max Verstappen and Daniel Ricciardo finished second and third, but after grid penalties for both, Williams rookie Lance Stroll will start the race alongside Hamilton on the front row.
Fifth fastest was Force India's Esteban Ocon, ahead of Mercedes' Valtteri Bottas and the Ferraris of Kimi Raikkonen and Sebastian Vettel. Williams' Felipe Massa and McLaren's Stoffel Vandoorne completed the top ten.
The session initially started on time, but as the rain worsened Haas's Romain Grosjean aquaplaned off on the main straight, bringing out the red flags just four minutes in. The Frenchman was unhurt, and wheel rims aside, damage to his car was light, but his afternoon's work was over.
Two hours and 35 minutes later, conditions were finally adjudged to be safe to resume the remaining 13 minutes and 31 seconds of Q1. Verstappen reported: "It's better than when we started qualifying," but had been happy to run much sooner.
Hamilton and Bottas were fastest on wets with 1m 36.009s and 1m 36.582s right into the dying moments, when the Finn went faster after switching to intermediates, with 1m 35.716s. Vettel was third on inters, in 1m 37.198s.
Raikkonen had a bit of a drama with a brake fire, and a near miss when his crew almost released him into the path of one of the Force Indias as the latter swept into its space immediately in front of the Ferrari pit.
Further down, Carlos Sainz made Q2 with 1m 39.788s for Toro Rosso, leaving Haas's Kevin Magnussen 16th with a last-moment 1m 40.489s on inters, ahead of Renault's Jolyon Palmer on 1m 40.646s on wets, the Saubers of Marcus Ericsson and Pascal Wehrlein on 1m 41.732s and 1m 41.875s, and Grosjean in 20th on the strength of his originally third-fastest lap of 1m 43.355s.
There was a threat of further rain at the start of Q2, so everybody was in a rush to get a time in before conditions changed again.
All the quick times came on inters, with Hamilton improving further right at the end to stay on top with 1m 34.660s, despite some rain out on the back straight. Bottas also went quicker to 1m 35.396s as Verstappen did 1m 36.113s to beat Vettel's 1m 36.223s set quite early on.
The biggest improver was Stroll who jumped from nowhere to fifth, ahead of Raikkonen, Ricciardo and Massa. Vandoorne bumped Sergio Perez right at the end, the Mexican missing out on 10th place by two thousandths of a second to Force India team mate Esteban Ocon.
Behind the Force India's 1m 37.582s, Renault's Nico Hulkenberg was 12th on 1m 38.082s, with Fernando Alonso only running at the end to record 1m 38.202s for McLaren. That left the Toro Rossos 14th and 15th, with Daniil Kvyat on 1m 38.245s and Carlos Sainz on 1m 38.526s.
Could Ferrari beat Mercedes to the pole in Q3, giving the soaked spectators something to cheer, or would Hamilton set a new all-time record of 69? The rain had come back, so again there were some brave tyre choices and some initially still went for intermediates – notably Ferrari and Mercedes – as the full wets made a comeback. But the rain was by now so heavy that surely the green-banded rubber was a mistake.
This was one of those sessions when times were improving continually as conditions did. Ocon, Verstappen and Hamilton all had turns at the top, but right at the end Mercedes pitted both their drivers for fresh wets. That was just as well, as Verstappen lapped in 1m 36.702s to beat Hamilton's mark of 1m 36.913s. Team mate Ricciardo was also fast with 1m 36.841s, temporarily putting red Bull 1-2. But right at the end the triple champion put another super-neat lap together, even though he said conditions did not feel as good, and when he stopped the clocks with 1m 35.554s a sensational lap earned him a new record of 69 pole positions.
Stroll did a superb job to put his Williams fourth on 1m 37.032s, ahead of the also impressive Ocon on 1m 37.719s. Bottas didn't get his run on new wets, so was sixth with 1m 37.833s, while Ferrari had a simply disastrous session with Raikkonen only seventh on 1m 37.987s and Vettel eighth after failing to better 1m 38.064s.
Massa was ninth on 1m 38.251s, and Vandoorne completed the top 10 with 1m 39.157s.
Both Red Bulls, of course, have heavy grid penalties for using additional power unit elements and will thus start Sunday's race from the back of the field – likewise Hulkenberg, Palmer, Alonso and Sainz. That at least throws Ferrari a lifeline as their drivers will move up two places apiece.
And Stroll will start from the front row – the youngest driver to do so in history and the first Canadian in 19 years.
With penalties applied, the provisional grid is as follows: Hamilton, Stroll; Ocon, Bottas; Raikkonen, Vettel; Massa, Vandoorne; Perez, Kvyat; Magnussen, Ericsson; Wehrlein, Verstappen; Hulkenberg, Sainz; Ricciardo, Palmer; Alonso, Grosjean.