Qualifying - Raikkonen heads all-Ferrari front row in Monaco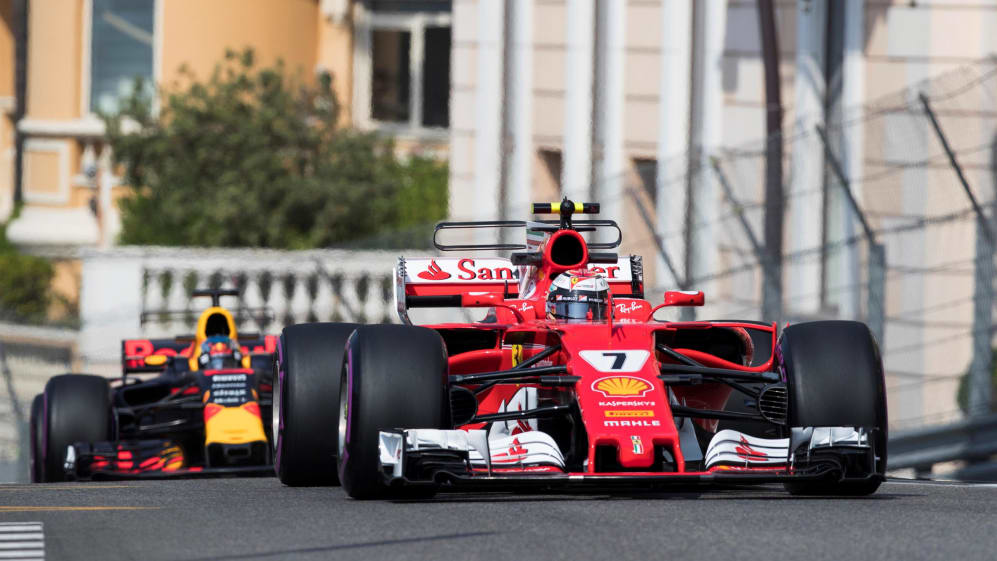 Sunday will see Kimi Raikkonen start from pole position for the first time since 2008 after the Ferrari driver dominated qualifying for the Formula 1 Grand Prix de Monaco 2017. Raikkonen was 0.043s quicker than team mate Sebastian Vettel, whose championship rival Lewis Hamilton could manage only 13th.
Red Bull's Max Verstappen will join Bottas on the second row of the grid, with team mate Daniel Ricciardo and Toro Rosso's Carlos Sainz filling the third.
Hamilton's showing aside, the other big shocks were the McLarens of Stoffel Vandoorne and Jenson Button in ninth and 10th. Both have grid penalties, however: Vandoorne three places for his collision with Felipe Massa in Spain and Button 15 for an MGU-H and turbocharger replacement overnight.
Q1 brought the opening round of surprises. The first was when Verstappen inched out Vettel, with 1m 13.078s to 1m 13.090s, with Raikkonen third from Ricciardo and Bottas.
The second was that Hamilton struggled with overheating rear tyres and was only 10th, six-tenths off the pace.
The third that Vandoorne was sixth, ahead of the close-knit Sainz, Sergio Perez for Force India and Kevin Magnussen for Haas, as Button was a respectable 11th, on Hamilton's tail. Clearly, Mercedes had a lot of work to do and no time left in which to get it done.
At the back, Romain Grosjean's late improvement for Haas bounced Esteban Ocon's Force India out of Q2, leaving him 16th on 1m 14.101s. The Frenchman had been lucky to survive a spin at Mirabeau, when Sainz was equally fortunate to avoid him. Jolyon Palmer's understeering Renault was 17th on 1m 14.696s, ahead of Lance Stroll's Williams on 1m 16.8963s, Pascal Wehrlein's Sauber on 1m 15.159s and Marcus Ericsson's sister car on 1m 15.276s. The Swede's chances of improving were stymied when he stopped with a punctured left-rear tyre at the chicane.
Hamilton nearly went off at Massenet on his out lap in Q2, and was down in 13th complaining of no grip when he got caught at the weigh bridge as he came in for adjustments. Up front, Raikkonen headed Vettel, Verstappen, Bottas and Ricciardo as the Briton fumed, adjustment time slipping away.
He went into his final lap with a minute to spare, and set competitive first and second sector times, before arriving at the Swimming Pool to find Vandoorne's seventh fastest McLaren parked in the wall, the Belgian having repeated Ocon's FP3 error of breaking his front suspension against the inside barrier. The triple world champion was thus 14th fastest - and out.
As Grosjean went to sixth, and Sainz, Perez and Button completed the top 10, Daniil Kvyat was left a disappointed 11th on 1m 13.516s for Toro Rosso, ahead of Nico Hulkenberg's Renault on 1m 13.628s, Kevin Magnussen's Haas on 1m 13.959s (he, too, lost out in the Vandoorne yellow flags), Hamilton and Massa whose Williams was stranded on 1m 20.529s.
In Q3 Raikkonen stayed fastest after the first runs with 1m 12.296s, from Ricciardo, Vettel and Bottas, as Verstappen in fifth place pitted complaining that he was losing front grip.
Raikkonen improved quickly to 1m 12.178s on the second runs, but though he moved to second, Vettel's 1m 12.221 wasn't enough to dislodge his partner. Bottas really got his Mercedes wound up at last, but his 1m 12.223s just fell short.
Behind them, Verstappen jumped to fourth with 1m 12.496s, with Ricciardo struggling on 1m 12.998s.
Sainz was an excellent sixth with 1m 13.162s, ahead of the ever-present Perez on 1m 13.329s, while Grosjean made up for his weekend woes with eighth on 1m 13.349s. Button's brilliant return netted him ninth on 1m 13.613s, as if he had never been away.
For the provisional starting grid in full, click here.
WATCH: Qualifying highlights