Report
Vettel beats Hamilton to take first pole of the year in Canada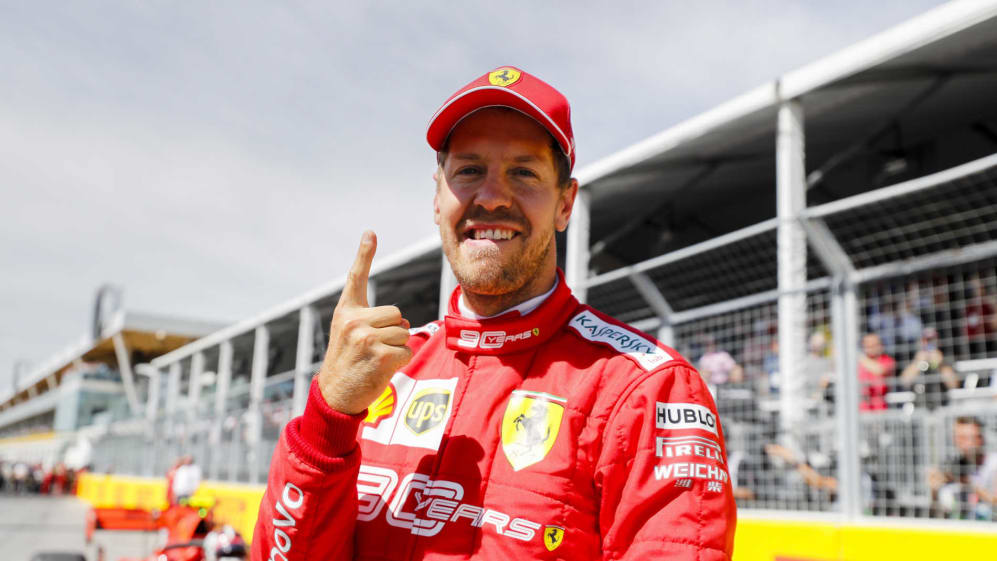 Sebastian Vettel secured his first pole position of the 2019 campaign in qualifying for the Canadian Grand Prix, pipping Lewis Hamilton by two-tenths of a second to claim his 56th career pole, and his fifth at the Circuit Gilles-Villeneuve.
A scintillating final effort from the German saw him stop the clocks at 1m 10.240s, while team mate Charles Leclerc was 0.680s behind him in third, as Hamilton claimed his 10th front row appearance in Canada, to tie the record for a single circuit held by Michael Schumacher at Suzuka.
Behind, a fantastic effort by Daniel Ricciardo put him fourth on the grid for Renault – the team's best starting position of the year – 0.831s off Vettel's time, ahead of the Red Bull of Pierre Gasly in fifth and the second Mercedes of Valtteri Bottas in sixth, the Finn having suffered a spin on his first push lap before a messy second effort.
The second Renault of Nico Hulkenberg was seventh, ahead of the two McLarens of Lando Norris and Carlos Sainz – meaning all four Renault-powered cars on the grid were represented in the top 10 – while Haas' Kevin Magnussen was 10th despite not making a Q3 appearance, having had a massive shunt at the very end of Q2 that ultimately prevented Max Verstappen from making it into the final segment.
FORMULA 1 PIRELLI GRAND PRIX DU CANADA 2019
Canada
2019
Qualifying results
POSITION
TIME

1

Sebastian

Vettel VET

Ferrari

1:10.240

2

Lewis

Hamilton HAM

Mercedes

1:10.446

3

Charles

Leclerc LEC

Ferrari

1:10.920

4

Daniel

Ricciardo RIC

Renault

1:11.071

5

Pierre

Gasly GAS

Red Bull Racing

1:11.079
AS IT HAPPENED
Q1 – Both Racing Points out, along with two previous Canadian Grand Prix winners
Williams' George Russell declared the track conditions "hideous" as he headed out for Q1, but the circuit evolved quickly throughout the opening segment, meaning that the times tumbled in the final minutes.
The biggest upset of Q1 was for Racing Point, losing both cars, Sergio Perez ending up 16th – having been as high as P9 this morning – while local hero Lance Stroll had a big sideways moment at the final Turn 13-14 chicane on his last effort to finish P18 and extend his Q1 exit streak to 11 Grands Prix.
Out with them went 2005 winner in Canada Kimi Raikkonen, who was just 0.108s off Alfa Romeo team mate Antonio Giovinazzi in P15 – but that was enough to see the Italian make it through to Q2. Bringing up the rear were the two Williams, George Russell out-qualifying 2008 Canadian Grand Prix winner Robert Kubica for the seventh time in as many races this year.
Up at the front, meanwhile, less than 0.030s separated Ferrari's Charles Leclerc in P1 from Mercedes' Valtteri Bottas in P3 – with Sebastian Vettel in between – while Nico Hulkenberg impressed to go P6 for Renault, ahead of McLaren's Carlos Sainz – although the stewards were set to investigate after the session some alleged impeding by the Spaniard on the Toro Rosso of Alexander Albon.
Times were incredibly tight in Q1, however, with a fraction over a second separating P1 and P18.
Knocked out:
Perez
Raikkonen
Stroll
Russell
Kubica
Q2 – Red flag for big Magnussen crash sees Verstappen drop out
The main focus of Q2 was which of the top three teams of Mercedes, Ferrari and Red Bull could make it through to the final part of qualifying on the more durable medium tyres.
Both Ferraris and both Mercedes managed it, while Red Bull's Max Verstappen, after a promising Q1, decided to give it a go. Traffic on his fast lap compromised him, however, and left him in the drop zone, forcing him to head back out on a new set softs.
Having done that, Verstappen was then circulating with enough speed to make it through to Q3 when Kevin Magnussen, up ahead in the Haas and attempting to make it into Q3 in Canada for the first time, smacked the Wall of Champions with his right-rear tyre, the impact sending him slewing wildly across the track and into the pit wall before bouncing back to the other side and coming to a rest.
That meant that Verstappen was unable to complete his lap – leaving Pierre Gasly as Red Bull's sole representative in Q3 – while the crash also denied Magnussen's team mate Romain Grosjean a chance to improve, leaving him P15. Ironically, though, Magnussen's off ended up cementing his 10th place, meaning the Dane, despite his very second-hand looking VF-19, got that previously elusive Q3 slot!
Out with Verstappen and Grosjean went the Toro Rossos of Daniil Kvyat and Alexander Albon in P12 and P14, along with Giovinazzi in 13th.
Knocked out:
Verstappen
Kvyat
Giovinazzi
Albon
Grosjean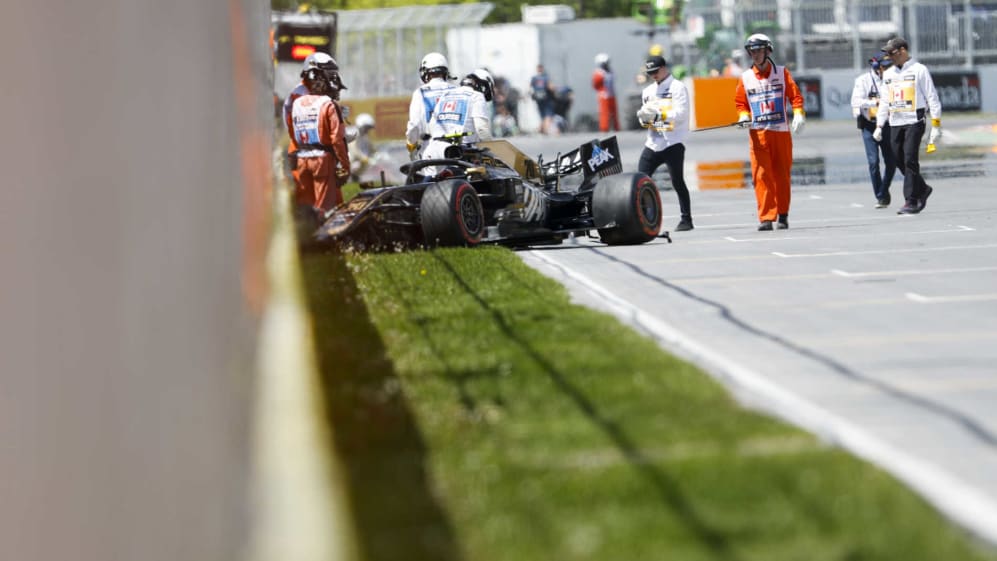 Q3 – Vettel secures 56th pole position ahead of Hamilton, as Ricciardo goes P4
Following some stoppage time as the remains of Magnussen's Haas were swept up, the drivers headed out on track for the final showdown.
Valtteri Bottas had a lively time of it early on, spinning his Mercedes on his first push lap coming out of Turn 2 and using all of his rally driving experience (and a bit of luck) to keep it out of the wall. His second effort, meanwhile, saw the Finn oversteering on the run out of the final corner before locking up at Turn 6 and the hairpin, consigning him to a lowly P6 spot at the grid.
Hamilton's first effort had sent him top of the charts, and as he went round again in the final seconds, he was turning the timing screens purple. But a slow final sector meant his record-breaking seventh pole position in Canada would have to wait. Instead, it was Vettel who swept through, using Ferrari's horsepower advantage to claim his first pole since Germany last year, and by a comfortable 0.206s in the end.
Leclerc slewing wildly out of the final corner meant that the Monegasque could only finish third, while a delighted Daniel Ricciardo claimed fourth place for Renault – something that would have been particularly satisfying, given that he ended up 0.006s ahead of Pierre Gasly in the seat the Australian vacated at Red Bull last year.
Hulkenberg, Norris and Sainz in P7, P8 and P9, meanwhile, meant that the full gamut of Renault cars were represented in Q3, marking a strong day for the French power unit maker.
But ultimately, all eyes were on Vettel, as he claimed Ferrari's first pole position since Bahrain earlier this year. And with Leclerc well-placed in third and Bottas all the way down in sixth, signs are auguring well for the Scuderia to get their season back on track on Sunday at the circuit named for one of the team's great heroes.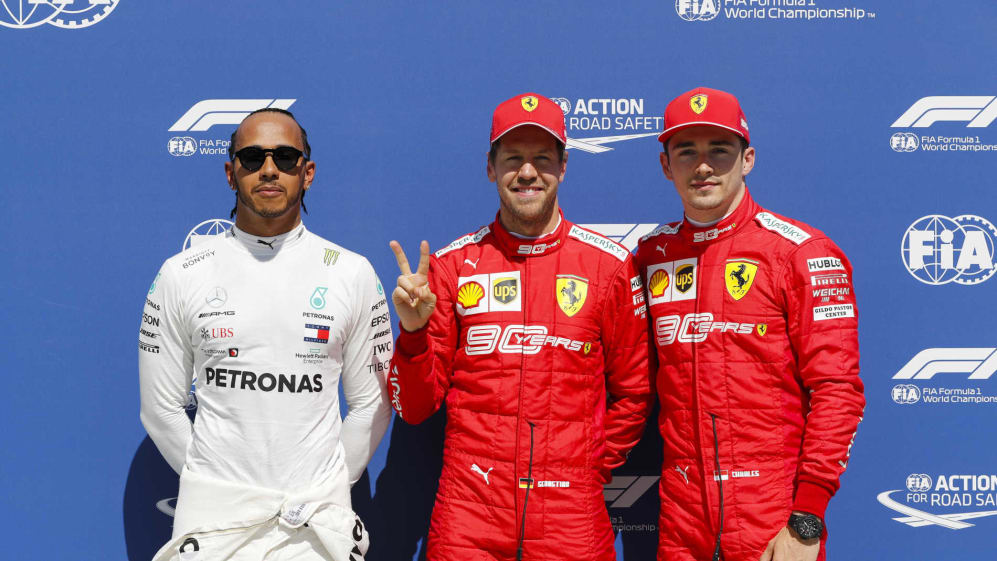 The key quote
"It feels bloody good in qualifying. I'm full of adrenaline to be honest. The feeling in the car when it just keeps coming and you feel the grip and go for it, that was one of those laps, so really, really nice. I really enjoyed it. Very happy for the team, because the last weeks – well, the last 17 races! – but the last weeks have been very tough for us." – Sebastian Vettel
What's next
Lights go out at 1410 local time tomorrow in Montreal, which is 1810 UTC. Temperatures are set to be toasty at the Circuit Gilles-Villeneuve, too, with around 25 degrees Celsius predicted when the race gets underway. A titanic battle is in store then - make sure not to miss it.