Qualifying - Vettel snatches Mexico pole from Verstappen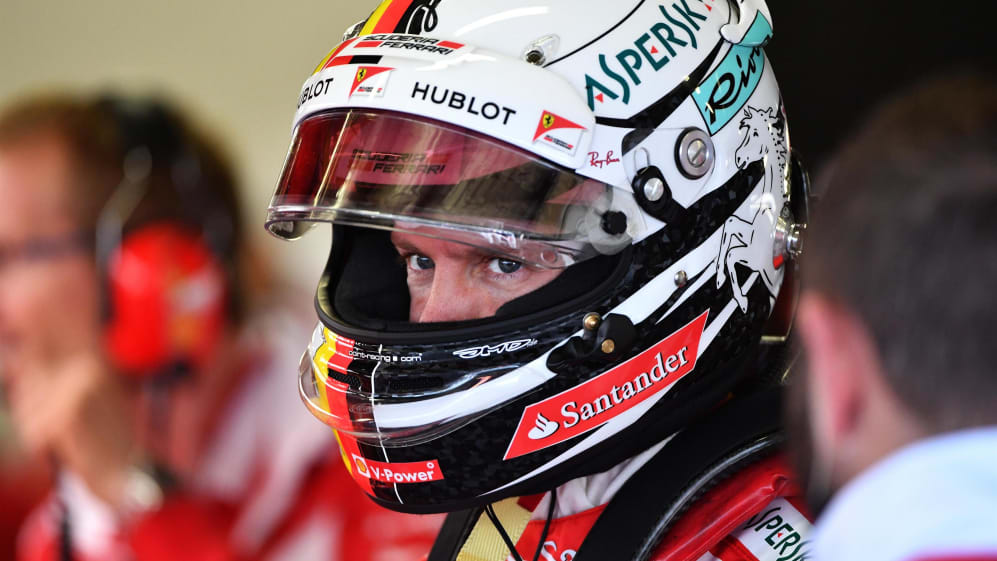 Red Bull's Max Verstappen looked set to become F1's youngest-ever polesitter in Mexico on Saturday – until the man who still holds that record, Ferrari's Sebastian Vettel, denied him at the last by just 0.086s around the Autodromo Hermanos Rodriguez. Championship leader Lewis Hamilton was third, from Mercedes team mate Valtteri Bottas.
On the third row of the provisional grid for Sunday's race will be Ferrari's Kimi Raikkonen and Force India's Esteban Ocon, followed by Red Bull's Daniel Ricciardo and the Renaults of Nico Hulkenberg and Carlos Sainz. In the second Force India, local hero Sergio Perez completed the top ten.
As it happened
Hamilton and Bottas headed the times on Pirelli's ultrasoft tyres in Q1 with 1m 1.518s and 1m 17.578s respectively, but Verstappen and Vettel were close with 1m 17.650s and 1m 17.665s with supersofts.
Further back, a late improvement by McLaren's Stoffel Vandoorne pushed Pascal Wehrlein out of Q2, and his Sauber team mate Marcus Ericsson also beat his time, leaving them 16th and 17th on 1m 19.196s and 1m 19.333s. Then came the two Haas cars, with Kevin Magnussen on 1m 19.443s from Romain Grosjean on 1m 19.473s. Pierre Gasly never even ran, as his Toro Rosso's engine was still being replaced after its problem in FP1.
Q2 would show the true pecking order, as everyone opted for ultrasofts. Red Bull and Ferrari showed their true colours as Verstappen lapped in 1m 16.524s and Vettel in 1m 16.870s, leaving Hamilton rather breathless on 1m 17.035s.
Neither Williams made it through to Q3, with Felipe Massa stopping the clocks in 1m 18.099s for 11th and Lance Stroll 12th on 1m 19.159s. It transpired they had no opposition from Toro Rosso, as Brendon Hartley's engine stopped on his out lap, and neither of the McLarens ran as Vandoorne and Fernando Alonso have heavy grid penalties – 35 and 20 places respectively – for engine changes.
So Q3 looked certain to be a battle between Verstappen and Vettel, with Mercedes likely to take the second row at best… Interestingly, however, the Red Bull driver had been unhappy about the way in which his front tyres took so long to warm up, so was agitating for a revised strategy if the team were planning single-lap runs in Q3.
Verstappen set the pace on the first runs in Q3, with 1m 16.524s to Vettel's 1m 16.833s and Hamilton's 1m 16.934, but the Dutchman caused a stir by initially going so slowly in the stadium after appearing to abort his first try that Bottas said his lap was ruined as passing the Red Bull caused him to go too deep into Turn 1 and lock up; he thus aborted that lap as well and headed for the pits, so he had no time when others had finished their runs.
Verstappen, who was cleared by the stewards of impeding Bottas, failed to improve on two further tries, but Vettel did, snatching the pole away at the last moment with 1m 16.488s.
Hamilton's second lap was scruffy, but Bottas jumped up to fourth 1m 16.598s, leaving Raikkonen fifth on 1m 17.238s, Ocon a tremendous sixth on 1m 17.437s and Ricciardo a disappointing seventh with 1m 17.447s. Hulkenberg out-qualified new Renault team mate Sainz, with 1m 17.466s to 1m 17.794s, as crowd favourite Perez completed the top 10 with 1m 17.807s.
Thus with penalties applied, the provisional grid will line up: Vettel, Verstappen; Hamilton, Bottas; Raikkonen, Ocon; Ricciardo, Hulkenberg; Sainz, Perez; Massa, Stroll; Hartley, Ericsson; Wehrlein, Magnussen; Grosjean, Alonso; Vandoorne, Gasly.