QUALIFYING: Vettel takes record-breaking pole in Montreal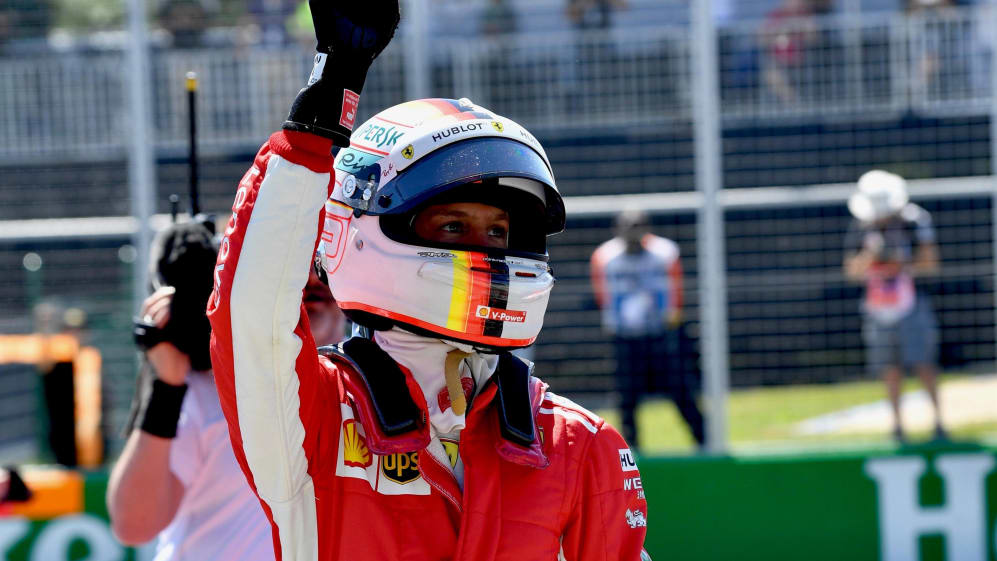 Records continued to tumble in the 2018 season on Saturday, with the Circuit Gilles-Villeneuve's outright track record being claimed by Sebastian Vettel as he romped to pole position for the Canadian Grand Prix...
The Ferrari driver was imperious form in the final Q3 session in Montreal, setting a stunning pole time of 1m 10.764s in the closing moments of qualifying. Mercedes' Valtteri Bottas will join the German on the front row after finishing just 0.093 off Vettel's time, while Max Verstappen, who'd led all three of the weekend's Free Practice sessions, put in a strong last lap to go third in his Red Bull.
Mercedes' Lewis Hamilton, who many had tipped as favourite for pole, had to content himself with fourth, with Ferrari's Kimi Raikkonen fifth after an error on his final quick lap, and the second Red Bull of Daniel Ricciardo in sixth.
Force India and Renault were the two other teams duking it out for top midfield honours. Ultimately it was Renault who came out on top, with Nico Hulkenberg seventh, Force India's Esteban Ocon eighth, Renault's Carlos Sainz ninth and the sister Force India of Sergio Perez 10th.
Q1 - STROLL FAILS TO MAKE THE CUT IN FRONT OF HOME CROWD
It was a scrappy first session for many drivers as qualifying got underway. There were lurid slides for Hamilton, Ricciardo and Marcus Ericsson, with the Swede damaging his Sauber's suspension after clouting the wall at the exit of Turn 9 and nearly running into the slower Red Bull of Verstappen ahead.
With the top three teams lining up in twos at the top of the timesheet – Ferrari's Vettel and Raikkonen, Mercedes's Hamilton and Bottas and Red Bull's Verstappen and Ricciardo – there were impressive performances elsewhere from Toro Rosso's Brendon Hartley, who put his car into eighth, and Sauber's Charles Leclerc in 12th.
After showing very promising pace across the Free Practice sessions, there was disappointment for Haas's Romain Grosjean, with his car dramatically billowing smoke as soon as he left his garage. Although he was pushed back in, the problem was deemed terminal, with Grosjean forced to watch from the sidelines.
He was joined in the elimination zone for the session by Pierre Gasly in 16th – who, unlike team mate Brendon Hartley, was forced back to Honda's previous-spec power unit after an issue in FP3 – local boy Lance Stroll and his Williams team mate Sergey Sirotkin in 17th and 18th, with Ericsson and Grosjean bringing up the rear.
Q2 - RICCIARDO FASTEST BUT DISAPPOINTMENT FOR ALONSO
With the teams having to start the race on the tyres they set their fastest lap on in Q2, there was intrigue as many of the top runners experimented to see if they could make it through the session on the harder, purple ultrasoft.
The Ferraris and the Mercedes drivers all managed it, while the Red Bulls didn't even try it, opting to stay on the pink-walled hypersofts throughout the session.
Ricciardo was certainly making them work, though, banging in what was at the time the fastest-ever lap around the Montreal track – a 1m 11.434s – at the end of the session.
Haas's Kevin Magnussen ended up as the first man outside of the top 10, with Hartley 12th, Sauber's Charles Leclerc 13th, and the McLarens of '300th Grand Prix man' Fernando Alonso and Stoffel Vandoorne down in 14th and 15th.
Q3 - VETTEL WINS FASCINATING SCRAP FOR POLE
It was anybody's guess as to who would come out on top in the final session. Early on, Bottas became the first man to lap the circuit in under 1m 11s, while Hamilton seemed less comfortable, cutting short engineer Pete Bonnington on team radio as he was having his pace differential to his Finnish team mate explained to him.
With Vettel having beaten Bottas' time midway through the session, the German then brought the track's outright lap record down even further with his final attempt as team mate Raikkonen took to the grass at Turn 2, preventing him from improving on his fifth-placed time.
Verstappen put in a rapid last-gasp effort to go third ahead of Hamilton, while team mate Ricciardo – who's traditionally struggled most against team mates at this track – down in sixth, around two-tenths off the Dutchman.
As one canny observer on Twitter put it, the fourth and fifth rows of the grid will be a 'Battenberg cake' formation, with the yellow and pink Renault and Force India cars lining up two by two, Nico Hulkenberg and Esteban Ocon in seventh and eighth, ahead of Carlos Sainz and Sergio Perez.
The key quote
"Yesterday, I think were a bit in trouble, I wasn't really happy with the car, we had some problems, I just couldn't get the rhythm. Usually I like this track. Yesterday was very difficult, but today it switched on. I guess I woke up the right way and what a day. The car was incredible in quali, it just kept getting quicker. In my final lap I had a small mistake, otherwise I think there was a little bit more but it was fantastic." - Sebastian Vettel
The key stats
Can Sebastien Vettel win tomorrow? His chances are slightly worse than 50/50, with 47% of polesitters having converted their hard work on Saturday into victory on Sunday in the previous 38 Canadian Grands Prix

Lewis Hamilton finds himself in the uncomfortable position of being off the front row in Canada for only the second time in his F1 career. The other time was in 2011 - when he retired after seven laps

Hamilton had also only ever been out-qualified by a team mate once before in Canada, when Nico Rosberg took pole in 2014

Charles Leclerc made it through Q3 for the fourth consecutive Grand Prix – the first Sauber driver to do so since Adrian Sutil in 2014

Four times in the last 13 Canadian Grands Prix, the race has been won by someone who qualified outside of the top five

The session marked the first time in 2018 that Esteban Ocon has qualified in the top 10 at consecutive races

Sauber and Williams remain the only two teams not to have reached Q3 in 2018

Aside from the two Ferrari drivers, Lewis Hamilton and Daniel Ricciardo, Renault's Carlos Sainz is the only other driver to have made it into Q3 at every race weekend this season

Toro Rosso haven't made Q3 in Montreal now since 2014

Nico Hulkenberg qualified in seventh – the position that he's spent 40% of his races in so far this season
What's next?
Sunday's race around the Ile Notre-Dame track will begin at 1410 local time – that's 1810 UTC – and looks set to be dry, with temperatures hovering around the 21 degree mark.