Race - Bottas defeats Hamilton in 2017 finale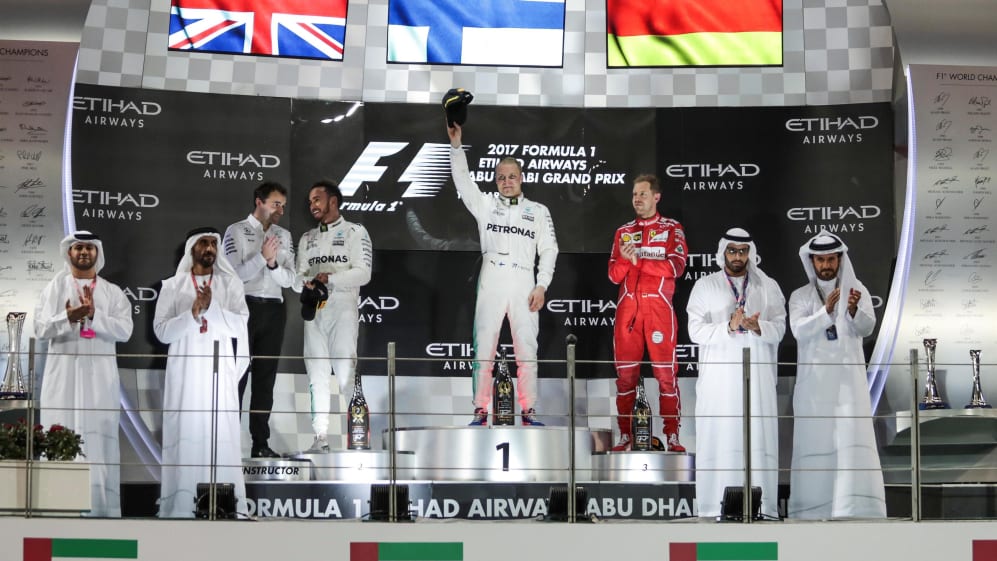 Team mate Lewis Hamilton loomed large in his mirrors for most of the race, but Valtteri Bottas soaked up the pressure in style to pull clear at the end and win Sunday's 2017 Formula 1 Etihad Airways Abu Dhabi Grand Prix. As Mercedes ran away and hid at Yas Marina, Sebastian Vettel came home a distant third for Ferrari, 15 seconds down the road.
Kimi Raikkonen followed his team mate home in fourth, with Max Verstappen keeping the Finn honest throughout as the only Red Bull finisher in fifth, after Daniel Ricciardo became the first retirement on lap 21 with hydraulic problems.
Nico Hulkenberg was sixth, lifting Renault ahead of Toro Rosso to sixth in the final constructor standings, with the Forced Indias of Sergio Perez and Esteban Ocon next up, as McLaren's Fernando Alonso and Williams' Felipe Massa completed the top ten.
It might not have been the best race of what has been a gripping season, but it yielded Bottas the victory he lost in Brazil, and which he craved when he took pole position here yesterday.
The Finn never put a wheel wrong after he took the lead from the start and held it throughout the ensuing 55 laps despite increasing pressure from Hamilton.
Bottas had the edge on the ultrasoft Pirelli tyres during their opening stints, and had a lead of 2.5s when he pitted on the 22nd lap. Hamilton then led for two laps before pitting, and found himself able to push harder on the supersofts. Despite suggesting that it is impossible to follow another car and challenge it round Yas Marina, he got the gap down to 1.1s on the 29th lap, but Bottas always seemed to have an answer and never looked ruffled as he controlled the pace.
Hamilton had another big push on the 49th lap, getting within half a second at one stage as they came up behind Alonso's lapped McLaren, but soon after Vettel, more than 20s in arrears, had popped in fastest lap, Bottas annihilated that twice to pull away from Hamilton, almost as if the result had been pre-ordained.
In the end, he led Hamilton home by 3.8s in the most convincing race of his career, the Silver Arrows leaving Vettel a long way back in third on a day when Ferrari had reliability, but not outright pace.
Ricciardo had made a poor start but battled back ahead of Raikkonen in the other Ferrari, but his Red Bull quit after his pit stop on the 21st lap with suspected power steering hydraulics failure. That cost the Australian fourth place overall in the driver standings, as Raikkonen's fourth place race finish put him on 205 points to his 200. By the flag, Verstappen got within eight-tenths of a second of the Ferrari, but their respective positions were never in doubt.
Hulkenberg had to serve a five-second penalty for gaining advantage over Perez by going off track early in the race, and also had delays in the pits with the right rear wheel of his Renault after serving it, but sixth place brought the team eight points and thus moved them ahead of Toro Rosso in the final constructors' standings. It was not an easy race for the French team, however, as a loose left front wheel put Carlos Sainz into retirement immediately after his pit stop on the 31st lap when they looked set to score even more points. The unsafe release also cost them a fine of €5,000.
Perez had to be content with seventh for Force India, nearly seven seconds ahead of team mate Ocon, as Alonso took ninth in the final race for McLaren Honda. Behind him, Massa celebrated his last Grand Prix with a solid run to 10th and the final point, joining the victorious Mercedes in making happy donuts on his slow-down lap.
The best racing took place way down the field, where Romain Grosjean and Kevin Magnussen brought their Haas cars home 11th and 13th, sandwiching Stoffel Vandoorne's McLaren. Both the Dane and the Belgian had to come back from early problems, but the other star was Pascal Wehrlein, who dragged his Sauber past Magnussen at one stage only to be blown away on the straight by the Haas. He finished an honourable 14th, only 1.5s off the second Haas, as the vanquished Toro Rossos of Brendon Hartley and Pierre Gasly led Marcus Ericsson's Sauber home.
Lance Stroll was the final finisher, struggling horribly with front tyre temperatures on his Williams.
WATCH: Race highlights from Abu Dhabi