Report
Race - Hamilton beats Vettel in Spain to close title race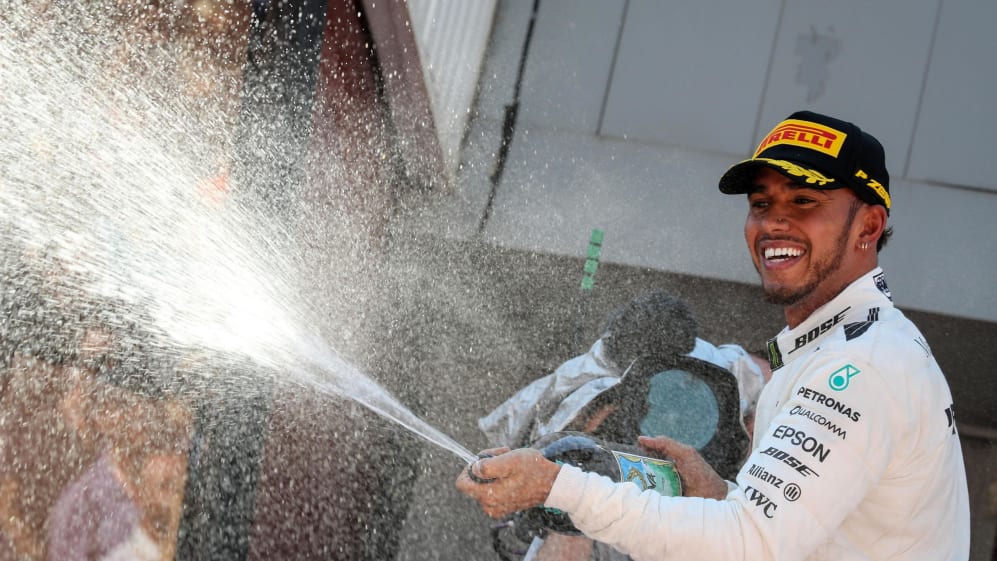 Lewis Hamilton won a drama-filled Formula 1 Gran Premio de Espana Pirelli 2017 on Sunday, as Mercedes, Ferrari and Red Bull all saw just one car make the finish at the Circuit de Barcelona-Catalunya. Hamilton took the flag 3.4s ahead of title rival Sebastian Vettel, with Daniel Ricciardo a distant third.
It was Hamilton and Vettel's best encounter yet this year, as each had turns leading a very tactical race before the Briton was finally able to overtake the German to score his 55th career victory and the second of the season. It moves him within six points of Vettel's championship lead as they head to Monaco.
An excellent afternoon for Force India saw Sergio Perez and Esteban Ocon finish fourth and fifth respectively, with Nico Hulkenberg an equally impressive sixth for Renault. Carlos Sainz took seventh in his home race for Toro Rosso, while Sauber celebrated their first points of 2017 thanks to Pascal Wehrlein's eighth place. Toro Rosso's Daniil Kvyat and Haas's Romain Grosjean completed the top ten.
The race began with drama. Hamilton and Vettel ran side by side down to Turn 1, with the Ferrari finally getting the advantage as the Mercedes struggled with wheelspin. Behind them, Valtteri Bottas in the second Mercedes almost got past Hamilton before tucking back in behind him, but as the Finn rode up the inside kerb his car was edged into contact with fellow countryman Kimi Raikkonen, to his left. The Ferrari was in turn nudged into Max Verstappen as he was trying to go round the outside in his Red Bull.
The Ferrari and the Red Bull were immediately eliminated with suspension damage, while in another incident Williams' Felipe Massa collided with Fernando Alonso, who had made a slow start in his seventh-placed McLaren. Both continued, but finished only 12th and 13th.
Vettel led until pitting to switch to a fresh set of soft Pirelli tyres. Hamilton then took over and led until the 21st lap, when he pitted for medium tyres. That put Bottas into the lead and Mercedes tactically left him there so he could try to contain Vettel as Hamilton recovered. Vettel was able to overtake him on the 25th lap, however, and Hamilton also closed in and moved ahead of his team mate. Now he had to wait and see whether he could maintain pace with Vettel on his faster soft-compound tyres, as Mercedes' strategy called for him to run his mediums and then take a fresh set of softs to have an advantage later in the race.
But then fate intervened, when the face of the race changed as Stoffel Vandoorne collided with Massa in Turn 1 on the 34th lap, bringing out a virtual safety car (VSC) - and ultimately costing Vandoorne a three-place grid drop for the next round of the championship.
Mercedes snatched the chance to bring Hamilton in for soft tyres, and because of the VSC he was able to rejoin right alongside Vettel as the track went green as they went into the 38th lap. Hamilton was on the left and got alongside the Ferrari as they turned in, and they touched as each pursued their goal. The Ferrari pushed the Mercedes wide, as Vettel kept his lead. Hamilton was forced to drop back, and they laughed about it later.
But after shadowing the Ferrari for six laps, Hamilton used his DRS to sweep by Vettel and though there was a possibility that Ferrari might implement Plan C and make a third stop, for fresh soft tyres and a counter-attack, it was too late. Hamilton stayed clear to win by just over three seconds, and that was that.
Mercedes lost their second car, however, just as Ferrari had, when Bottas' engine expired in Turn 6 on the 39th lap.
It was a gruelling race for Red Bull, for though Ricciardo took the final podium position, his very heavily updated RB13 was 75.8s behind…
Force India not only maintained their recent run of top-ten finishes with both of the VJM10s, but took a big haul of 22 points as Perez led home Ocon well clear of Hulkenberg's Renault. Each had a lonely race, but that could not be said of the next drivers.
Sainz spent an awful lot of his race behind Wehrlein's Sauber after some brilliant strategy allied to a brilliant drive from the young German enabled the Swiss team to hold track position over Toro Rosso and Haas, as five cars chased car number 94.
Wehrlein incurred a five-second penalty for missing the pit entry bollard on his sole pit stop, but that only cost him a place to Sainz, who pleased the spectators by taking seventh. Wehrlein took eighth on pure merit, leaving Kvyat to secure ninth in the other Toro Rosso as Grosjean picked up the final point for Haas.
Sauber's Marcus Ericsson, Alonso, Massa, Haas's Kevin Magnussen who dropped back after a late stop to replace a punctured tyre after a clash with Kvyat, a lonely Jolyon Palmer in the Renault and Williams rookie Lance Stroll completed the finishers.