Race - Hamilton holds off Verstappen, as Vettel retires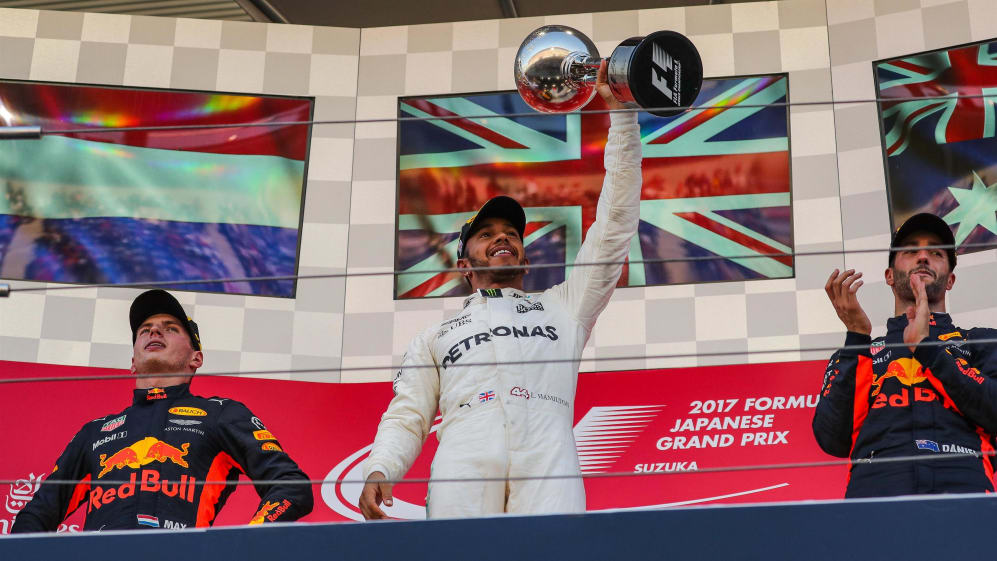 A thrilling finish saw Mercedes' Lewis Hamilton beat Red Bull's Max Verstappen by just 1.2s to win Sunday's 2017 Formula 1 Japanese Grand Prix, with Daniel Ricciardo taking third. The Suzuka round was equally notable, however, for Sebastian Vettel's second retirement in three races, thanks to a technical problem on his Ferrari.
Hamilton now has a 59-point lead over Vettel in the standings, with only four races remaining and 100 points on the table.
The German's Ferrari was being inspected on the grid, just as team mate Kimi Raikkonen's had been in Malaysia last week, but he seemed to be okay as he chased Hamilton away at the start. But soon Verstappen passed him in the hairpin to snatch second place, and the next time around fast-starting Esteban Ocon had moved to third for Force India as Ricciardo and Mercedes' Valtteri Bottas also passed the Ferrari. Two laps later, Vettel's troubled day was done, all thanks to a faulty spark plug.
Meanwhile, so was Carlos Sainz's after the Spaniard lost control of his Toro Rosso in Turn 7 on the opening lap, prompting the first of three safety-car interventions. It was an unhappy ending to Sainz's last race with the Italian team prior to switching to Renault in place of Jolyon Palmer.
Hamilton and Verstappen soon resumed their battle, but gradually the Mercedes driver began to pull away. He was five seconds clear when Verstappen made his sole pit stop on the 21st lap, and Hamilton covered that next time around.
On the soft Pirelli tyres, however, the Mercedes looked less happy than it had on the supersofts, and for the remainder of the race the Dutchman kept him firmly on his toes.
There had a been a virtual safety car (VSC) deployment on the ninth lap after Marcus Ericsson nosed his Sauber into the wall at Degner 2; there was another on the 47th, however, when Lance Stroll's Williams broke its front suspension going through the final section of the esses. And that was very nearly Hamilton's undoing.
As the Briton struggled with cold tyres when the track went green on the 50th lap, Verstappen was giving it his all and looked very dangerous. Then, a bit of intransigence from McLaren's Fernando Alonso saw him pull back in front of Verstappen to continue his own fight with Williams' Felipe Massa, once he had let Hamilton lap him. The Spaniard is being investigated by the stewards for that, though Verstappen said that he didn't think he could have overtaken Hamilton and that he had only really been able to reel him in as the Mercedes driver dealt with traffic.
In the end Verstappen was 1.2s behind, but at one stage the gap had been under a second.
Ricciardo hung on to get the Suzuka podium he's always wanted, but Bottas attacked him fiercely after starting on the soft tyres and running the supersofts in his final stint. He just failed by nine-tenths of a second to challenge for the final podium position.
On another day of disaster for Ferrari, Raikkonen salvaged only fifth place after running the same strategy as Bottas, both men having lost five grid places for gearbox changes.
Ocon lost his hard-won third place after the Ericsson VSC, dropping behind Ricciardo and Bottas in short order having seemed to be controlling them prior to the Swede's off. He then spent the race running just ahead of Force India team mate Sergio Perez, who asked for but was refused permission to challenge him for sixth place.
Haas also had a great day after Kevin Magnussen had forced his way by Massa's Williams in Turn 2 on the 43rd lap; as the Brazilian ran wide, Romain Grosjean also passed him in the second Haas, to give the America team eighth and ninth places and move them a point ahead of Renault in seventh overall.
It was a horrible day for the French team as Nico Hulkenberg ran in the points for a long time after starting on softs, but tumbled when he switched to supersofts and then ran into a retirement-prompting problem with the DRS mechanism on his rear wing. Team mate Palmer had an unhappy final race for the team to 12th place.
Ahead of the Briton, Massa just held on for the final point by eight-tenths from the aggressive Alonso, as Pierre Gasly brought his Toro Rosso home 13th ahead of Stoffel Vandoorne's McLaren and Pascal Wehrlein's Sauber.