Report
RACE: Ricciardo wins wild Chinese Grand Prix for Red Bull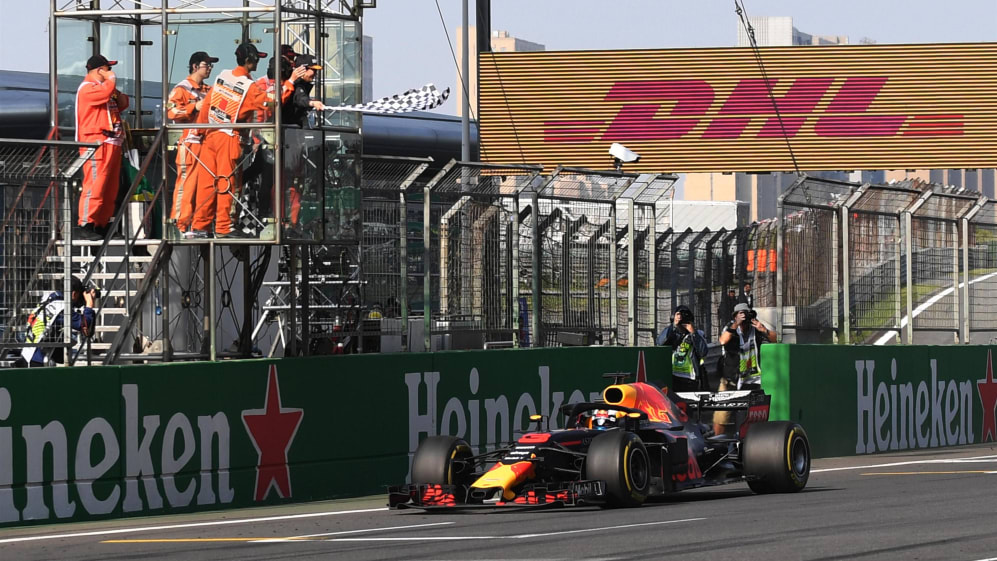 A collision, a safety car and a Red Bull gamble. Those three ingredients delivered the most exciting Grand Prix in recent memory. Sebastian Vettel led. Then Valtteri Bottas led. But it was Daniel Ricciardo who came out on top when it mattered….
The opening stint of the Chinese Grand Prix was largely free of drama, with Vettel on course for his third win in as many races this season. But it exploded into life when Toro Rosso's Pierre Gasly went from hero to zero.
He committed F1's cardinal sin by crashing into team mate Brendon Hartley at the hairpin on Lap 30 of the 56, scattering debris across the track.
The safety car was called into action and Red Bull responded, pulling both Max Verstappen and Ricciardo into the pits from third and fifth respectively and fitting them with soft tyres. It would prove the decisive move.
They may have lost a place apiece, but when the safety car was recalled, their pace advantage over the Ferraris of Vettel and Kimi Raikkonen and Mercedes' Bottas and Lewis Hamilton became clear.
Verstappen, ahead on the road, was best-placed to make the most of the turn of events, but he ran off track when trying an unrealistic move on Hamilton and then got it all wrong when he hit Vettel at the hairpin while trying to recover.
His team mate Ricciardo made no mistake, however, showing him how it was done. He launched one of his trademark attacks from way back, to dive down the inside of Hamilton at the hairpin. He then picked off Vettel easily and then seized the lead from Bottas with a similarly bold move.
The Australian than powered off into the distance to secure his first victory since last year's Azerbaijan Grand Prix, with Bottas second for the second successive race.
It was still an impressive performance by Bottas, who made up for a lack of attack in Bahrain with a decisive move on Raikkonen for the lead. Had the safety car not been called, or had Bottas pitted at the same time as the Red Bulls, he would likely have won.
Raikkonen took third – a reward for a strong opening phase, which actually resulted in him falling back, and seemingly being hung out to dry by Ferrari as they appeared to try and use him to help bring Vettel back into play.
Verstappen crossed the line fourth, but that turned into fifth as the stewards handed him a 10-second penalty for hitting Vettel. Hamilton, who has been off colour all weekend, salvaged fourth.
Nico Hulkenberg was a superb sixth for Renault, with Fernando Alonso getting his elbows out and squeezing Vettel, who was struggling with his tyres, off track in the opening sequence for seventh.
Renault's Carlos Sainz and Haas's Kevin Magnussen completed the top 10 in a race that will live very long in the memory.
The result tightens up the drivers' championship, with Vettel's lead narrowed to nine points over Hamilton, 54 to 45, with Bottas just five back on 40 and Ricciardo - who also set the fastest lap and picked up the Driver of the Day Award - leaping up to fourth on 37.
In the constructors' stakes, Mercedes now have a one-point advantage over Ferrari, 85 to 84, with Red Bull moving into a clear third place on 55.
It all means things could barely be more closely poised as we head to Azerbaijan in two weeks' time...
The key quote
"I don't know what it is, I don't seem to win boring races, they're all pretty fun. That was unexpected. 24 hours ago and I thought we'd maybe be starting at the back of the grid. Thanks to the boys yesterday. I thanked them after qualifying but today is the real reward for that work." – Daniel Ricciardo
The stats that matter
Ricciardo's win was his sixth in F1 – all six of them have been scored from grid slots outside the top three. Starting from P6, he equals Michael Schumacher for the lowest winning grid slot in Shanghai

It's the first time in his career Ricciardo's won and set fastest lap in the same race

Red Bull hadn't won in China since taking their maiden win there in 2009

It's the first time in the current turbo hybrid era that Mercedes have gone three races without a win. The Silver Arrows have only won one of the last six races

On his 100th F1 start, Bottas scored his first China podium

P8 was Vettel's worst result in China since 2008 when he was ninth for Toro Rosso

Lewis Hamilton broke the all-time record for consecutive points finishes, with his 28th top 10 finish in a row

Brendon Hartley didn't make it to the flag, but he made it far enough to be classified, making the race just the eighth in history to pass without a classified retirement (and the second Chinese Grand Prix, after 2016)
DHL Fastest Lap
Daniel Ricciardo, 1m 35.785s (lap 55)
What's next?
After back-to-back races, the teams and drivers now have a short period to catch their breath – and work on their cars – before round four of the championship in Azerbaijan. We'll bring you all the action from Baku from April 27-29.