Race - Verstappen victorious as Vettel storms to fourth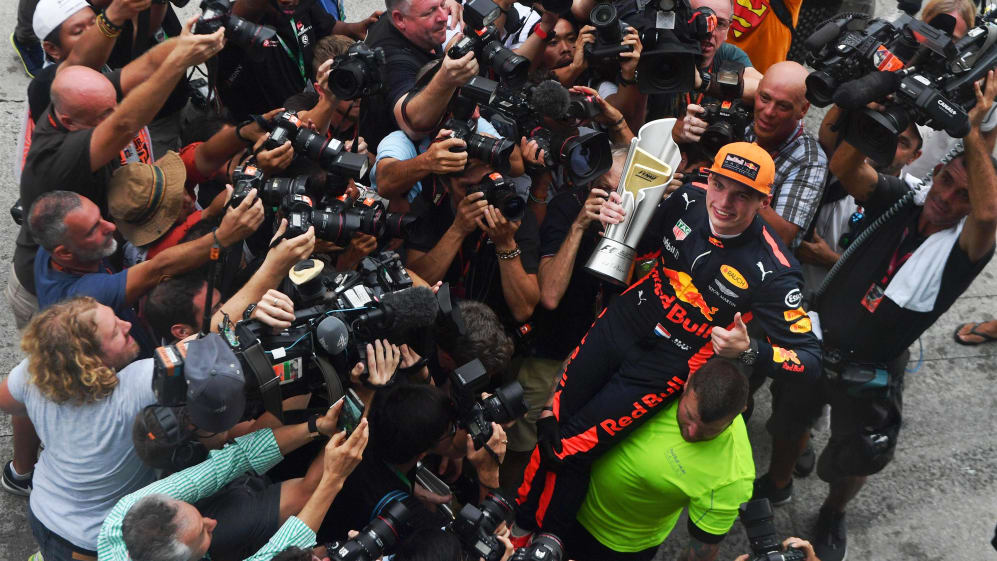 Max Verstappen celebrated his 20th birthday weekend by doing exactly what he wanted to do - winning a Grand Prix from the front - as Malaysia signed off in great style as an F1 venue. A commanding drive saw the Red Bull driver soundly beat Mercedes' Lewis Hamilton, with team mate Daniel Ricciardo holding off Sebastian Vettel for third – the Ferrari driver narrowly missing out on a podium having started from the back of the grid.
After winning an opening-lap tussle with the fast-starting Mercedes of Valtteri Bottas to seize second place, Verstappen confidently took the lead from polesitter Hamilton on the fourth lap. And as the Mercedes driver struggled a little, the Dutchman never looked back and controlled the race to win by 12.7s.
While it was a quiet race for the points leader, it was anything but for his pursuers.
Ricciardo fought and beat Bottas before himself coming under pressure late in the race from back-row starter Vettel, who drove a superb race. The latter started on Pirelli's soft tyres and was thus on light fuel and supersofts when he began to slash into Ricciardo's advantage late in the race, just as the Australian himself was closing on Hamilton.
Vettel got close enough for a long look down the inside in Turn 1 on the 49th lap, but Ricciardo was having nothing of it and held his ground. That proved to be the tipping point, as Vettel's challenge faded as his tyres began to go off and his engine gave cause for concern. From 0.5s the gap between them opened to 14.8s by the flag.
And after that there was further drama for Ferrari, when Vettel collided with Lance Stroll's Williams on the slow-down lap and came to a stop with its left-rear wheel atop his engine cover. Vettel hitched a ride back to the pits on the sidepod of Pascal Wehrlein's Sauber.
The result means that Hamilton is now 34 points ahead of Vettel with five races remaining.
It was a tough day for Ferrari, as Kimi Raikkonen didn't even take the start after being pushed off his front-row slot and into the pits, having experienced power loss on his way to the grid.
It wasn't great for the other Finn either, as Bottas finished a distant fifth ahead of Sergio Perez, who drove heroically for Force India despite feeling unwell.
A fine drive from Stoffel Vandoorne brought McLaren seventh place on a day when Fernando Alonso could muster only 11th, while eighth for Stroll and ninth for Felipe Massa – who had two incidents with Esteban Ocon – brought Williams a lot of points that help their fight with Toro Rosso and Renault, who both had bad days.
Ocon pitted his Force India early after contact with Massa in Turn 2 at the start, when he got squeezed between his team mate and the Williams, sustaining a puncture. After that he did a grand job to take the final point after doing 54 laps on a set of soft tyres.
Behind Alonso, Kevin Magnussen survived incidents with both the McLaren driver and Renault's Jolyon Palmer as he held off Haas team mate Romain Grosjean and Toro Rosso rookie Pierre Gasly for 12th, as Palmer, who spun twice, crossed the line 15th, just a tenth ahead of troubled team mate Nico Hulkenberg.
Wehrlein and Sauber team mate Marcus Ericsson completed the finishers, as besides Raikkonen, Toro Rosso's Carlos Sainz dropped from points contention with engine trouble.