Report
Race - Vettel stuns Mercedes with Melbourne win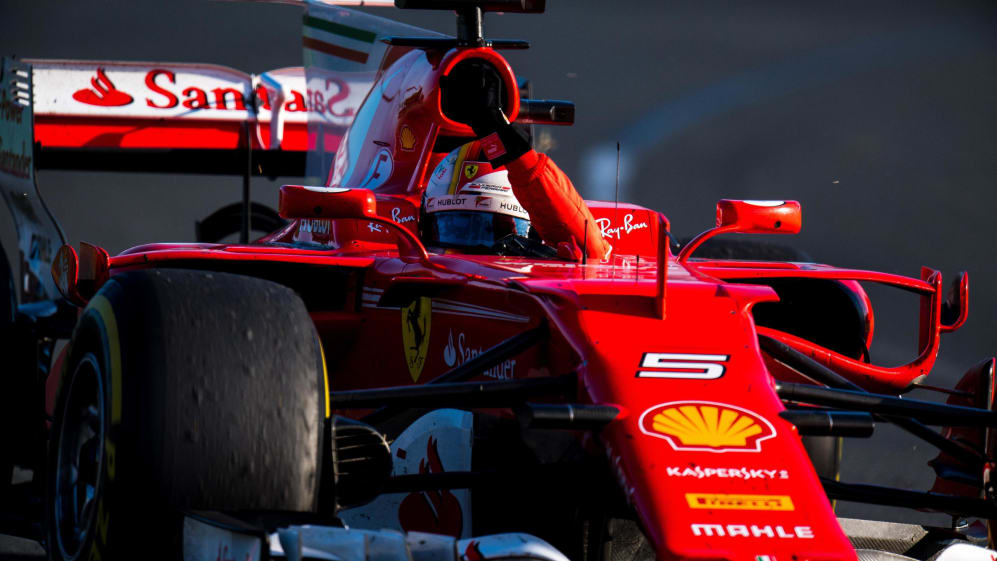 Ferrari proved that their pre-season testing form was no fluke on Sunday, as Sebastian Vettel soundly beat Lewis Hamilton to win the 2017 Formula 1 Rolex Australian Grand Prix. Hamilton's new Mercedes team mate, Valtteri Bottas, completed the Albert Park podium.
After shadowing polesitter Hamilton throughout the race's opening stages, Vettel leapfrogged the silver car at the first round of stops. From there the German never looked back, taking the chequered flag almost 10 seconds clear to clinch Ferrari's first win since Singapore 2015, with team mate Kimi Raikkonen fourth.
Hamilton won the start, leaving Vettel to chase him, but the Mercedes had consumed its ultrasoft Pirelli tyres after 17 laps, whereas Vettel managed to get his to the 22nd lap before making his sole pit stop.
Hamilton ought still to have been able to regain the lead, but he came out of the pits behind Max Verstappen's fifth placed Red Bull, and simply could not pass it despite running on fresher rubber. Thus Vettel was able to make his stop and emerge still in the lead, to the chagrin of Mercedes.
Thereafter, there was no stopping Ferrari, who made up for fumbling what should have been victory here last year by setting out their stall for all to see.
Hamilton did what he could, while coping with what he thought might be a floor problem and some intermittent power surges, which meant he also had to keep an eye on team mate Bottas who, having fallen well behind the two leaders in the opening stages, was coming back strongly in the second half of the race.
In the end, though, there was no way either could challenge the red car, as Ferrari scored a hugely important victory which ushered in the new era of F1 in the most popular way, as far as many fans round the world were concerned.
Raikkonen never gave the top three a moment's concern and finished a distant and uncompetitive fourth, challenged at one stage by Verstappen until he woke up and set the fastest lap on the penultimate tour.
The 'unretired' Felipe Massa was a likewise lonely sixth for Williams as Sergio Perez just kept his Force India ahead of a charging Carlos Sainz's Toro Rosso, and the Spaniard's Russian team mate Daniil Kvyat.
Tenth place fell to Esteban Ocon after a heady dust-up with Fernando Alonso, who had kept his uncompetitive McLaren in the final points-scoring position for lap after lap until a suspension problem enabled both Ocon and the Renault of a closing Nico Hulkenberg to pass him in one corner on the 52nd lap.
As Alonso retired, Pascal Wehrlein stand-in Antonio Giovinazzi made an excellent F1 debut with Sauber to take 12th place ahead of a struggling Stoffel Vandoorne, who at least finished in his McLaren MCL32.
The other retirements included the Haas cars of Romain Grosjean, who fell from seventh with suspected engine failure, and Kevin Magnussen who crashed with Sauber's Marcus Ericsson on the opening lap and later suffered suspension failure; Ericsson, whose engine broke; Daniel Ricciardo, who joined the race on the second lap after starting from the pits following a sensor problem on his way to the grid which jammed his Red Bull in sixth gear, then went out with suspected engine failure; Jolyon Palmer whose Renault had persistent brake problems; and Williams rookie Lance Stroll, who jumped from 20th to 14th on the opening lap but later suffered brake problems too.
Vettel thus leads the drivers' points table with 25 points to Hamilton's 18, Bottas' 15, Raikkonen's 12, Verstappen's 10, Massa's eight, Perez's six, Sainz's four, Kvyat's two and Ocon's one.
Ferrari head the constructors' stakes with 37 points to Mercedes' 33, as Red Bull have 10, Williams eight, Force India seven and Toro Rosso six.