Raikkonen blames poor qualifying for first-lap Ricciardo collision
In Sunday's enormous first-corner crash at Spa, most viewers' eyes were drawn to the Sauber of Charles Leclerc as it was vaulted by Fernando Alonso's McLaren – but many didn't spot Daniel Ricciardo's Red Bull getting caught up in the action too...
As Alonso's MCL33 sailed through the air, his front wing tagged Ricciardo's rear, as shown in the video above. The impact put the Red Bull into a slide, leaving the Australian to connect with Kimi Raikkonen's Ferrari in front – with the Finn having had to back off to avoid hitting the back of Kevin Magnussen's Haas as the cars concertinaed up behind Ricciardo's team mate Max Verstappen.
Ricciardo pitted for new front and rear wings before being sent out two laps down on the leaders, while Raikkonen was forced to complete a lap with a punctured right-rear tyre and damage to his car. The Ferrari star eventually retired on lap nine, while Ricciardo battled on until Red Bull decided to park him on lap 31.
"[Ricciardo] hit me on the rear and I had a lot of damage," said Raikkonen after his race was run. "Also on the floor [and] rear wing, as I needed to do the full lap with a flat tyre. Then it ended up being so bad that the DRS opened itself all the time, so obviously there was no point in carrying on. Obviously it was far from ideal."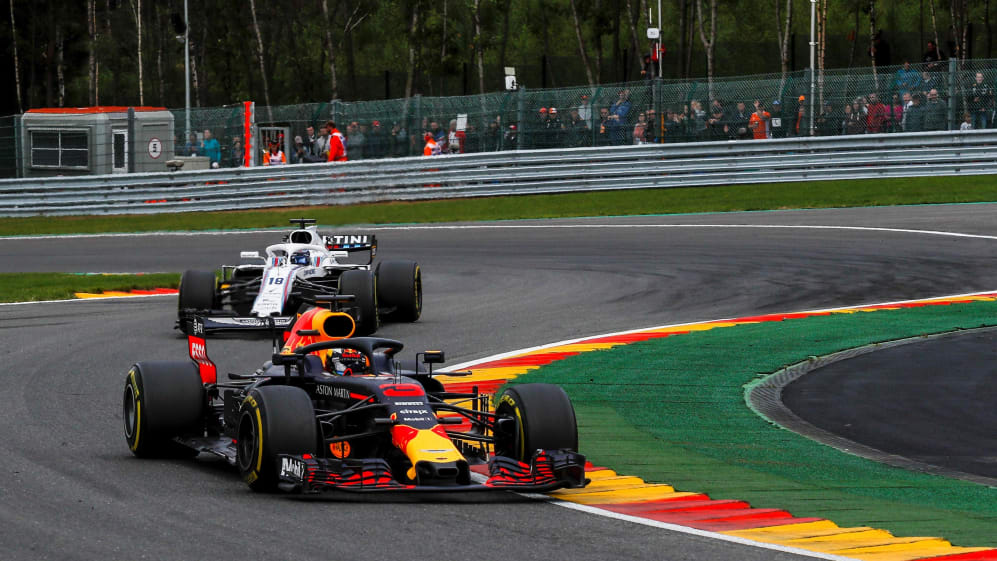 "I remember sliding and next minute I was in the back of Kimi," was Ricciardo's appraisal of the incident. "It all happened pretty quick but what I remember was getting a hit initially and then looking and then I'm basically in the back of Kimi on the exit.
"The rear wing was pretty much ripped off. The mechanics tried to get me out there before we went a lap down but we just missed that but they did all they could. We tried to go [out] and wait for a safety car, because then we would of got a lap back so it would have put us on the lead lap. So we were trying but we couldn't obviously keep racing and hoping till the end, so we packed it up."
The incident capped a frustrating weekend for both drivers. Although team mate Sebastian Vettel ended up claiming the race win in Belgium, Raikkonen had arguably looked to be the faster of the two Ferrari drivers up until the final part of qualifying. However, in the mixed conditions of Q3 he ended up too light on fuel to make it back onto a track that improved throughout the segment, winding up in P6.
Ricciardo, meanwhile, managed just a handful of laps in Free Practice 1 as his Red Bull team struggled to fix an engine injector issue. That left him on the back foot throughout the weekend, and he ended up P8 on the grid as a result.
Asked for his view on the causes of the Lap 1 incident – for which the stewards decided to take no further action – Raikkonen responded bluntly: "It's what you get when you've had a bad qualifying. People start doing things that obviously don't work very well. I got hit and that's it."