Raikkonen distracted by switch change on steering wheel when he hit Alfa Romeo team mate Giovinazzi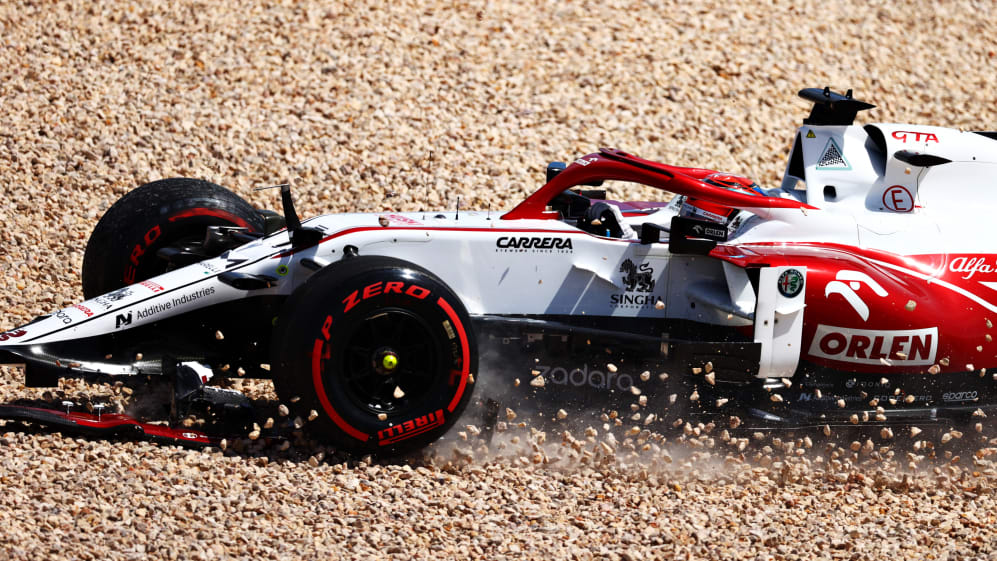 Kimi Raikkonen has taken the blame for his race-ending clash with Antonio Giovinazzi early in the Portuguese Grand Prix, the Finn saying he made a misjudgement while making a change on his steering wheel.
In a moment that would have made those on the Alfa Romeo pit wall flinch, Raikkonen ran into the rear of team mate Antonio Giovinazzi's identical C41 as the duo streaked across the line to start lap 2 in Portimao.
READ MORE: Hamilton takes victory in Portugal after crucial overtakes on Verstappen and Bottas
Raikkonen's front wing ended up getting jammed under his front tyres, sending the 41-year-old helplessly into the gravel and retirement.
"It's my fault," said Raikkonen, who started P15, three places behind Giovinazzi.
"I had to change some switch and got it wrong on the first try, and then I was checking it was right and I just ended up driving into him.
"Luckily I didn't destroy his tyres. So, far from ideal."
Giovinazzi went on to finish in P12, while Raikkonen – who lost his point-scoring position following a post-race penalty last time out in Imola – was left to rue what might have been.
"It is what it is," he said philosophically.
"It was really a small touch to be honest," added Giovinazzi. "I need to speak with Kimi, but it was a bit lucky from my side."
Alfa Romeo remain eighth in the standings after three rounds, with no points yet on the board.