Raikkonen fastest, 100 laps for Kubica in Abu Dhabi test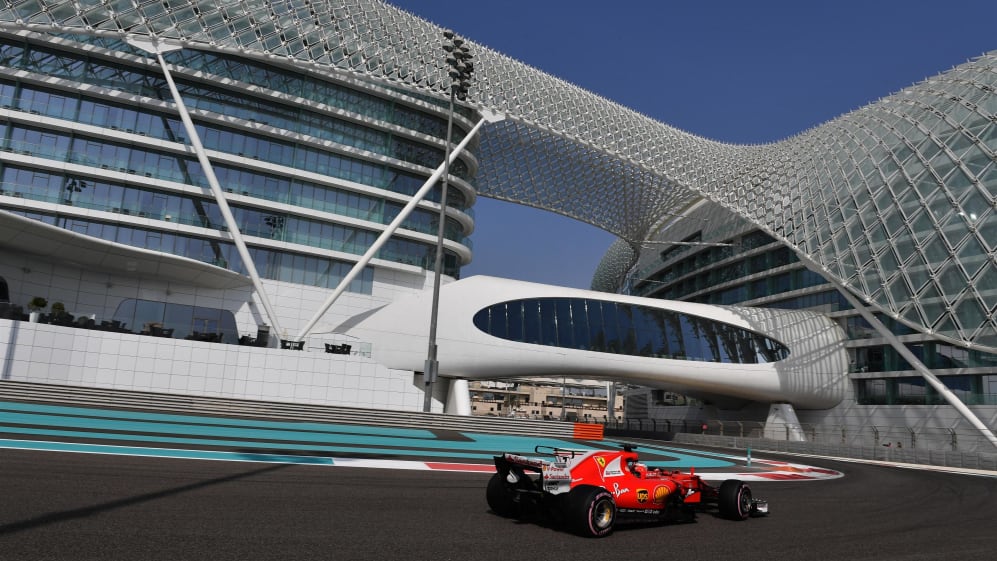 Ferrari's Kimi Raikkonen set the quickest lap in tyre testing at Yas Marina on Tuesday, as the teams got their first taste of Pirelli's 2018 compounds. However, it was Robert Kubica who received the most media attention, the former Grand Prix winner completing what appeared to be a successful programme with Williams.
Kubica, who is being considered for a potential 2018 comeback with the team, clocked up 100 laps in the FW40, equivalent to almost two Abu Dhabi Grand Prix distances, ending the day eighth on the timesheet.
Raikkonen, who did only one lap fewer than the pole, set his table-topping time – a 1m 37.768s – on Pirelli's new hypersoft compound, which is two steps softer than the 2017 ultrasoft.
Raikkonen, who is splitting driving duties with team mate Vettel, lapped 0.298s quicker than Red Bull's Daniel Ricciardo, who will hand over to Max Verstappen tomorrow after clocking 109 laps.
World champion Lewis Hamilton was another to do more than a century of circuits, though the Briton's 123 were dwarfed by the 137 completed by Haas driver Romain Grosjean, who finished marginally ahead of Lance Stroll, the Canadian having taken over from Kubica at Williams in the afternoon.
McLaren were the only team permitted to run two cars at the test, following their aborted post-race tyre test in Brazil, and Fernando Alonso and Oliver Turvey chalked up a combined 220 laps, despite an crash for the Spaniard which temporarily brought out the red flags.
Of the two young drivers in action, Force India's Nikita Mazepin ended up quicker than Toro Rosso's Sean Gelael, with the duo eighth and tenth respectively.
Tuesday times from Yas Marina:
| Position | Driver | Team | Time | Laps |
| --- | --- | --- | --- | --- |
| 1 | Kimi Raikkonen | Ferrari | 1:37.768 | 99 |
| 2 | Daniel Ricciardo | Red Bull | 1:38.066 | 109 |
| 3 | Lewis Hamilton | Mercedes | 1:38.551 | 123 |
| 4 | Romain Grosjean | Haas | 1:39.270 | 137 |
| 5 | Lance Stroll | Williams | 1:39.580 | 29 |
| 6 | Fernando Alonso | McLaren | 1:39.762 | 115 |
| 7 | Nico Hulkenberg | Renault | 1:39.803 | 85 |
| 8 | Nikita Mazepin | Force India | 1:39.959 | 90 |
| 9 | Robert Kubica | Williams | 1:41.296 | 100 |
| 10 | Sean Gelael | Toro Rosso | 1:41.428 | 117 |
| 11 | Marcus Ericsson | Sauber | 1:41.681 | 97 |
| 12 | Oliver Turvey | McLaren | 1:41.914 | 105 |