Raikkonen says French GP was 'good fun' as he returns to the points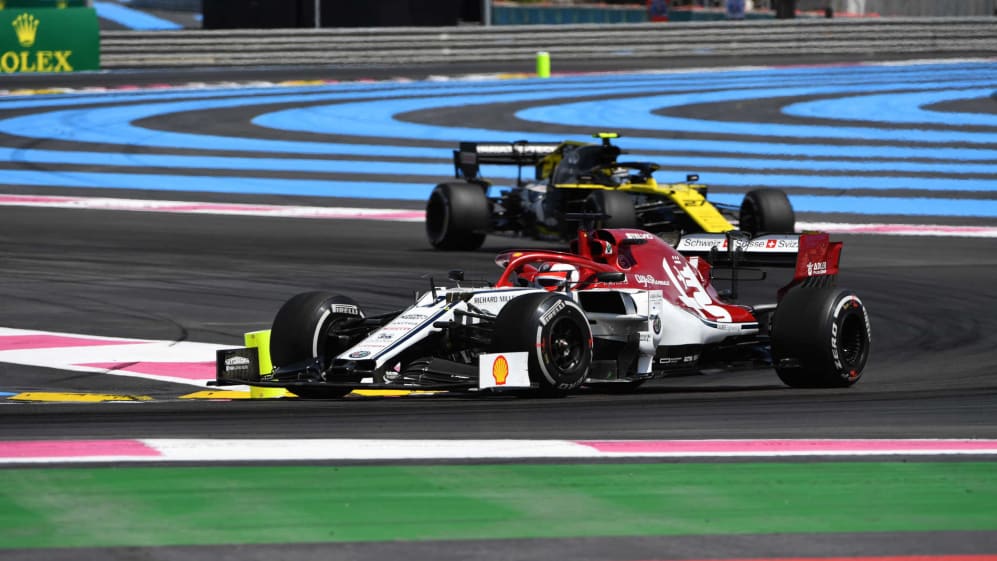 It had been a while, but after a three-race pointless streak, Kimi Raikkonen was back in the top 10 in France with a gritty drive at Circuit Paul Ricard. The Iceman famously isn't usually one to get too carried away but he went as far as to describe Sunday's race a "good fun"...
Outperformed by his Alfa Romeo team mate Antonio Giovinazzi in qualifying for the second successive race, Raikkonen looked on the bright side as starting outside the top 10 meant he had free choice of tyres to start the race. It proved to be a blessing in disguise.
Opting for the hard tyre, the most durable of Pirelli's range available in France, Raikkonen ran very deep into the race, running as high as sixth before pitting. That hauled him into contention for points. In contrast, Giovinazzi, starting on the soft from P9, was forced to pit early, dropping to the back of the field – and he never recovered.
Raikkonen pushed on, having a good battle with Renault's Nico Hulkenberg – which he ultimately won. And he was involved in the thrilling last-lap, four-car battle.
The last few laps were very intense and it was good fun
He passed the other Renault of Daniel Ricciardo, after taking advantage of him getting out of shaping battling Lando Norris. Though he lost the position later on the straight, he reclaimed seventh after the flag when Ricciardo was penalised for being deemed to have left the track to make his pass on the Alfa Romeo stick.
"I was a bit disappointed to miss out on Q3 yesterday, but we knew it would be much better to start on different tyres than the softs, and so it was," said Raikkonen. "I didn't make the best start but luckily I didn't lose too much on the straight and I could fight back in the next few corners.
"We were in a strong position after the start, on the hard tyres, but I had to hold back Hulkenberg the whole race. It was a great battle with the Renaults for most of the afternoon and in the end I was able to catch up with the cars in front. The last few laps were very intense and it was good fun.
"It's really good that we could fight against other cars in the midfield and be up there. We had the speed and we got a good result in the end."
Raikkonen's seventh place moved him up into eighth in the drivers' standings, seven points behind McLaren's Carlos Sainz. The Finn has scored all of Alfa Romeo's points this year, with the Swiss-based team seventh in the constructors' championship, level on points with Racing Point.