Interview
Rain could help Red Bull reign in Austria - Max Verstappen Q&A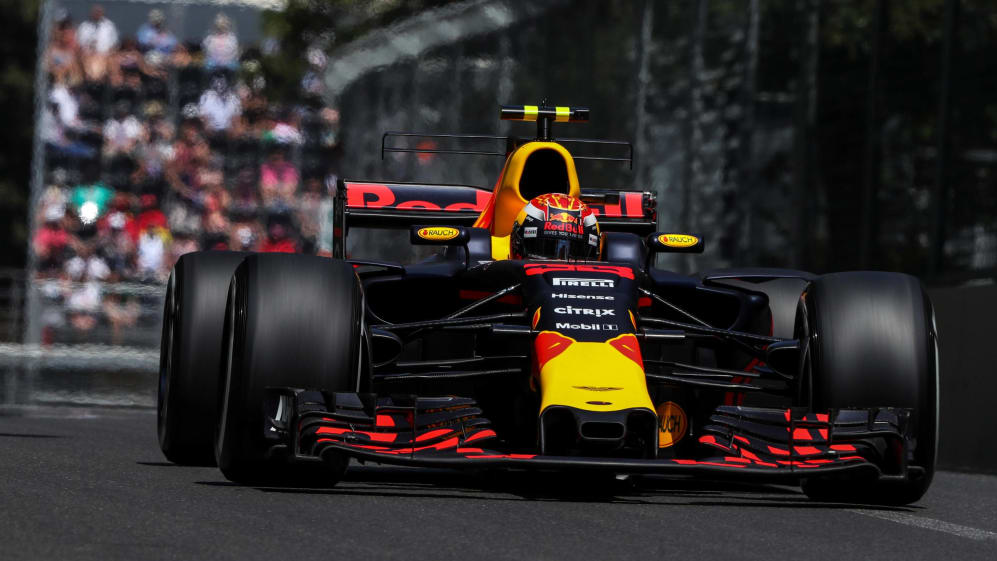 Max Verstappen came second in Red Bull's home race last year. If he's to better that this weekend, it's likely to need some unusual conditions – and scattered thunderstorms are forecast for Sunday. We sat down for an exclusive chat with the Dutchman, to talk F1 records, reliability, and that elusive first win of 2017…
Q: Max, your record of being the youngest F1 podium finisher of all times still stands. You beat Lance Stroll by 11 days – and of course yours was a P1 rather than a P3. Do you follow such statistics - if it is you writing history?
Max Verstappen: I don't really following these kinds of things, as records are always there to be broken. Yes, it's nice that my record of last year still stands, but I don't read too much into it. And holding the 'being the youngest record' doesn't really pay your way. I want to be the one with the most world championship titles. That does! (Laughs)
Q: It took eight years to dethrone Sebastian Vettel from the top of that youngest-ever podium list. Back then he was 21, then you lowered it to 18 - and then got challenged barely a year later. Is F1 racing entering the 'boy wonder' years?
MV: Let's put it this way: Baku was a very crazy race and there was a lot of luck involved in getting so close to my record. I don't think now that it will be close again very soon. (Laughs)
Q: Over the last two and a half years you have been growing up in front of a global audience. At an age when most get to enjoy a period of trial and error, even the smallest mistake can have serious consequences. Is that sometimes a burden?
MV: Ha, this is an age matter. If you are in your first year, being a rookie, or even in your second you can say, 'Oops, sorry, I am still in the learning process.' But in your third year you have to be experienced enough not to make every stupid mistake there is out there! (Laughs) Then you understand your responsibility - and act as a grown up. And, of course, if you are in a top team you are watched very carefully by the media pack that comments on anything that you do. You get used to all that. Call it a learning curve, call it maturity, call it I couldn't care less…
Q: To be in your position requires extraordinary talent – and extraordinary ambition. Where does that ambition come from – have you always been so driven?
MV: Yes, I think so. I always wanted to be the best in a race car. I was always looking for the limit – and being on the limit means you are fast. And all that already at a very young age. I think it's a bit in the family! (Laughs) I think you cannot learn being ambitious – you have to have it. You cannot teach somebody to be more ambitious.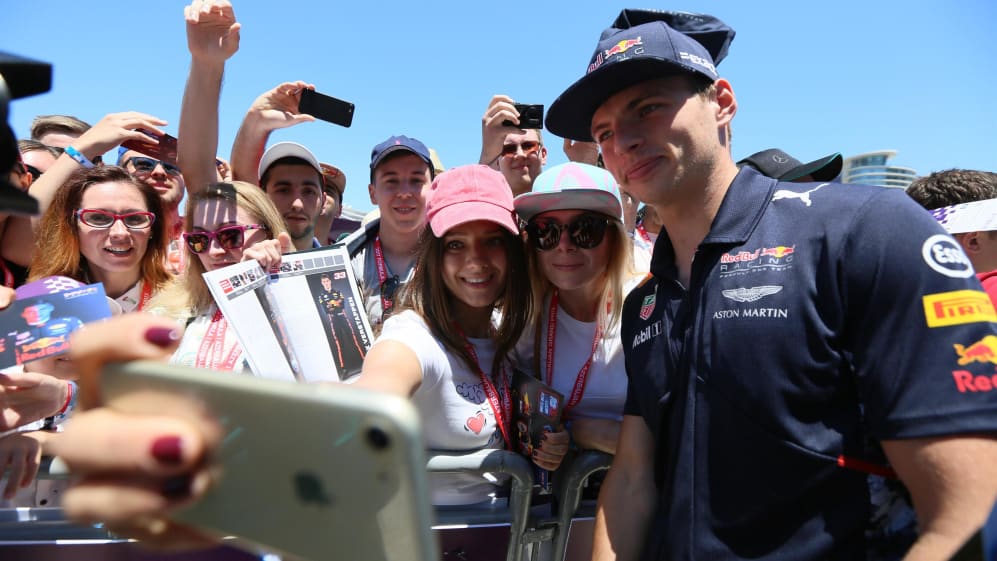 Q: When did you understand that wanting more was one of your character traits?
MV: Probably when I was around seven years old.
Q: How do you live with failure? Is failure something that is on your radar?
MV: Engine failure, yes – personal failure, not really. Yes it can happen – but then it's the DNA of racing.
Q: Staying with being ambitious, right now you are sixth in the standings, behind all five other drivers from the top three teams. An annoying fact?
MV: It's how it is. I keep retiring. There is nothing I can do about it. I do the best that I can, but many things are simply out of my hands.
Q: Not having won a race so far this season, does that feel like a kick in the stomach?
MV: No, because our car is not capable of winning a race - not under normal conditions.
Q: Can you recap the Baku weekend? Friday was all good, heading the time sheet in both sessions, but then the direction was downward – and finally a DNF in the race. What happened?
MV: Saturday I already had issues with the engine in FP3 - I had to stop the car so couldn't do a decent time and in qualifying as well, so we had to turn the engine down in performance. So that all was not good news, but despite that I was able to qualify in P5. In the race we werer on a good way – but there you have it: engine failure.
Q: The podium there was pretty random. Most drivers who went the distance scored points. Had you stayed in the race you could have hit the big time…
MV: Of course I was disappointed when I retired, as I knew that a good result was coming – eventually even winning the race – but that is afterwards talk. We just have to get on top of our reliability.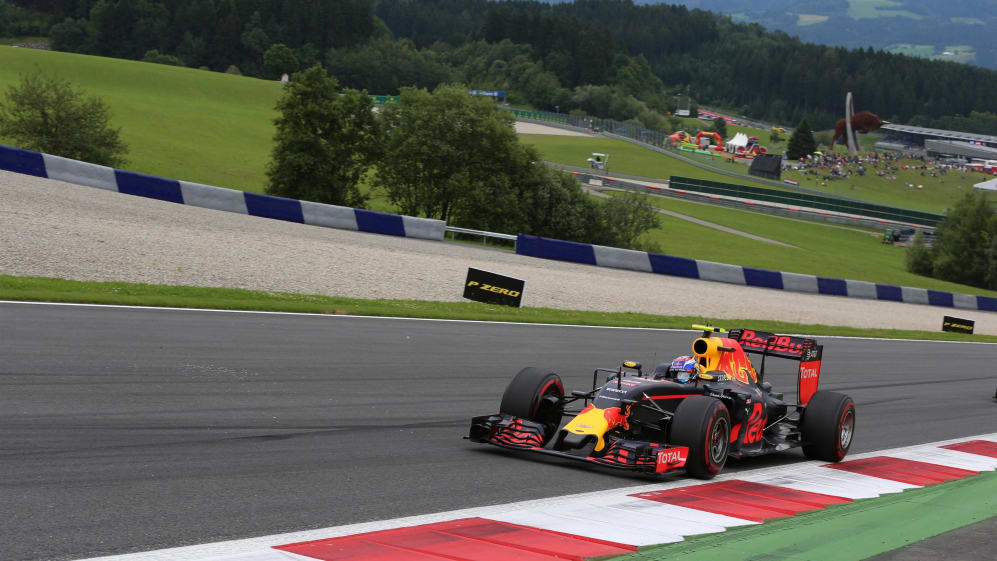 Q: You have had your share of run-ins with Sebastian (Vettel) and he was often pretty furious about you. How do you see his Baku action, in light of your own experience?
MV: He got his penalty, so everything is quite clear. It is always the same story: if somebody does something to you, you complain. The other way around, you do the same. This is human reaction.
Q: There were suggestions that Sebastian lost the car when gesturing and then bumped into Lewis (Hamilton). Can you see that?
MV: I think he turned into Lewis on purpose as you cannot suddenly go like that - not a driver of his skill. But I also cannot understand that they made such a big fuss out of it: he got his penalty, he apologised, so it's time to move on.
Q: This weekend all eyes are on Red Bull Racing at the company's home race. Last year you finished second here in Austria Austrian Grand Prix. Presumably you're only looking to go better this weekend…
MV: This is a tricky race for us. Last year it was only Mercedes dominating the field. Now there is Mercedes and Ferrari, so it got harder to finish on the podium. You have to be tricky, witty and stay out of trouble - and hope that the engine doesn't give up on us! Maybe the weather will help us. Rain would be super welcome - sorry fans in the grandstands, but a wet race could make our day.