Rain is always a friend to me – Belgium polesitter Hamilton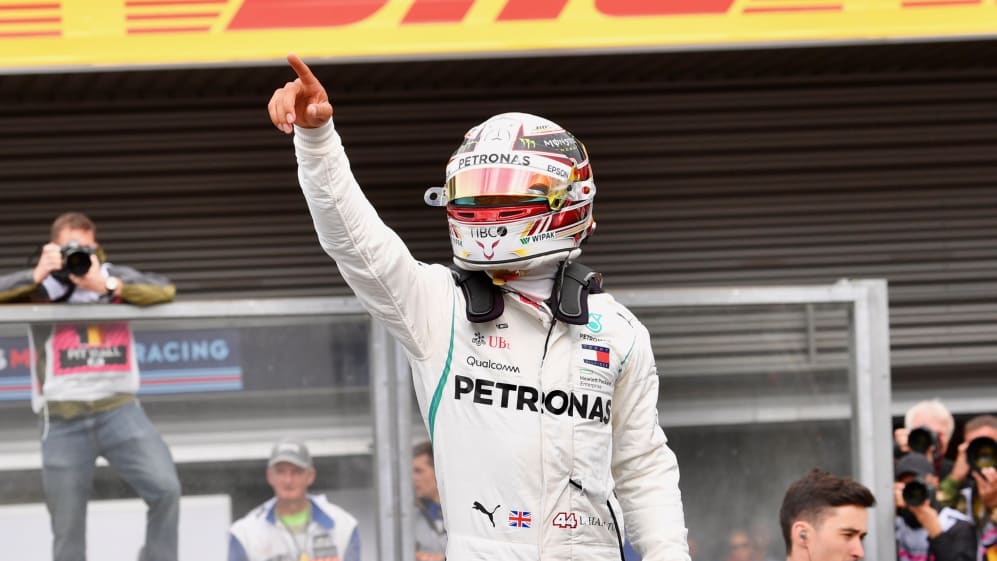 Ferrari were favourites for pole at Spa-Francorchamps, with Sebastian Vettel and Kimi Raikkonen showing rapid pace in dry conditions. But then the heavens opened early in Q3 and it became advantage Lewis Hamilton. "Rain is always a friend to me," said the Mercedes driver after clinching a record-breaking fifth pole in Belgium...
Though Spa-Francorchamps is notorious for its unpredictable weather, only dry tyres had been required for the three practice sessions. The rain stayed away for the first two segments of qualifying, too, but then a downpour hit early in Q3.
Hamilton made mistakes at Turn 1 and again at Turn 12 on early runs, meaning it would all come down to his final lap. With conditions improving and rival Sebastian Vettel failing to hook up a good lap, Hamilton kept his head to take pole – Mercedes' sixth straight P1 slot at Spa.
For the four-time world champion, it was the latest epic wet-weather performance in a career full of them - including his recent come-from-behind win in Germany and rain-soaked pole in Hungary.
"I think that was one of the hardest sessions that I can remember for a while," said Hamilton. "Obviously in the rain in the last [qualifying in Hungary] was obviously incredibly difficult there but this one was straight from slicks to inters.
"You only have a few laps to find the grip, get the tyres up, to understand where the track was drying and where it was wet because it was really patchy throughout the whole lap.
"Towards the end it was drying up in some patches, and still wet in others. I can't find the words to describe how difficult it was. If you look at the laps, I went off at Turn 1 and again into Turn 12, so I only had one lap left otherwise I would have been a lot further down the order.
"I knew I had the pace, it's just about trying to find the balance of not pushing too much but not backing off too much. It's different every single corner. At no point can you ever be complacent. I'm super happy, the team have done a great job. The rain is always a friend to me."
Ferrari look to be strong on race pace and despite starting on pole, Hamilton is expecting a tough battle, particularly at the start should Vettel get a tow up the Kemmel Straight and utilise their impressive speed on the straights.
"They were favourites today and they will be favourites tomorrow but that doesn't mean necessarily they are going to win," said Hamilton. "They have been favourites for quite a few races now and we have managed somehow turn it up on its head and come out ahead.
"Tomorrow will be a tough race. Sebastian's long run looked good yesterday so I don't know if I'll be able to create the pace worthy of building the gap but tomorrow I'll find out and I'll give it everything I've got. It's always a tough race down to Turn 5 at the start and these guys are incredibly quick on the straights. So we'll see."
Hamilton leads Vettel by 24 points in the world title race heading in Sunday's Grand Prix. The question is, will that gap grow or shrink?