Record Breaking Numbers Tried To Qualify For F1 New Balance Esports Series Pro Draft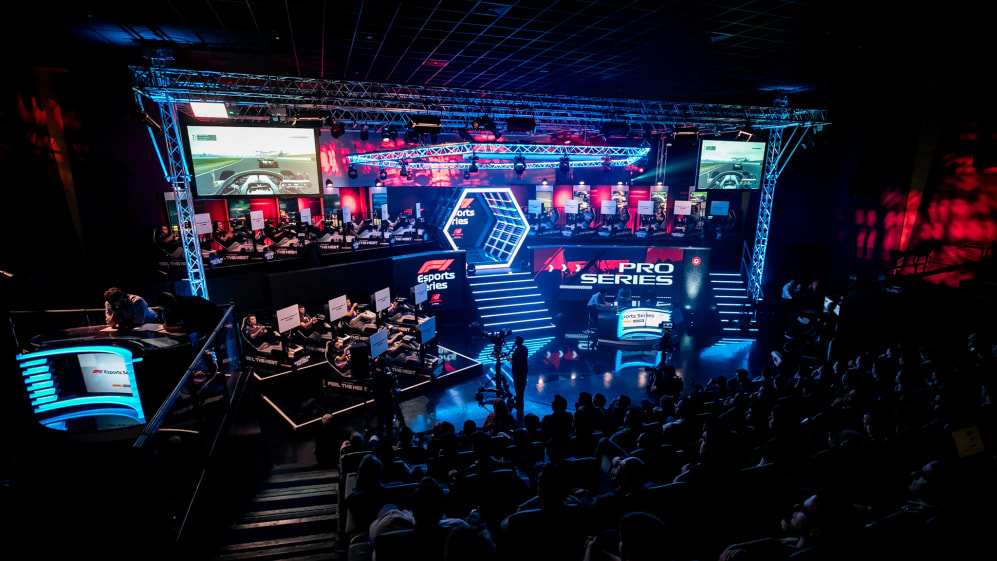 Formula 1®, the pinnacle of motorsport, today revealed the names of the 42 racers who have qualified for the Pro Draft, the next stage of the 2019 Formula 1 New Balance Esports Series which will be held in London at the Gfinity Esports Arena on 17th July. A record breaking 109,000 participants from across the globe competed in this year's qualification stages, a 65% increase on last year, and completed a total of 1.4 million laps, a 40% increase on last year.
During the qualifying window, aspiring gamers from across 156 territories competed for a place in this year's Pro Draft. With entrants from across five continents, the top ten countries represented were Great Britain, Germany, United States, Italy, France, Netherlands, Brazil, Spain, Australia and Poland – highlighting the growing global interest in the series.
Thirty of the 42 racers made the grade for this year's Pro Draft by setting the fastest laps during the global, online qualifying rounds. All entrants competed for their coveted spot in F1 2018, the official game of the FIA FORMULA ONE WORLD CHAMPIONSHIP™ developed by Codemasters; and were eligible to race on the PlayStation®4 computer entertainment system, the Xbox One family of devices or PC.
A further six racers qualified via the DHL 50 Fastest competition. Fifty of the most prominent names in sim racing were invited to challenge for a place in the Pro Draft at an exclusive, invite-only event. Racers were asked to set a competitive lap time around the Circuit Gilles Villeneuve in Montreal driving the Mercedes W09 on F1 2018.
Finally, six drivers automatically qualified for this year's Pro Draft. These racers drove for an official F1 team during last year's series but were subsequently released by their respective teams ahead of the current season. This includes, among others, Kimmy Larson (Sweden), Sonuç Saltunç (Great Britain) and Sven Zurner (Germany).
With such an exciting field of racers having now qualified, this year's Pro Draft promises to be packed with adrenaline-fuelled action. Ranging in age from 16 years old (Bence Szabó-Kónyi of Hungary) to 29 years old (Nils Matich of Germany), the calibre of those hoping to secure a spot on an official F1 team is extremely high once again. This includes four full time sim racers, as well as seven racers who have all had successful junior karting careers.
At the Pro Draft, the ten participating teams – Mercedes-AMG Petronas Esports, Ferrari Driver Academy, Red Bull Racing Esports, Alfa Romeo Racing F1 Esports, McLaren Shadow, Haas F1 Team Esports, Renault Sport Team Vitality, Scuderia Toro Rosso Esports, SportPesa Racing Point F1 Esports Team and Williams Esports – will all be offering positions in their driver line-ups. A series of race-offs on July 16th will identify the best of the best from the drivers who qualified. Typical of pro drafts in other professional sports, the 12 slowest drivers will be eliminated, while the fastest will make up the final pool from which the teams will make their picks on July 17th.
The Pro Draft will be streamed online on Facebook, YouTube and Twitch, and broadcast live on television around the world by marquee broadcast partners.
After the Pro Draft, the teams and their drivers will compete in the Pro Series, with a total of twelve races being contested over four live events between September and December 2019. In the Pro Series, the drivers will compete in F1 2019, the newly launched official F1 videogame by Codemasters. These races will determine the 2019 F1 New Balance Esports Series Teams' and Drivers' World Champions, with an increased prize fund of $500,000 – more than double that of last year's prize fund.
The F1 Esports Series is operated in partnership with Codemasters, the developer and publisher of the official Formula 1 video game franchise, and Gfinity, one of the world's leading esports companies. New Balance, the footwear and lifestyle brand, will remain as Title Partner and will be fully integrated into the Series, with all drivers wearing New Balance kit whilst racing in the Pro Draft and Pro Series. DHL also remain on board as an Official Sponsor; as do Fanatec who will supply the championship with elite and advanced equipment.
Julian Tan, Head of Growth & Esports at Formula 1 said: "We're incredibly proud that over 100,000 participants from across the world competed to qualify for the 2019 Pro Draft – it demonstrates an incredible uplift in interest in our esports programme. Gamers of all ages from all backgrounds raced against each other to secure a place, and it's particularly exciting to see that a younger, more digitally minded audience is really embracing the F1 Esports Series. Our continued focus is on broadening opportunities for the next generation of motorsport fans, and 79% of those who participated in this year's qualifying rounds were under the age of 34, with half below the age of 24. This year is set to be monumental, with double the prize fund and, for the first time ever, all ten official Formula 1 teams involved. We can't wait to see what some of the world's best e-racers have got hidden up their sleeves in order to secure a place on an official F1 team."
Frank Sagnier, CEO at Codemasters, said: "The Formula 1 New Balance Esports Series continues to go from strength to strength. The record number of participants highlights the huge appetite for F1 Esports and we are still only scratching the surface of what's possible. With all ten teams participating for Season 3, this promises to be the most exciting Series to date. With last week's release of our critically acclaimed F1 2019 game across PS4, Xbox One and PC and the integration of esports directly into the game we fully expect awareness, viewership and future participation to continue on its upward trend."
Garry Cook, Executive Chairman at Gfinity plc, said: "The Formula 1 New Balance Esports Series continues to capture the imagination of a new generation of young gamers who love the excitement that only F1 can deliver. The Pro Draft provides fans an opportunity to get deeper into the lives of the drivers and their stories. It gives fans a reason to care. It is original and it's pure box office."
Below is a list of all who qualified for the 2019 F1 New Balance Esports Series Pro Draft. For more information visit www.f1esports.com.
Daniel Shields (Australian)
João Pedro Piana Santos (Brazilian)
Isaac Price (British)
Andres Moreno (British)
Lucas Blakeley (British)
Sebastian Job (British)
Shanaka Clay (British)
Leroy Brown (British)
Nathan Moore (British)
Gary Martin (British)
Sonuç Saltunç (British)
Tom Parker (British)
KyIe MitcheII (Canadian)
Floris Wijers (Dutch)
Roy Arnouts (Dutch)
Allert van der Wal (Dutch)
Kedon Lutt (Estonian)
Nicolas Longuet (French)
Matthias Cologon (French)
Samuel Libeert (French)
Thibaut Suner (French)
Daniel Alves Lourenç (German)
Nils Matich (German)
Patrick Hadler (German)
Simon Weigang (German)
Sebastian Tkocz (German)
Tim Palm (German)
Sven Zurner (German)
Alexander Hanses (German)
István Puki (Hungarian)
Bence Szabó-Kónyi (Hungarian)
Manuel Biancolilla (Italian)
David Tonizza (Italian)
Amos Laurito (Italian)
Gianfranco Giglioli (Italian)
Alessio Di Capua (Italian)
Emanuele Prisciano (Italian)
Pino Macrì (Italian)
Wilfred Cardoso (Portuguese)
Filip Prešnajder (Slovakian)
Bernardo Pérez (Spanish)
Kimmy Larsson (Swedish)