Our race pace better than Ferrari's in Baku, say Red Bull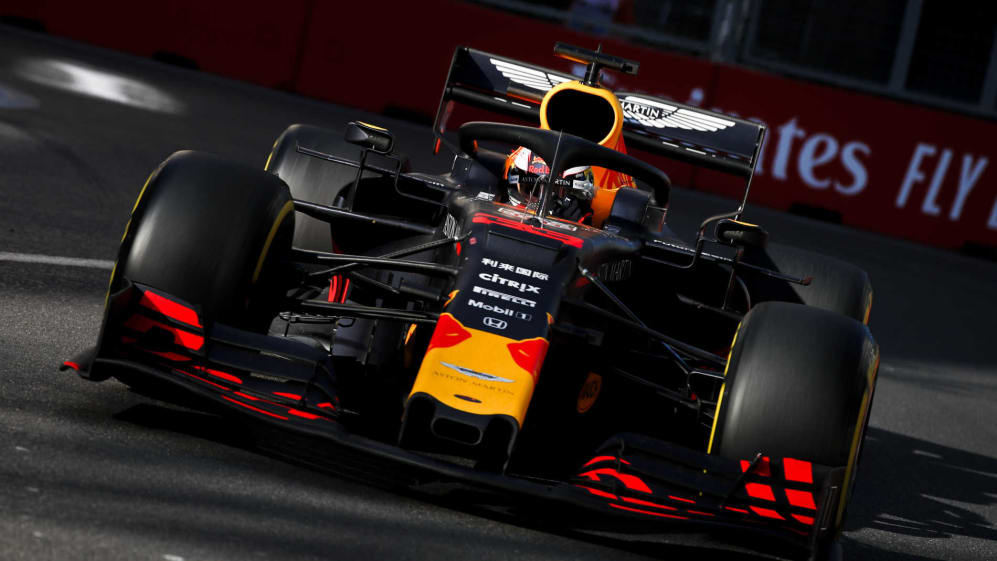 On paper, Red Bull's Azerbaijan Grand Prix saw them feature as the third-best team for the third consecutive race, with Max Verstappen coming home in the same fourth place he'd taken in Bahrain and China. But the team reckon that, had circumstances gone their way in Baku, they could have secured their second podium of the year.
Having lost out to the Racing Point of Sergio Perez at the start of the race, by the midway point in the Grand Prix, Verstappen had climbed back up to fourth and was hot on the heels of the Ferrari of Sebastian Vettel when a Virtual Safety Car was pulled – ironically for the defunct car of Verstappen's team mate Pierre Gasly, who'd been driving a strong race from his pit-lane start when he suffered a driveshaft failure that cost him a potential sixth place.
WATCH: Verstappen battles his way past Perez
After that Verstappen was left to follow the two Mercedes and Vettel's Ferrari home – but could still reflect on another positive Grand Prix, having maintained his record of finishing in the top four at every race this year.
"In general we had a good race," said Verstappen. "I always had the Mercedes and Ferrari in sight and I was just trying to close the gap.
"We had good pace, especially on the medium tyre in the second stint where I closed the gap [to Vettel] by seven or eight seconds. With the Virtual Safety Car, I think I lost too much tyre temperature and I couldn't get it back as quickly as the others. Around here, tyre temperature is key and you end up sliding a lot more with low temperatures, so it wasn't worth risking the position in the final laps."
"Our pace compared to Ferrari and Mercedes was strong today," agreed Verstappen's team boss Christian Horner. "I think we actually probably had a quicker car than Ferrari today. I think when you look at Pierre… his pace versus Leclerc, in the second half of the stint, he was stronger throughout."
With Red Bull having run Honda's Spec 2 engine in Baku, there'll be more upgrades for the team at the upcoming Spanish Grand Prix in two weeks' time. And Verstappen is hoping they will help Red Bull – typically a team that come on stronger as the season progresses – to put themselves properly in league with Mercedes and Ferrari.
"The performance in Barcelona will, of course, depend on the upgrades that everyone is bringing," he said. "But hopefully we can be even more competitive and close the gap even further."
That gap, to Mercedes at least, currently stands at a sizeable 109 points in terms of the constructors' standings, while they sit 35 points back from Ferrari but a comfortable 46 ahead of fourth-placed McLaren.