Red Bull drivers explain FP2 mix-up that put Verstappen in 'Wall of Champions'
Twelfth and 13th places were all Red Bull's Pierre Gasly and Max Verstappen had to show for their efforts in Free Practice 2 at the Canadian Grand Prix, with a team wall miscommunication seeing the pair nearly trip over each other, and causing Max Verstappen to bang wheels with the Circuit Gilles-Villeneuve's infamous 'Wall of Champions'…
Verstappen was just about to complete his first qualifying simulation lap in FP2 when he happened upon his slow-moving team mate on the fast run down to the track's final chicane.
READ MORE: Leclerc leads Ferrari 1-2 in FP2 as Hamilton hits the wall
Gasly got a late hurry-up from his engineer and bolted, but the aerodynamic effect of the Frenchman's wake appeared to compromise Verstappen, as his car pushed on into the wall, meaning the Dutchman was then confined to the pits for much of the rest of the session as Red Bull effected repairs.
"I arrived to the last chicane and I had Pierre in front of me," said Verstappen when asked to explain the incident. "He was told to speed up but I don't know exactly what happened then. So I arrived into the chicane and basically in the wake of his car, I understeered into the wall. It's a shame. We missed a bit of running because of that."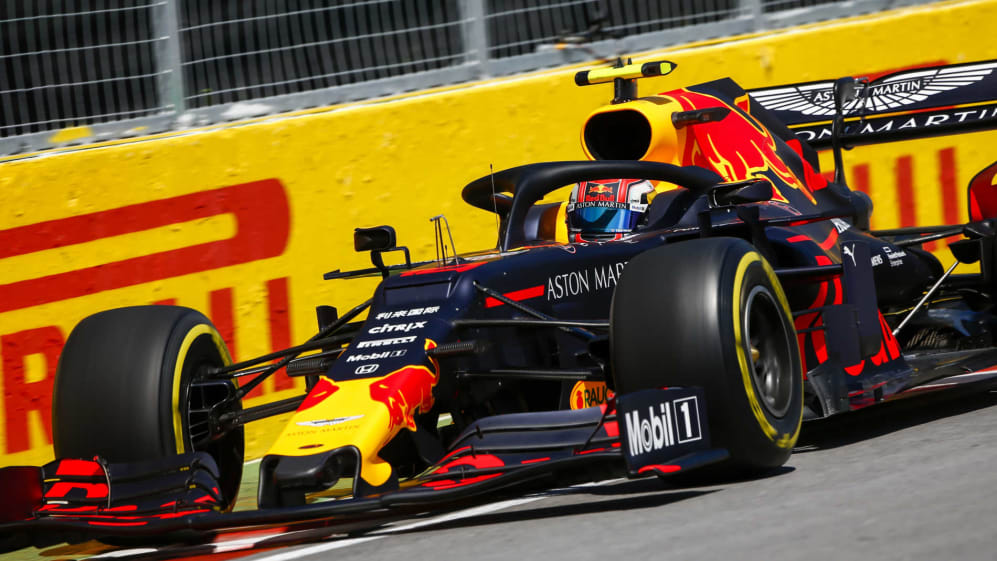 They told me Max hit the wall but I didn't exactly see what happened. I'll see him and talk about it
"They told me quite late when I was preparing my lap behind Romain [Grosjean]," corroborated Gasly, "and when they told me, I just started to push. I could see [Max] was like five seconds behind, and they told me he hit the wall but I didn't exactly see what happened… Probably I'll see him and talk about it with him."
READ MORE: Sainz hails best Friday of 2019 after P4 effort in FP2
With Gasly appearing unsettled in his RB15 across both of Friday's sessions, the Frenchman suffering several lock-ups around the Circuit Gilles-Villeneuve as he struggled for grip, Verstappen's own woes meant that we weren't able to see the jump that Red Bull might have made in their qualifying simulations during FP2. But Verstappen reckoned that, even without the wall-banging incident, the team would still have lagged behind the best Ferrari and Mercedes laps from the session.
"I think today, we would have been P4," he said. "When we were running, I think we looked quite decent – not perfect, we still have some work to do but we're not too far off."