Interview
Red Bull ready to rise again - Christian Horner Q&A
Much hype surrounded the arrival of Red Bull's updated car in Spain last weekend. It did put them back on the podium - and closed the gap to the frontrunners. But the chances of challenging Mercedes and Ferrari for victories anytime soon still looked slim. Does team principal Christian Horner agree? We sat down for an exclusive chat about engine upgrades, Adrian Newey, driver contracts and more…
Q: Christian, Spain was the first big car upgrade of the year for Red Bull Racing. It was on the chassis side, so it was the team's contribution. On the engine side, Renault are due to deliver in the summer. Were you happy with your contribution?
Christian Horner: Well, it's part of an ongoing process throughout the season, but yes, Barcelona was a reasonably big package. The early indications are reasonably positive - but as with all new things they have to bed in before you really can make a final verdict. In Barcelona we were in the tuning process by changing set-ups to see what works best. And it worked well enough for a podium finish for Daniel (Ricciardo). And my guess is that also Max (Verstappen) would have had a good race, as he was very inspired from his memory of last year.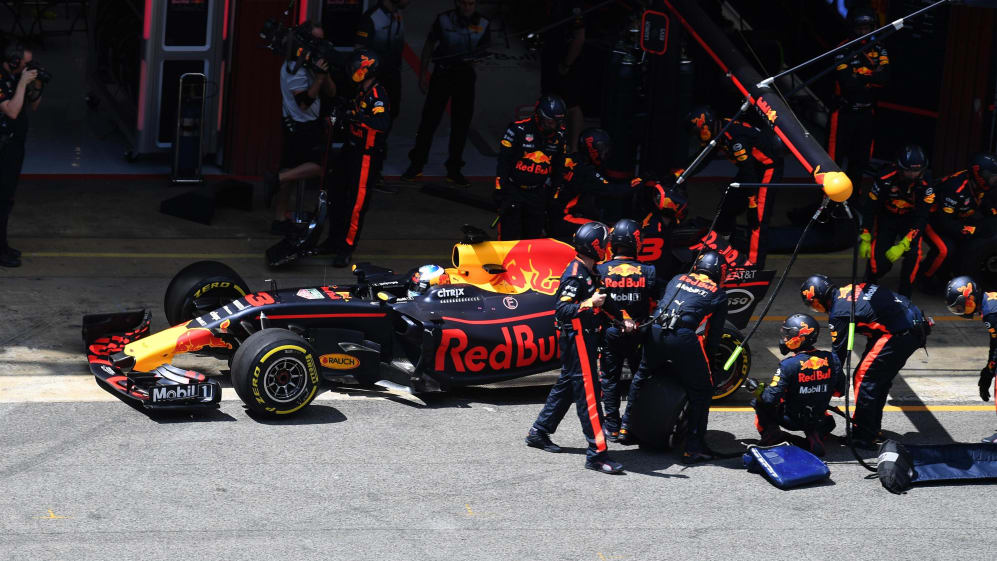 He has been working very hard on this car - and has an incredibly talented crew around him
Q: Were you surprised that the package worked so well out of the box last weekend?
CH: Usually if you bring something bigger it hardly ever happens that you put it on the car and it immediately works. Everything has to work in conjunction and harmony with all the other parts. But we can already see that we were closer again. Only a couple of tenths behind Ferrari and within something of sixth-tenths to benchmark Mercedes. And the feeling is clearly that there is more potential to come and that we see it opens up more avenues that we can exploit in the races to come.
Q: So far you've worked your way down from 1.8 seconds behind in Australia, to 1.2s behind in China, to eight-tenths in Bahrain…
CH: …ha, but it went up again to 1.2 seconds in Russia because of the nature of the track. But yes, six-tenths in Barcelona is a basis that we can work on.
Q: So you are waiting for the Renault engine upgrade. The Renault works team are expecting it for Azerbaijan. What about Red Bull Racing?
CH: It seems to be work in progress. They said it will be the third engine and it depends on the introduction of that engine. Sure, we are keen to have it as soon as possible. We hope it will be Montreal. We are going to church every week to pray that it will happen as soon as possible. (Laughs)
Q: Does it make sense to do a two-step update: first the chassis and then a couple of races later the engine? How do you know that your part works if the engine is still somewhat up in the air?
CH: Well, we can only focus on us. And we are doing the best that we can with the resources that we have. I have no doubt that the second half of the season will be much stronger for us than the first half.
Q: Red Bull motorsport consultant Helmut Marko said that very likely the season is already over for you. Is that so?
CH: Ha, that is probably his Austrian way of seeing things. The glass always seems to be half empty. (Laughs) Helmut has a very immediate reaction to things - good or bad. Perhaps I am a bit more hopeful. I truly believe that the second half will turn the table in our favour.
Q: Right now you are fighting for P3…
CH: We are a bit in no-man's land. We are trying to start playing with the big boys! And if we are going to manage that, probably one of our drivers could dictate what happens in the drivers' championship. Because if you have five or six drivers fighting for a win on a Grand Prix weekend, that becomes a somewhat different dynamic.
Q: You say that you want to start 'playing with the big boys'. Not too long ago you were the 'big boys'…
CH: Yes, that's true. But we have demonstrated also last season that we can at least play phoenix! Exactly one year ago we had the same amount of points when we arrived in Barcelona and we managed to catch and beat Ferrari. Nobody would have expected that at the very beginning of 2016. So things can change quickly. And one of the key factors for us going strong last year was the engine upgrade in Monaco.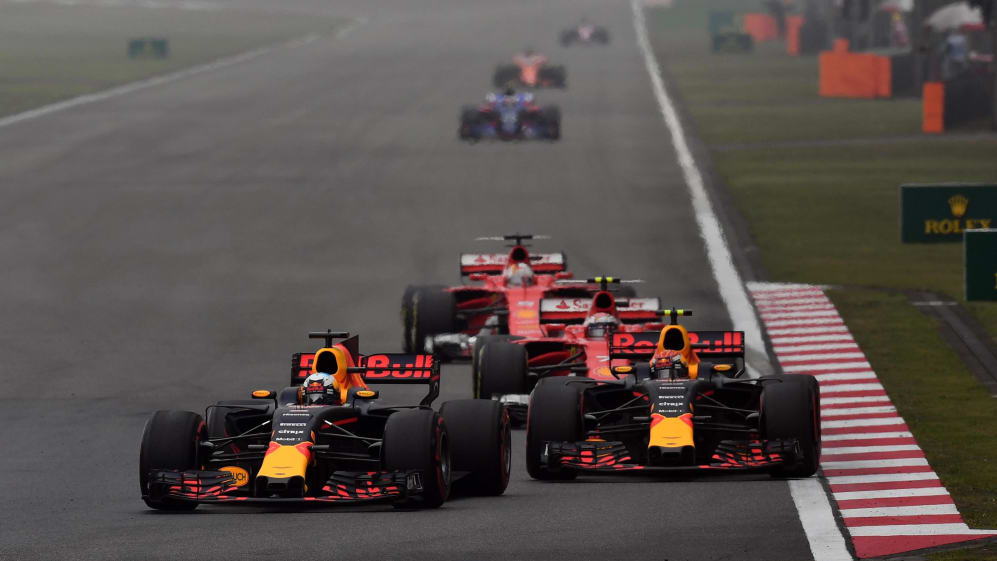 One year ago we had the same amount of points when we arrived in Barcelona - and we managed to catch and beat Ferrari
Q: The deficit to the leaders must also be down to the chassis as well – at least to some degree. What's wrong with it?
CH: It was a massive regulation change and we have to say that Mercedes and Ferrari have done a better job than we have in interpreting those rules and exploiting them. We had a couple of issues with correlation that we now understand. We now have a good development path, but of course we have to work twice as hard to catch up.
Q: Has Adrian Newey lost a bit of his magic touch?
CH: I don't believe so. Yes, he has been splitting his time between (Red Bull) Advanced Technologies and Formula One, but he has been working very hard on this car - and he has an incredibly talented crew around him.
Q: Both your drivers have contracts beyond 2017, which was good planning on your part, otherwise they may well have been looking elsewhere for next season…
CH: Ha, if you invest in people you invest for the longer term - with Daniel and with Max, and with Sebastian Vettel prior to that. Their contractual situation is very clear and transparent.
Q: When looking at Red Bull's and Toro Rosso's engine situation, it's understandable that you have been voicing for an independent engine supplier. How urgent would you say this matter is?
CH: There seems to be some healthy discussions going on between Ross Brawn, the FIA and different engine manufacturers - both automotive and independent. F1 desperately needs the engine issue being addressed from many aspects, as it is the key to the future - from a cost point of view, from a performance point of view, and from a sound and entertainment point of view. So these are really major elements that need to be addressed. I am sure the commercial rights holder would like to have a competitive, independent engine, because that wouldn't give so much power to the manufacturers, as if they said now 'we are leaving' then we would be left standing in the rain without engines.
Q: There has been mention of Mercedes possibly lending a hand to Honda on engine development. Have Mercedes ever made such an offer to Renault? They produce road cars that share engines, after all…
CH: Not that I am aware of. And I would be highly surprised it the Honda/Mercedes thing were to happen. Honda has with Mario Illien a very capable man who I think will be able to sort out the issues. And Renault and Mercedes? I think the problem element would be Red Bull.
Q: Finally, complete the phrase 'Not winning makes me…
CH: …hungry for more!'