Red Bull: We'll be much stronger in race trim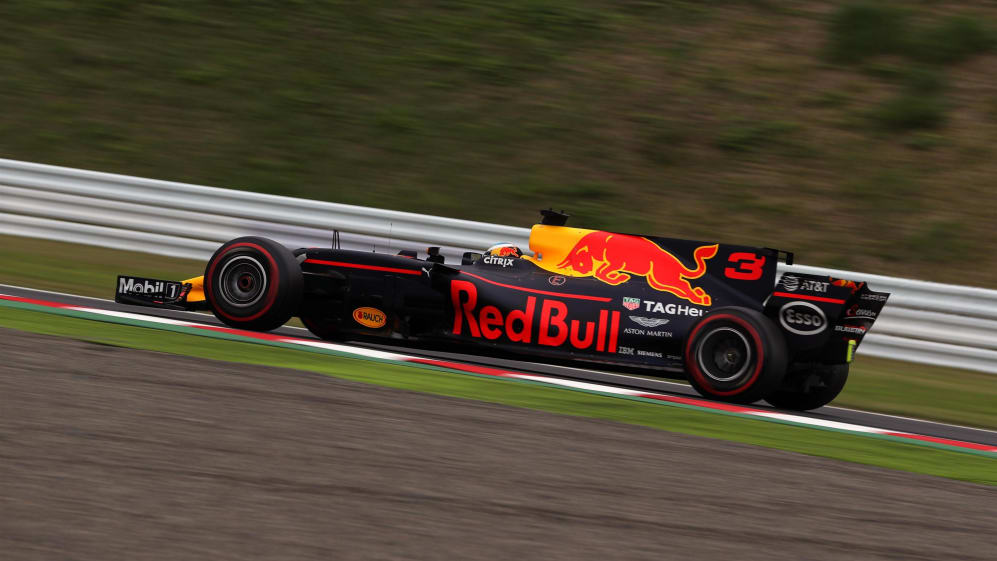 Daniel Ricciardo and Max Verstappen are confident that their uniquely set-up cars will be much more competitive in Sunday's Japanese Grand Prix than they proved in qualifying.
Red Bull decided to split strategies for their two drivers ahead of Saturday afternoon's session, trimming downforce from Ricciardo's RB13 but leaving Verstappen's Malaysia race-winning car with more wing.
Ricciardo got the better of two in qualifying, beating his team mate to fourth place [which will become P3 once Valtteri Bottas's grid penalty is applied] by less than a tenth of a second.
The Australian felt that was the maximum he could extract in qualifying, but thinks he's well set up to challenge in the race.
"I crossed the line and wasn't shaking my head - at that point I didn't know what position I was, but I felt like the lap was all I could get out of it," said Ricciardo. "I'm happy to inherit third because of Bottas's penalty. Hopefully that clean side gives me that little bit more that I'm after and I can run with the leaders at the beginning.
"I think the start will dictate a lot. It's pretty tricky to overtake here. I've set my car up a little bit more for the race. I took some downforce off overnight, so on the straights I'll have a better chance to either attack or defend. So hopefully that's a better race package for tomorrow."
Verstappen said his own qualifying 'could have been better', but remained hopeful that his set-up direction will prove superior in the race.
"If it's the right [set-up], I'm not sure," he said. "Maybe I should say now it's not, but maybe tomorrow it is.
"It's a bit difficult to say, but in general after my first Q3 run I was definitely not happy, so I was happy afterwards that my second run was decent.
"We can work from here. Tomorrow is going to be quite a bit warmer, a bit more degradation from the tyres, so we'll see."
Asked why Red Bull's relative performance had slipped from Malaysia, Verstappen, who finished second in Japan last year, cited multiple factors: "I think more corners are flat out [at Suzuka] this year and a lot faster, so it becomes a bit more of a straight more or less. So it's a bit more painful for us.
"And it's also not as warm as in Malaysia, so it just seems we don't have that advantage. Hopefully it gets really warm [on Sunday] and we get the degradation."
Red Bull have not won at Suzuka since Sebastian Vettel triumphed in 2013.