Red Bull in the mix for victory in Baku - Ricciardo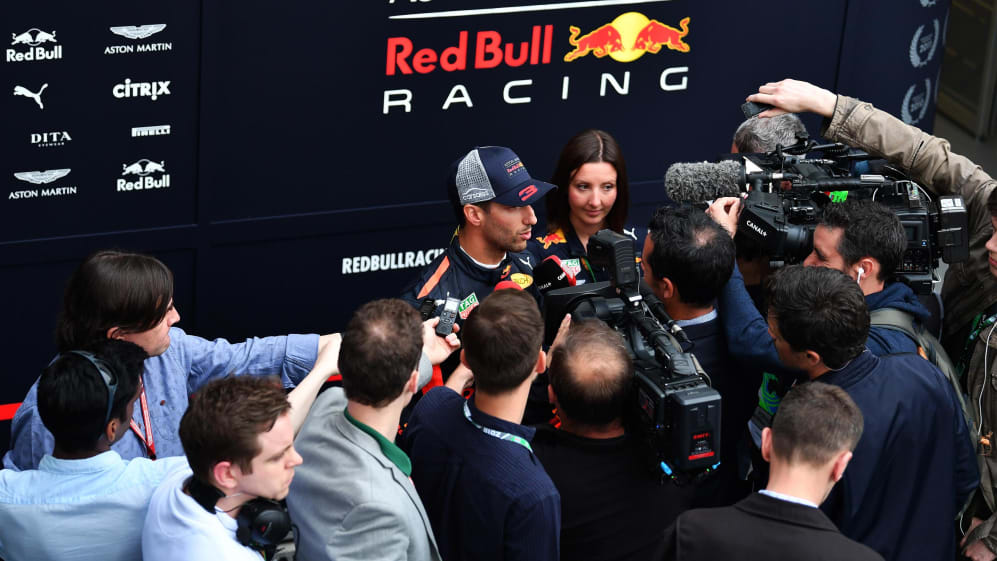 Momentum. It can transform fortunes. Right now, it's with Daniel Ricciardo and he made good use of it in Baku on Friday as he set the pace – and looked pretty handy on long runs, too. While he expects Mercedes and Ferrari to hit back as the weekend goes on, the Australian reckons Red Bull will be in the thick of the fight when it matters.
Chinese Grand Prix race winner Ricciardo was second quickest in first practice, just 0.035s off the best lap set by Mercedes' Valtteri Bottas, but stepped it up in the second session, edging out Ferrari's Kimi Raikkonen by 0.069s, with team mate Max Verstappen only a fraction further back in third.
While he warned the team shouldn't get ahead of themselves – after all, Red Bull were fastest in both Friday sessions last year before dropping 1.2s back from pole in qualifying – he reckons he's seen enough to be positive this time around.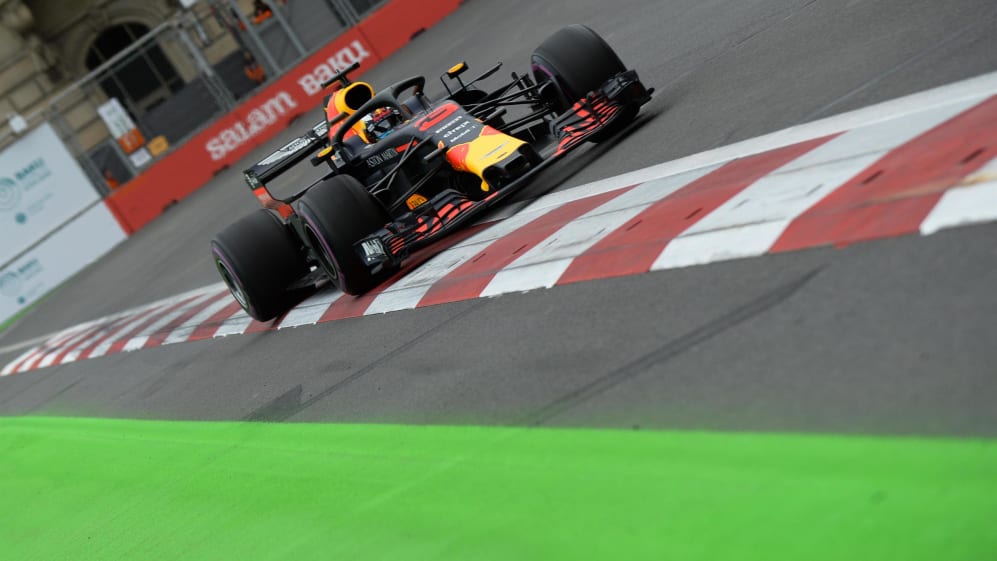 We'll probably lose out a bit more in sector one and three tomorrow - sector two will be key for us
"I think we can find some more, but generally I was happy with the car," said Ricciardo. "No big problems. I think it'll be a close battle tomorrow and Sunday.
"As always in qualifying, I think the others will turn it up a bit more. I think we'll probably lose out a bit more in sector one and three tomorrow. Sector two will be key for us.
"The only thing that changes is the wind, it gets quite strong at the weekend so that'll probably make all the cars feel a bit worse. But I think it's a good start."
But even if Mercedes and Ferrari move ahead in qualifying, Ricciardo reckons Red Bull will be on the pace come race day.
"On the long run, struggled a bit on ultrasoft," he said. "We know why and what we can do better. That gave me a few problems but then the supersoft was much more like we expected.
"Even if we don't say qualify front row, I think we'll still have a very strong race car. We're still in the group of favourites."
Ricciardo, who won a chaotic race in Baku last year, put his speed down to confidence in the car and himself around the tight Baku City Circuit that punishes mistakes.
"I think there are a few of us who are going to be close," he said. "I certainly feel like I'm up there. I feel like I'm driving good.
"I felt comfortable out there. That's the important thing with a street circuit. You want that comfort. I didn't really have any scares today.
"The car was well-behaved. It didn't take any confidence away from me. There was a good relationship between myself and the car today. We'll build on that tomorrow.
"It's nice to be back here and be on the pace. We'll try and keep it going for the rest of the weekend."
His team mate Verstappen had a scrappy day, crashing in first practice and having a brush with the wall in FP2 – but he also showed he had the speed, too.
"We look quick," said Verstappen. "Of course you always want to improve and we know that in qualifying they have this power mode, so they will be even closer.
"On the other hand we also have a bit as well. On this track it's a lot about confidence. If you feel really good in the car, you can pick up some lap time as well."
Verstappen limped back to the pits at low revs at the end of the session, but he said the team believes it was down to a faulty sensor, "so all good".