Renault evaluating pit lane start for Sainz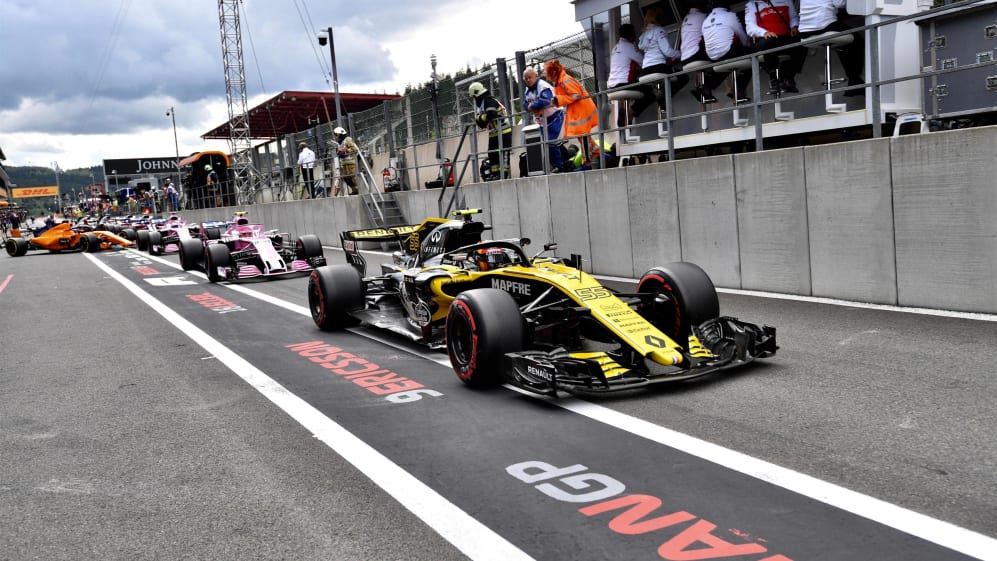 During practice, Carlos Sainz appeared to have the pace to challenge for a spot in the final segment of Belgian Grand Prix qualifying, but instead he was booted out in Q1…
With the Spaniard puzzled by why the car felt different to at any other point in the weekend, Sainz said Renault are now considering make several changes to the car, that would incur a pit lane start, to find a cure.
Ahead of arriving in Spa, Renault said it would only take one bad weekend to lose their grip on fourth place in the constructors' championship. This weekend could well be the one they feared.
A flurry of engine component changes mean Nico Hulkenberg will start at the back of the grid, while Sainz could only manage 16th in qualifying. Meanwhile, fifth-placed rivals Haas got both cars into Q3.
Sainz said his car in qualifying, complete with a new floor for this weekend, felt completely different to the one he had driven and felt comfortable in during the three practice sessions.
"We clearly see the car has nothing to do with the car I have been driving up until the end of P3," said the Spaniard.
"We thought we were more or less the 10th/11th fastest car on track so we were optimistic heading into qualifying but as soon as I did the first six/seven corners, I felt the car was nowhere near to the balance I had all weekend.
"I had a lot of oversteer, no stability, a lot of snaps through the lap. It was very scrappy, very difficult to put a decent lap together. I kind of expected to get better on the second run but it got even worse. We're looking into it."
The regulations say the work teams may carry out on their cars between qualifying and the race is limited to strictly-specified routine procedures, which can only be performed under the watchful eye of the FIA Technical Delegate and race scrutineers.
When asked if Renault were considering breaking parc ferme conditions, which would require Sainz to start from the pit lane, Sainz replied: "Maybe. It's being discussed. It's under investigation."
Saturday marked the second time in four races (the last was Silverstone) that Sainz has been knocked out in Q1.