Renault explains McLaren and Red Bull battery issues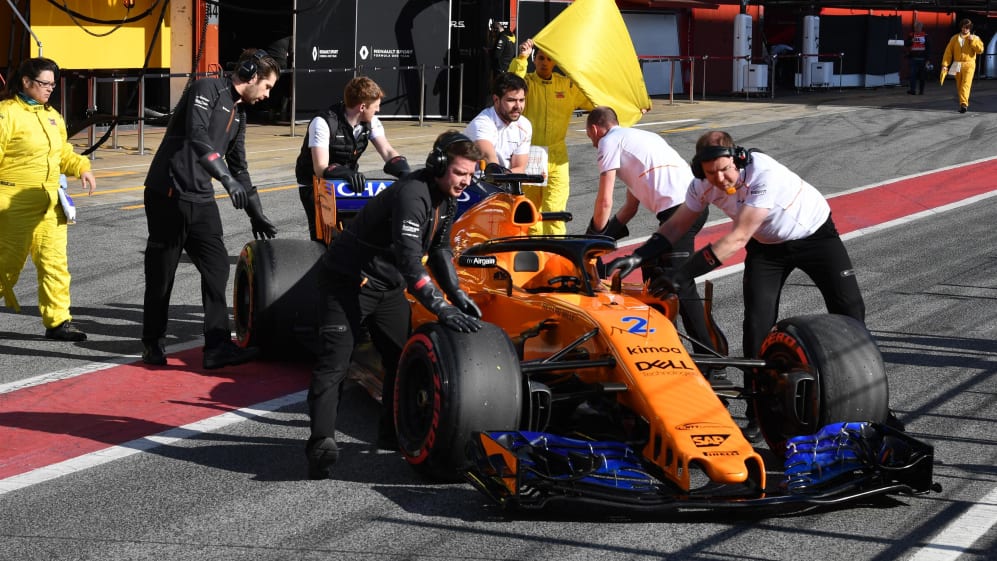 It was a tough day for McLaren and Red Bull as the pair lost vital track time on the opening day of the final pre-season testing when they encountered battery issues, which engine supplier Renault said were down to a bad batch.
McLaren suffered two problems on Tuesday morning, with Stoffel Vandoorne failing to get back to the team's garage under his own power before later stopping on the approach to the finish line.
Red Bull then lost out on track time in the afternoon as Max Verstappen brought out the red flag. All three stoppages were attributed to problems with the battery, however Renault insisted it is not a big problem.
"The issues that we've had I don't think have any relationship to the installation of the battery at all," said Renault chief technical officer Bob Bell.
"We (the works team) haven't had any problem, but what we do ahead of Melbourne is that we try and shakedown all of the battery systems to make sure all of the stock that are going racing are in good shape.
"That's why we test them here. We revolve them around the customer teams and ourselves to make sure they are all tested ahead of Melbourne. So it's not unusual to find issues."
Bell said Renault's two customers receive the same specification as the works outfit and sees the problems as a positive as it means the French manufacturer can remove the problematic units from the pool.
"Those problems could have affected any of the three teams, so of course it's an issue for us but the reason we do this testing of those components before going to Melbourne is to find the ones that have got problems," he said. "It's the right thing to do, we have found some that are not fit for purpose and that's great.
"By regulation, each driver gets two units per year, so that's what they are designed to do. That's a pretty heavy duty cycle for them, and the importance of making sure they are completely fault-free is critical, which is why we test them ahead of Melbourne."
McLaren and Red Bull were able to rejoin the fray after the battery problems, but McLaren's misery continued when Vandoorne suffered a hydraulic leak after lunch.