Renault 'have momentum now' says Ricciardo after team's best result of 2019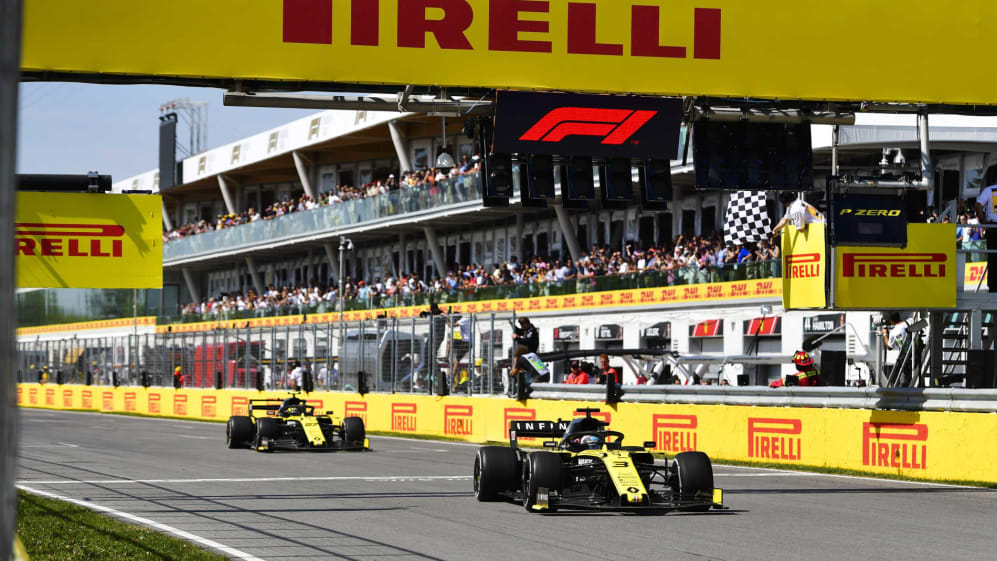 After a season where Renault have shown flashes of speed interspersed with some disappointing underperformance, it finally all came together for the Anglo-French squad in Montreal, with Daniel Ricciardo and Nico Hulkenberg finishing sixth and seventh for the team.
Ricciardo had enjoyed a fantastic qualifying on Saturday to start the Canadian Grand Prix in fourth. And while he ultimately had to give way to Mercedes' Valtteri Bottas and Red Bull's Max Verstappen to end up sixth, just ahead of team mate Hulkenberg who finished the race in the seventh place he started in, it still represented a fantastic day at the office for both drivers, as Renault collected their first double points finish since Austin last year.
READ MORE: Vettel penalty hands record 7th Canada win to Hamilton
"The weekend as a whole, I think, was pretty awesome," was Ricciardo's post-race verdict. "Qualified fourth, finish sixth. I'm sure if you would have said to Cyril [Abiteboul, Renault's Team Principal] before the weekend 'How does this sound?' he'd have probably kissed you, so we've got to be really happy with that and first double points for the team this year. That's been a long time coming but it's nice that we got a big haul. Nico had really strong pace as well, so solid."
I think the encouraging thing is that Bottas didn't ease by me with DRS
Although Ricciardo was ultimately unable to withhold the advances of Bottas, the Australian at least put up a decent fight, several times rebuking the Finn's attack down the Circuit Gilles-Villeneuve's long straight before the Mercedes eventually found a way past. And according to Ricciardo, that's a sign that things at the Regie are moving in the right direction, as they seek to get on terms with the top three.
"I think it's looking pretty good," he said, when asked about his prospects for the coming race on Renault's home turf at the Circuit Paul Ricard. "We've certainly got some momentum now, and the last few weekends have been stronger. We've got a few new parts coming.
"I think the encouraging thing now is, for sure, a few elbows out with Bottas, but I think the main thing was, he didn't ease by me with DRS, and our straight-line speed is certainly much more competitive in race conditions, so lots of positives to take. We'll see how we go in France. Hopefully, for the Renault home fans, we can pull off another good one."
Hulkenberg finished the race in close company with his team mate, with team orders having kept the German from going after Ricciardo in the final stages. Despite that, Hulkenberg, too, was taking the positives away from Montreal.
"It's great," he said, having secured his second seventh place of the year. "You see the hard work pays off that everyone back at the factory and the race [track] puts in, so glad to see that.
"We've kind of under-achieved the last few weekends with little problems, whether they were technical or human error; I feel we've always kind of had these results in the car, but for various reasons, the problems we had stopped us from scoring them. So it's good to finally have a clean weekend, smooth, and finally get those points on the board."
Renault's 14-point haul in Canada sees them jump from eighth to fifth in the constructors' standings, two points behind McLaren after the Woking team failed to score in Canada. That also means that, outside of the top three teams, the two leading midfield squads are both Renault powered – which will hearten Renault's power unit makers back in Viry.