Report
Vettel penalty hands record 7th Canada win to Hamilton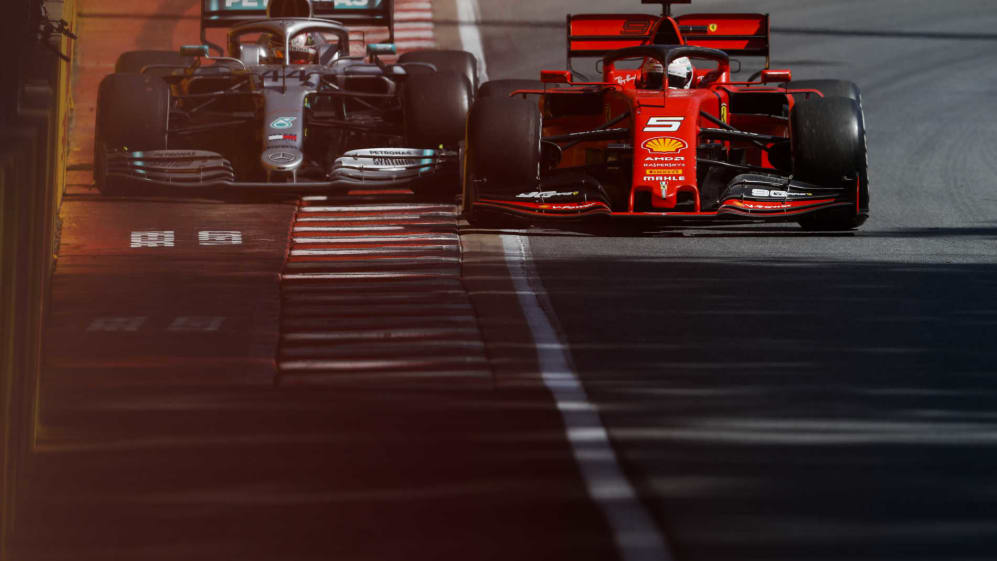 Lewis Hamilton secured a record-breaking seventh win at the 2019 Canadian Grand Prix, after a penalty for Sebastian Vettel, who finished first on the road, demoted the German to second in the standings.
A race-long battle between the pair came to a head on Lap 48 of 70 when race leader Vettel, under pressure from Hamilton, ran across the grass at the Turn 3-4 chicane, in the process squeezing Hamilton when he re-joined the track, for which the stewards later awarded a five-second race time penalty.
That meant Hamilton took a record-equalling seventh victory at the Canadian Grand Prix to match Michael Schumacher's record in Montreal, as well as claiming his fifth win of the season to stretch his lead at the head of the drivers' standings.
Behind, Leclerc finished third, which at least gave Ferrari their best result of the year so far, while Valtteri Bottas took fourth for Mercedes and the fastest lap bonus point after a late stop of soft tyres.
After failing to make Q3 yesterday, Max Verstappen made a 49-lap stint on hard tyres work to finish fifth for Red Bull, ahead of the Renault pair of Daniel Ricciardo and Nico Hulkenberg in P6 and P7, who secured the Anglo-French team's best result of the season.
Red Bull's Pierre Gasly endured a frustrating race to finish P8, while a strong home race from Lance Stroll saw him finish ninth from 17th on the grid, ahead of the Toro Rosso of Daniil Kvyat.
FORMULA 1 PIRELLI GRAND PRIX DU CANADA 2019
Canada
2019
Race results
POSITION
TIME
POINTS

1

Lewis

Hamilton HAM

Mercedes

1:29:07.084

25

2

Sebastian

Vettel VET

Ferrari

+3.658s

18

3

Charles

Leclerc LEC

Ferrari

+4.696s

15

4

Valtteri

Bottas BOT

Mercedes

+51.043s

13

5

Max

Verstappen VER

Red Bull Racing

+57.655s

10
The race as it happened
The 2019 Canadian Grand Prix witnessed excitement on track and off it, with a controversial incident between Sebastian Vettel and Lewis Hamilton looking set to enter the pantheon of key moments in the sport. The classification will forever read Hamilton first, Vettel second… but how did we get here?
At the race start, Vettel nipped off his line well from pole position, as behind Leclerc challenged Hamilton but eventually had to hold onto his third place behind the Mercedes. Ricciardo failed to use his soft tyres to get in amongst the top three fight as he'd threatened, but held onto fourth ahead of the Red Bull of Pierre Gasly. Behind, Antonio Giovinazzi swept his Alfa Romeo in front of Alex Albon's Toro Rosso in Turn 1, damaging the Thai driver's front wing and forcing him in for a new one.
Further along Lap 1, Lando Norris locked up into the Turn 10 hairpin, briefly allowing Red Bull's Max Verstappen to pass him for P8, before Norris brazenly outdragged him again to nick the place back. For Norris, though, that was about as good as his afternoon got. On Lap 9, the McLaren driver crossed the finish line with his right-rear looking decidedly off-kilter. A touch with the Wall of Champions was suspected, but it ultimately looked as though his brakes had cooked the rear suspension.
Up at the front, Vettel was maintaining his lead with Hamilton in close company, Hamilton having overcome a shaky start to his day which saw Mercedes forced to bleed his brakes on the grid, having already repaired a hydraulic leak earlier in the morning.
Vettel made his medium tyres last until Lap 26, when he pitted for hards, with Hamilton aping the strategy three laps later, while Giovinazzi continued his adventurous afternoon, spinning his Alfa through Turn 2 before getting underway again.
Behind, having pitted for hards on Lap 8, Ricciardo was doing a fine job in P5, holding Valtteri Bottas behind him. Several times down the back straight, the Mercedes got a run on the Australian before the Renault jinked and forced Bottas to back off. Bottas eventually got the job done on Lap 39, but was now well off the fight at the front.
By Lap 48, Vettel appeared to be struggling on the hard tyres, and as Hamilton hounded him on the run down to Turn 3, Vettel slewed wide and ran through the grass – and the race turned on its head. Keeping the throttle down, Vettel got back on track right in the path of Hamilton, who for a moment looked as though he might be forced into the wall and had to get out of the throttle. It was a heart-stopping moment before the duelling pair got on their way again, but not before Hamilton had called foul on the radio.
The stewards decided that the incident needed closer scrutiny, and after deliberating, duly handed a five-second penalty to the leading Ferrari with 13 laps of the race left to run. 13 lap to pull that gap to Hamilton – who'd barely been three seconds away from Vettel the whole race – was too much to ask, and as they crossed the line on Lap 70, Vettel knew that he'd not done enough to hold onto the win, as Hamilton swept across the line just behind to take his fifth win of the year, and his seventh in Montreal, making it now his most successful track.
Behind, and fortunately for Vettel, Leclerc in third, by design or not, hadn't done enough to get within five seconds of his team mate, meaning that it was the German who held onto second, with Leclerc third.
Bottas, having been held up by Ricciardo, ended up in a bit of a no-man's land, and took advantage to pit for softs on Lap 67 and take fastest lap, before crossing the line a distant fourth. Max Verstappen made a super-long first stint work a treat for him to jump from ninth on the grid to fifth by the race end – the place where his eighth-placed team mate Pierre Gasly had started – while it was a fantastic day for Renault, with Ricciardo and Hulkenberg sixth and seventh to record the team's best finish of the year, and their first double points since Austin 2018.
Lance Stroll drove a fantastic home race for Racing Point to jump from 17th at the start to ninth by the end – having kept Gasly behind him for much of the Grand Prix – with both he and Daniil Kvyat nipping smartly past the McLaren of Carlos Sainz in the race's closing stages, Kvyat finishing 10th for Toro Rosso.
The drama wasn't done when the chequered flag fell, however, a disgusted Vettel – who'd argued his case in the final laps over team radio – parking his car in the pit lane before walking to Ferrari hospitality. Having missed the immediate post-race interviews, Vettel, having been voted Driver of the Day by race fans, eventually made his way to the podium – but not before he'd put the second-placed board in front of his vacant parc ferme spot in front of Hamilton's Mercedes...
The key quote
"Absolutely, it's not the way I wanted to win. I was pushing to the end to try and get past. I forced him into an error, he went wide, I had the run on that corner and we nearly collided. It's unfortunate, but this is motor racing… I took the corner normally. When you come back on track, you're not supposed to go straight back on racing line, you're supposed to come back safely."
"Physically I'm destroyed from trying to hold on to Seb. The Ferraris were so quick this weekend, so I'm grateful I was able to be there within the race." – Lewis Hamilton
What's next
Formula 1 hops back over the pond to France and the iconic Circuit Paul Ricard near Marseille on June 21-23. The race returned to the calendar last year, and was the scene of Lewis Hamilton's third triumph of the season. But who'll be le roi at Le Castellet this year? Expect a fierce battle - with at least one very determined protagonist...