Renault left with feeling of 'what could have been' after Singapore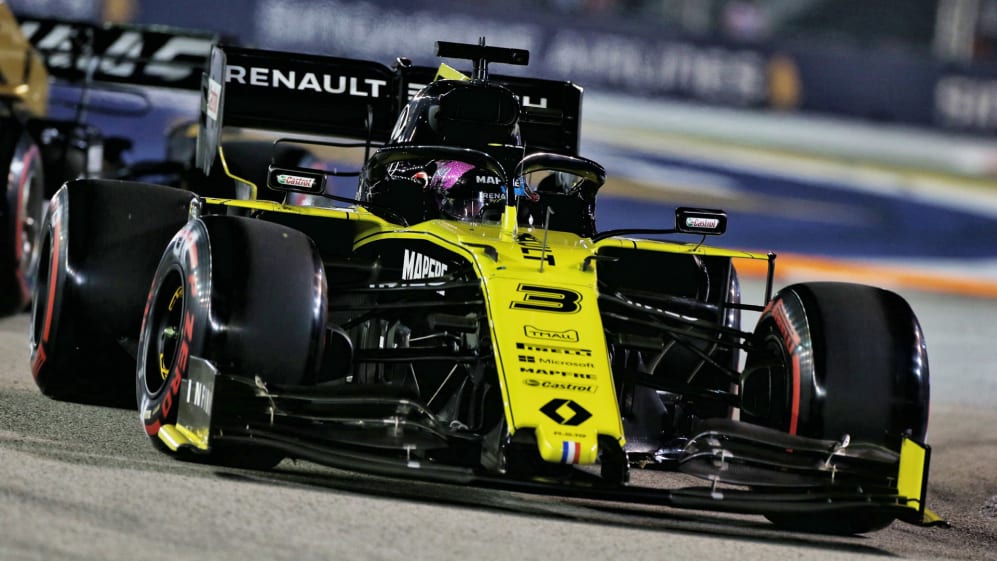 Qualifying with both cars in the top 10 and only leaving Singapore with two points was seen as a scant return for Renault after a weekend that promised much more.
Daniel Ricciardo finished eighth in qualifying – with Nico Hulkenberg ninth – but was then excluded for exceeding the maximum allowed power output from his MGU-K earlier in the session. That left Hulkenberg as the main hope for points but contact with Carlos Sainz on the opening lap gave the German a puncture that required an immediate pit stop and left him fighting back through the field to finish ninth.
How undercut put Vettel on course for victory - and left Leclerc frustrated
"There is obviously a sense of 'what could have been'," Team Principal Cyril Abiteboul said. "After showing decent pace all weekend, in qualifying and during the race, two points for Nico seems a poor reward for both him and the team even if he was last after the first-lap contact with Carlos.
"The race was marred by many incidents, which we didn't benefit from. Daniel's comeback after his disqualification was remarkable on a track like this. Contact sent him back to square one. Once again this shows how important the starting positions [are].
WATCH: Heavy contact for Sainz and Hulkenberg on Lap 1
"It was encouraging, however, to be back at this competitiveness level on a track which is very different from Spa and Monza. A sign that the car is better and that we must not write off this season."
Although Hulkenberg was fighting over seventh place when he made contact with Sainz, his recovery from that point on was impressive and he sees a top 10 result as damage limitation given the circumstances, as McLaren only scored a total of six [points] courtesy of Lando Norris.
"It's hard to keep an overview and to say if you're happy or not happy," Hulkenberg said. "It's so eventful this race and so long as well, I just need to go back and remember everything because there's a lot of stuff happening.
"After that puncture and first lap pit stop you're always on the back foot here. There's a lot of traffic during a race, especially with Grosjean during the first stint was a bit of a handful and cost a lot of time. Overtaking is very difficult here but we kept cool, kept patient, a stop at the right moment under the Safety Car and at least we got two points in the end."
AS IT HAPPENED - Formula 1 2019 Singapore Airlines Singapore Grand Prix
Ricciardo was attempting to fight back from last on the grid and was running in the top three before his first pit stop, but contact with Antonio Giovinazzi also gave him a puncture and left him 14th at the flag. Despite the impact of that incident on his race, Ricciardo was satisfied both drivers were racing fairly as they went wheel-to-wheel.
"The start was good, I was having a lot of fun," Ricciardo said. "I was pretty jacked up on the radio, getting amongst it, getting some good overtakes, squeezing, touching, having fun, and then it all kind of came undone with the contact with Giovinazzi.
"I haven't watched it yet but at the time I didn't blame him and didn't really blame myself, I felt like we actually tried our best to give each other room. I remember just getting a bit of wheelspin off the corner and I don't know if that then slid me into him but I got a puncture and I think he probably had a puncture as well or front wing… both our races ruined.
"A shame, I felt like the momentum we had and the moves I was doing definitely deserved a better outcome. [On Saturday] I felt like we deserved better as well, so poor me."
READ MORE: Binotto explains how Red Bull inadvertently cost Leclerc Singapore victory