Binotto explains how Red Bull inadvertently cost Leclerc Singapore victory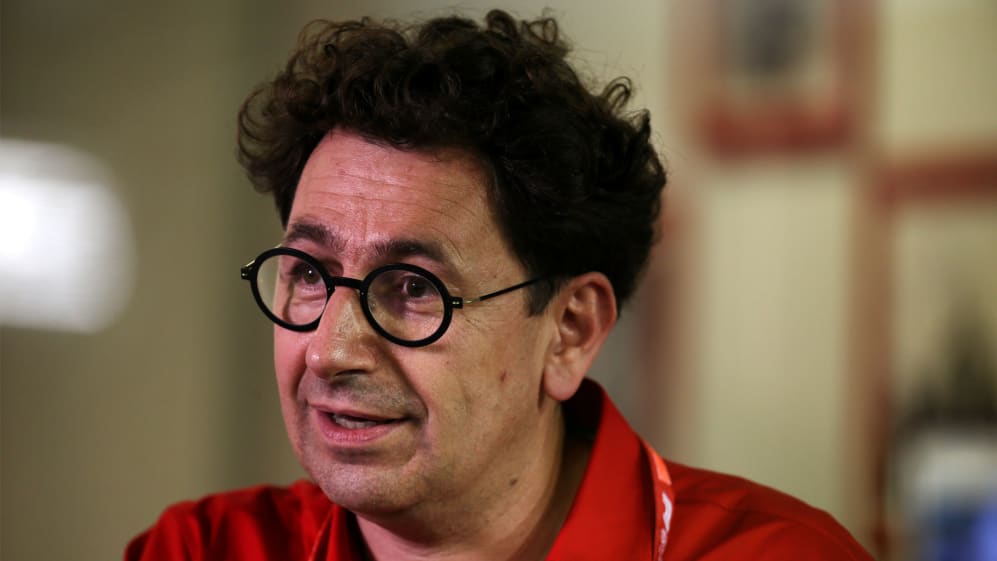 Sebastian Vettel undercutting Charles Leclerc with an early pit stop in Singapore was the key to the German securing his first victory in over a year. But although the strategy left Saturday's polesitter and early race leader Leclerc raging in his car, as he was left to come home second, as Ferrari Team Principal Mattia Binotto explained after the race, the Monegasque was simply a victim of circumstance.
That particular circumstance arose at the end of Lap 18, when Ferrari spotted Red Bull's pit crew emerging from their garage, with Max Verstappen duly called in from P4. Looking to protect Vettel's third place from the Dutchman, and attempt to get ahead of Lewis Hamilton in second, Vettel received a late call to pit, before then pounding in such a rapid out-lap that he emerged with the net lead after Leclerc's own stop a lap later.
READ MORE: Vettel dedicates victory to fans after 'difficult' few weeks
"I think when we stopped Sebastian at first, Verstappen was ready to stop so we had to protect his position," explained Binotto after the race. "It was the best opportunity for us to try to overtake [second-placed Lewis] Hamilton and as well later on we would've stopped Charles and the pit crew would've been free for him.
Sebastian drove very well on new tyres and simply that's racing – he was ahead of Charles
"That was the right time to stop Sebastian, no discussion. I think then when going out [Sebastian] drove very well on new tyres and simply that's racing, and he [was] ahead of Charles. We could not have stopped, at that stage, Charles. Because if you are leading the race you will not stop from first and it was simply the proper window for Seb."
Finding himself unexpectedly behind Vettel, a furious Leclerc remonstrated on the radio, before being told to keep his head down. "My head will be down, I just want to let you know my feelings," he responded. "To be completely honest, I don't understand the undercut."
READ MORE: Opportunistic Vettel snatches Singapore victory to end barren run
Having calmed down out of the car, however, Leclerc told the media: "I obviously did not expect Seb to pass me and it was frustrating from the car, but I also completely understand that if this decision has been taken it's for sure for the good of the team… The only answer I need really is that there was no other way for us to be first and second in the same order before the pit stop. This is the only answer I need.
"I'm happy for the team anyway."
After being spotted after the race explaining the situation to Leclerc's manager, Nicolas Todt, Binotto went on to praise Leclerc's attitude, calling his frustration 'positive' while comparing the situation to Belgium, where Vettel played the team game to help Leclerc take his maiden victory.
"I told [Todt] that I know that obviously Charles is annoyed, frustrated which is positive, a positive attitude because if you would be a driver, that is the right attitude to have. But I told him that the scenarios were bigger and by the time that he will understand the picture and quickly understand the reason of the choice.
"It's important for me that he's happy as well, happy for the team, it's a one-two. Obviously for him it's a missed win but that's... been the opposite maybe in Belgium. That's all."
READ MORE: Frustrated Hamilton says Mercedes 'could have easily won' in Singapore
Binotto would have been especially happy with the result in Singapore, given that it bore the first Ferrari one-two since the 2017 Hungarian Grand Prix, as well as their third victory in a row – while the stunning performance of the Ferrari SF90 at the high-downforce Marina Bay Street Circuit will also give the team confidence that they can chase down more wins in the remaining six races this season.