Renault power for 2018 McLaren, Honda switch to Toro Rosso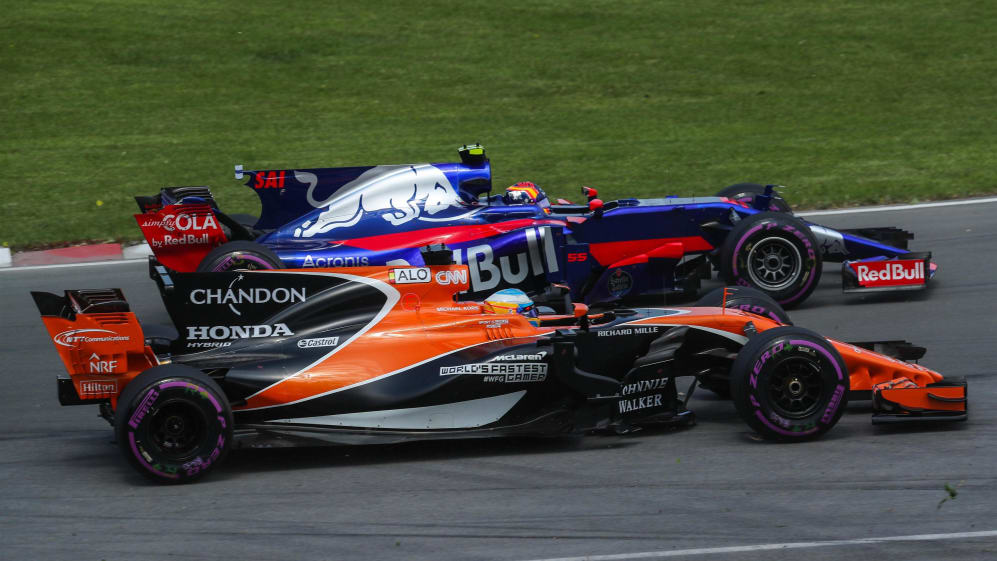 Next season will see McLaren running power units from Renault, following their split from Honda announced earlier today. Honda will instead supply Toro Rosso, who are currently using Renault engines.
McLaren have agreed an engine supply partnership with Renault for the 2018, 2019 and 2020 seasons. Despite a combined Formula 1 presence that stretches back to 1977, it will mark the first time that the two brands have ever collaborated.
Meanwhile, Toro Rosso have struck a multi-year agreement to put Honda's power units in the back of their cars from 2018, having used Renault engines this year as well in 2014 and 2015. In that period they scored 137 points together, with two fourth places their best results.
McLaren say their Renault partnership will be one that will challenge for victory, following three disappointing seasons with Honda power.
"Today's announcement gives us the stability we need to move ahead with our chassis and technical programme for 2018 without any further hesitation," said Zak Brown, McLaren Technology Group Executive Director.
"As an organisation, McLaren has always worked extremely hard to form lasting partnerships with its technical suppliers. We're convinced that we can bring real value to Renault Sport Racing as we work alongside it to develop this current power unit into a regular race winner."
The deal means that in addition to their own works squad, Renault will have two other championship-winning teams – McLaren and Red Bull – providing feedback on engine development next year.
"This is a strategic decision," said Jerome Stoll, President of Renault Sport Racing. "This alliance is not only technical and sporting, but also comes with marketing and communication benefits. We know that McLaren will push us hard on track and this competition will be to the benefit of all."
Shaikh Mohammed bin Essa Al Khalifa, Executive Chairman and Executive Committee principal McLaren Group, described the deal as the start of "a fresh chapter in the McLaren story", adding that they "can't wait to get started".
"At McLaren, we have the motivation, the desire and the resource to be a competitive force in 2018," he said. "Now Renault power gives us the ability to take a significant step further up the grid."
Toro Rosso 'a new chapter' in Honda's F1 journey
At Toro Rosso, team principal Franz Tost welcomed their new Japanese partners, saying: "Everyone in our team is very much looking forward to working with Honda. Ever since its founder Soichiro Honda entered his motorcycles in events, racing has always been a central part of the company's ethos. It's a very exciting challenge and I hope that both parties will gain a great deal from it as we develop together.
"Honda has a long history in Formula 1, dating back to 1964 when it first entered the sport with its own team and, as an engine supplier it has taken five Drivers' World Championship titles and six Constructors. This heritage, together with the full confidence that we have in Honda's capabilities to succeed, make me strongly believe that we will achieve a fruitful future together."
Technical director James Key conceded that a change of engine supplier midway through the development cycle of Toro Rosso's 2018 car presented challenges, but insisted they were ones the Italian team can overcome.
"It will be a question of adaption of our plans rather than a wholesale change and we are in the process of re-planning our design and production activities in conjunction with Honda to ensure that we both hit all our important deadlines," he said.
"Toro Rosso has faced many difficult tasks with timing in the past and has the flexibility to deal with it. We will be working hard not to only re-design the PU installation but also ensure that this has minimal or no effect on the ongoing development work for 2018 – that is our current target.
"The architecture of the car will change in line with the PU requirements and our chassis and gearbox designs are currently under review to be adapted accordingly, similarly we will be working closely with Honda on the performance aspects of the PU installation that the chassis will influence to ensure we maximise the potential of the package as a whole from the outset."
Takahiro Hachigo, President & Representative Director of Honda Motor Co., Ltd, said that everyone at Honda is looking forward to working with Toro Rosso, and also thanked those involved in running Formula 1 for their help in bringing the new cooperation to fruition.
"We are excited to start this new chapter in our Formula 1 journey," he commented. "I would like to express our appreciation to Liberty Media and the FIA for their cooperation toward the realization of this partnership.
"Honda and Toro Rosso will work as one team to strive for progress and a successful future together. We appreciate the support of our fans as we begin this challenge."