Report
REPORT: Raikkonen keeps Hamilton's title hopes on ice with superb USA victory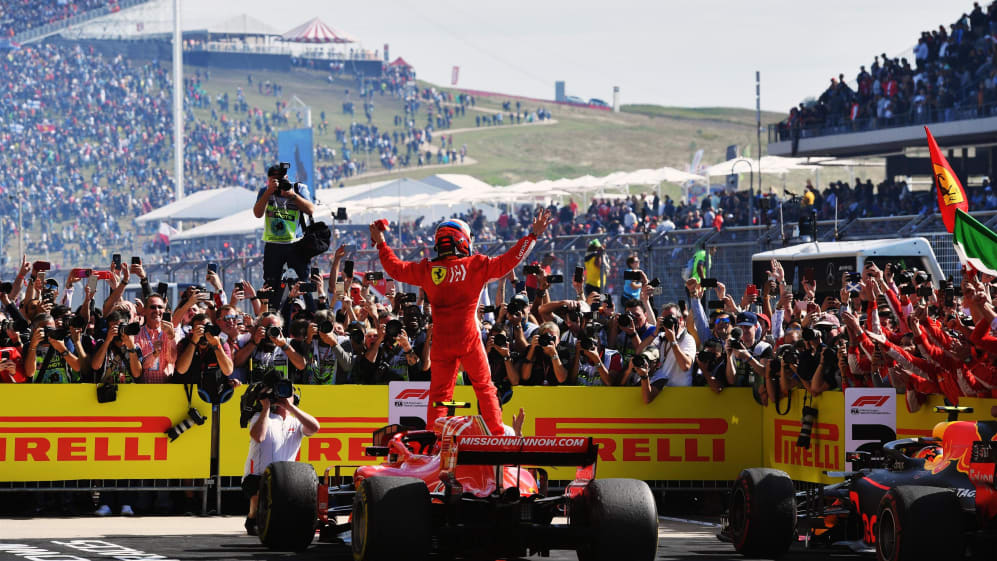 It was set up as the day when Lewis Hamilton would seal a fifth world title. Instead, the United States Grand Prix will be remembered for another piece of history - as the day when Ferrari's Kimi Raikkonen brilliantly broke a 112-race winless streak.
The Finn, whose last victory came all the way back in Australia 2013, 2044 days earlier, came out on top of a titanic three-way battle with Red Bull's Max Verstappen and Mercedes driver Hamilton at Austin's Circuit of The Americas to claim his 21st career victory and become, at 39, F1's oldest race winner since Nigel Mansell in 1994.
"****** finally!" Raikkonen exclaimed in celebration...
Behind Raikkonen, Verstappen put his qualifying woes behind him as he crossed the line 1.2s back to cap a superb drive through the field from 18th on the grid, while Hamilton – who started from pole and led during the middle phase of the race – was forced to settle for third after needing to make one more pit stop than his rivals.
Hamilton will now look to Mexico next weekend as his chance to clinch the 2018 drivers' crown, with his gap to rival Sebastian Vettel stretched to 70 points by virtue of another scruffy race for the Ferrari star.
Vettel started fifth but was 15th at the end of lap one after another first-lap spin, this time following contact with Red Bull's Daniel Ricciardo while battling for fourth.
The German recovered to finish fourth, passing the second Silver Arrow of Valtteri Bottas late on, but even if he wins in Mexico next weekend he will be powerless to stop Hamilton from beating him to becoming just the third man in history to secure five titles if the Briton scores five or more points there.
But as his career with Ferrari winds down, this was a race that will be remembered for a famous Raikkonen victory…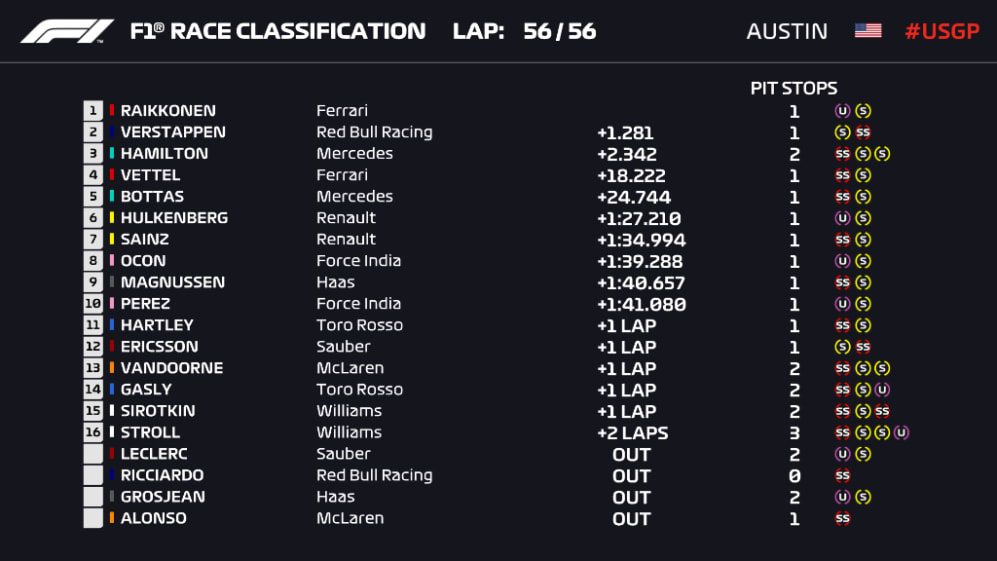 The race as it happened
Having been gifted a front-row grid slot by team mate Vettel, by virtue of the German's three-place grid drop for driving too fast under red flags in practice, Raikkonen made full use of his elevated position and his ultrasoft tyres at the start to jump the supersoft-shod Hamilton into Turn 1.
Team boss Maurizio Arrivabene celebrated the move passionately on the Ferrari pit wall, but his joy would be short lived as later on around the lap Vettel found himself pirouetting in a cloud of tyre smoke in a moment that brought back memories of lap one in Italy.
Battling with Daniel Ricciardo for fourth place, Vettel launched an attack up the inside of the Red Bull. The two banged wheels and before he knew it, Vettel was spinning down to 15th, his already slim title hopes seemingly going up in literal smoke.
That confrontation followed two other clashes on lap one, with Williams' Lance Stroll eventually being given a drive-through penalty for spearing Fernando Alonso's helpless McLaren, leading to the Spaniard's early retirement. "These guys are impossible to race with," Alonso angrily said over team radio before parking his orange car for good.
Charles Leclerc was also in the wars, with Romain Grosjean collecting the Sauber driver at the hairpin and sending him into a spin. The duo would both ultimately retire their cars following the incident, with Grosjean subsequently being handed a three-place grid drop for the next round in Mexico for causing the collision.
Raikkonen, having gained a position on the opening lap for the first time since the 2016 Abu Dhabi Grand Prix, led comfortably in the early running as further back Verstappen and a recovering Vettel made ground.
Behind Hamilton, Bottas ran third with Ricciardo fifth, but the Australian's luck would soon run out as his Red Bull ground to a halt with a power unit issue coming out of Turn 11.
Ricciardo's retirement – his seventh from 18 races this season – would prove a decisive moment. With the Virtual Safety Car (VSC) deployed to allow marshals to clear the stricken RB14, Hamilton was instructed to pit, provided Raikkonen didn't dive in ahead of him.
The Finn stayed out and in came Hamilton, swapping onto soft tyres and losing minimal time in the process, the VSC allowing him to lose just nine seconds to Raikkonen, as opposed to the 20 or so seconds he would have lost under normal racing conditions.
Advantage Hamilton then – or was it? Ferrari confidently told Raikkonen that Hamilton – with so much of the race to run - would need another pit stop, and though the Briton led following the Finn's sole stop on lap 21, the Mercedes driver was indeed forced in for fresh rubber once more on lap 38 after suffering excessive tyre wear.
He rejoined in P4 behind Verstappen in second and Bottas in third, the flying Dutchman having undercut the second Silver Arrow after stopping one lap earlier than the Finn on lap 23.
Vettel, meanwhile, stopped on lap 27, returning in fifth place having steadily climbed the order beforehand. He caught and eventually passed Bottas for fourth on lap 55, but most eyes at that point were on the lead battle.
Hamilton had quickly passed Bottas after his stop and then rapidly set after Verstappen and Raikkonen, who were nine and 12 seconds up the road respectively when he rejoined.
The four-time world champion quickly closed the gap but after latching on to the back of Verstappen, who having brilliantly made his supersoft tyres last had himself closed right onto the rear of Raikkonen's car, he could go no further.
The closest he came was on the penultimate lap, when he and Verstappen dramatically went wheel-to-wheel for several corners, the Dutchman ultimately coming out on top thanks to a stubborn defence as Hamilton ended up running wide.
That squabble gave welcome breathing room to Raikkonen, who duly went on to wrap up a popular victory that moved him one ahead of fellow Finn Mika Hakkinen into 15th in the all-time wins list. He also moved ahead of Bottas into third in the drivers' standings. But while that fight could go down to the wire, the battle for P1 in the drivers' standings now surely looks set...
Behind the frantic action up front, it was a great day for Renault as they finished sixth and seventh with Nico Hulkenberg and Carlos Sainz to strengthen their grip on fourth place in the constructors' standings ahead of Haas, whose home race ended with them missing out on two points for Kevin Magnussen's P9 finish after he was disqualified for using too much fuel.
Force India, meanwhile, took another step towards overhauling McLaren for P6 as Esteban Ocon originally finished a strong eighth and Sergio Perez 10th. However, Ocon was subsequently disqualified after his car was found to have exceeded permitted fuel flow limits on the opening lap.
Combined with Magnussen's exclusion, it meant Perez moved up to eighth, while Toro Rosso's Brendon Hartley and Sauber's Marcus Ericsson were both elevated into the points in ninth and tenth.
The Key Quote
"It's not a big deal for me, it's a much bigger deal for a lot of the people. If it comes, it comes; if it doesn't, it really doesn't change my life one bit. I'm happy we are here and that we win but I think the biggest difference is the way people look at you. If you look at people in a different way if they win or not, it doesn't make a lot of difference in my mind. But obviously I'm happy, just proving some people wrong it's enough fun for me." - Kimi Raikkonen on winning again after a long gap
The Key Stats
Before Raikkonen won, the record for the longest gap between Grand Prix wins had stood at 99 races and was held by Riccardo Patrese (1983 to 1990)
Raikkonen also broke the record for the biggest gap between first and last career wins. It's 15 years and 212 days since the Iceman's maiden win in Malaysia in 2003. Michael Schumacher had previously held the record, having gone 14 years between first and last wins.
Ferrari's victory – which gave Raikkonen his 50th podium for the Scuderia - is their first in the USA since 2006, and ends Mercedes win streak in Austin. The Silver Arrows had won every race at Circuit of The Americas since 2014.
Verstappen finished on the podium for the second time when starting outside the top 10. He went from P16 to P3 at China in 2017, but his journey from P18 to P2 was the lowest anyone had risen in a US Grand Prix since Teo Fabi went from 23rd to 3rd in Detroit in 1984.
With sixth and seventh, Renault scored 14 points – their biggest single race haul of the season
Magnussen gave Haas their best-ever finish in their home Grand Prix, with ninth
Hartley finished 11th for the third time this season, but remains stuck on two points finishes
DRIVER OF THE DAY – Max Verstappen
DHL Fastest Lap
Lewis Hamilton (Mercedes) – 1m 37.392s
What's next?
There's no time for Kimi to rest on his laurels as the championship moves on to Mexico City for Round 19 next weekend. Will the Iceman make it two in a row? Can Hamilton seal the deal in the championship? This is one race you don't want to miss!