Report
Serene Hamilton sweeps to victory in Suzuka to extend championship lead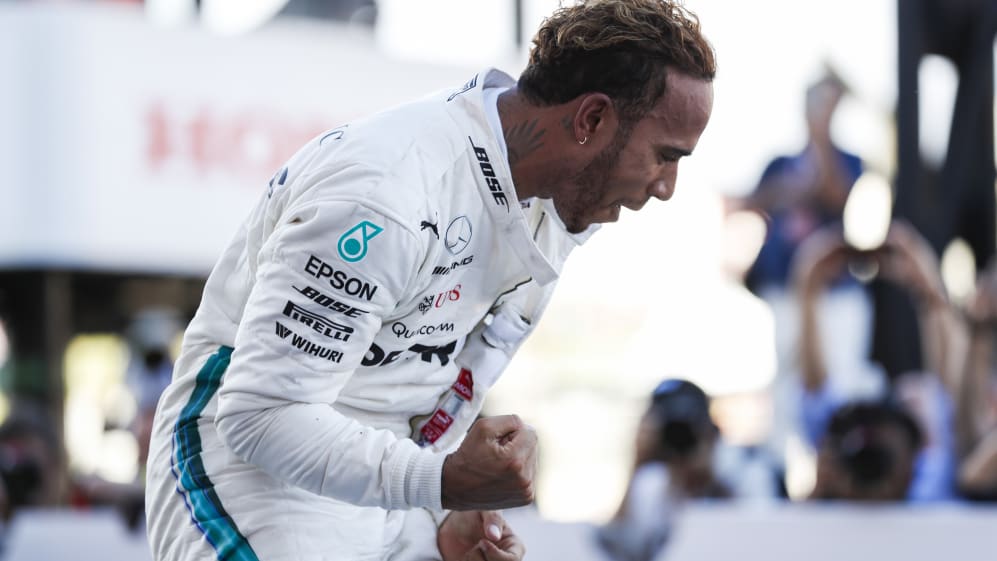 It was a dramatic Japanese Grand Prix for most of the F1 field – but for lights-to-flag victor Lewis Hamilton, it looked to be a serene Sunday afternoon, as he swept to his fifth victory in Japan and his fourth at Suzuka while his title rival Sebastian Vettel ended up sixth.
It was Hamilton's 71st career victory and his 50th for Mercedes, and sees him extend his title lead over Vettel to 67 points, with the German claiming just eight for P6 after a tough race that saw him spin early on following contact with Red Bull's Max Verstappen.
Valtteri Bottas backed up his team mate to make it a Mercedes one-two, while Verstappen survived the Vettel contact and another run-in with the other Ferrari of Kimi Raikkonen to complete the podium - his third rostrum appearance in Suzuka in as many years.
A fantastic recovery drive from Daniel Ricciardo saw the Australian go from P15 on the grid to fourth at the race end, ahead of Raikkonen and Vettel, while Sergio Perez claimed P7 for Force India.
But from the off, this was a race dictated by Lewis Hamilton...
How the race unfolded
Was lap eight of the Japanese Grand Prix the moment where Sebastian Vettel lost the 2018 title? Following his disastrous qualifying on Saturday that saw him take ninth on the grid (later bumped to eighth following a penalty for Esteban Ocon) Vettel had been a tiger off the line at the race start, surging past the Haas of Romain Grosjean and both Toro Rossos, and found himself up in fourth and with every chance of fighting his way through to the front. But then he came up behind Max Verstappen…
The Dutchman never gives up a place easily, and as Vettel tried to slip up the inside of the Red Bull at Spoon, the two touched, sending Vettel spinning off the track. He then had an agonising wait to come back onto the circuit as the cars filed past him, eventually taking up 19th spot.
There had already been plenty of drama before that point. Verstappen had been handed a five-second penalty on the very first lap, after he misjudged his braking at the chicane. As he rejoined the track, Raikkonen tried to go around the outside of Verstappen but was clobbered by the Red Bull.
There was more action going on further down the field too. As Fernando Alonso attacked the Williams of Lance Stroll going into the chicane on lap one he found himself pushed rudely off the track by the Canadian. Stroll was issued with a five-second penalty, while Alonso was judged to have kept his foot in and gained an advantage as he rallycrossed over the gravel, and was handed his own five-seconder.
Elsewhere, as Charles Leclerc came up behind Kevin Magnussen going over the start finish line, the Haas driver moved across the track at the last minute to defend his line. Leclerc had nowhere to go, and as he veered left to avoid a collision, his Sauber punctured Magnussen's left rear tyre, while Leclerc later had to pit for a new front wing. That left Magnussen - who escaped penalty despite Leclerc's protestations - with almost a whole lap to complete as his tyre destroyed itself, the resultant debris bringing out a Safety Car on lap four
Hamilton, who had made a brilliant getaway at the start, managed the lap seven re-start perfectly, gapping second-placed Bottas before settling into a rhythm for the rest of the afternoon. It was Vettel and Ricciardo who were having the lion's share of the action as they each fought back from their respective disasters. Ricciardo's overtaking spot of choice was into Suzuka's chicane, the Australian pulling off a string of neat lunges there to make his way up to fifth by lap 14. Vettel, meanwhile, was clearly undettered by his issues with Verstappen earlier in the race, and largely stuck to his Spoon strategy, nipping past Perez and Grosjean there as he made his way up to P6.
Ricciardo's fifth became fourth after the pit stops as the Red Bull driver benefitted from Raikkonen getting held up in traffic following his pit stop, and although at one point it had looked as if the Australian might go after his team mate's third place the attack never came. Still, P15 to fourth represented a great afternoon's work for Ricciardo.
Verstappen wasn't done yet either, as he hunted down Bottas' Mercedes in the closing stages. By lap 48 of 53, he was just 0.9s back from Bottas after the Finn outbraked himself into the hairpin. But the late race position change ultimately never came, with Bottas having just enough in hand to keep his rival at bay. Verstappen's car was showing signs of damage around the floor area after his Raikkonen and Vettel incidents, so he was happy enough with his third place, and his third straight Suzuka podium.
If we haven't mentioned Hamilton much, it's because his ninth win of the year was smooth sailing. There were occasional flashes of worry for the Mercedes man, as he complained of driveability issues on his W09. But if Ferrari fans were holding out hope for any major issues for Hamilton they were disappointed, as held on to win by almost 13 seconds from Bottas.
On a day that saw several notable midfield drop-outs – Renault's Nico Hulkenberg, Haas' Magnussen and Sauber's Charles Leclerc all failed to see the chequered flag – Sergio Perez put in a strong drive to finish in the prized P7 spot behind the paired up Mercedes, Red Bull and Ferrari cars, stealing the place from Haas's Romain Grosjean, who struggled on medium tyres in the final stint against the soft-shod Mexican.
Toro Rosso's own midfield threat – after the team's drivers had lined up an incredible sixth and seventh in qualifying – failed to materialise on Sunday. Pierre Gasly held a points position for much of the race, but ended the race 11th, two spots ahead of Brendon Hartley, Carlos Sainz having nipped past with two laps to go for the final points position.
So post-Suzuka, Hamilton now sits 67 points clear of Vettel in the drivers' standings, meaning that if he outscores Vettel by just eight points at the next race in Austin, he'll be crowned world champion for the fifth time. And considering that Hamilton has won every race at the Circuit of The Americas since 2014, things aren't looking too rosy right now for Sebastian Vettel...
The key quote
"Naturally I'm very, very happy. The whole weekend has been incredibly strong from the team. A great one-two from Mercedes. A true showing of the real strength in depth we have as a team. This track is the best track in the world. They don't make tracks like this anymore – I don't know why. Every second of the run – it was great fun." – Lewis Hamilton
The key stats
Lewis Hamilton becomes only the second driver in history to win 50 races for one team. Michael Schumacher won 72 with Ferrari.

It was also Lewis Hamilton's sixth victory in the last seven races.

Hamilton also overtook Vettel for the most laps led this season during the race. Vettel's previous record was 341.

It was Mercedes' 44th one-two finish – which is pretty neat considering Hamilton's race number is 44.

It was Valtteri Bottas' eighth podium of the year without a win, while it's the first time he's ever made the podium in Suzuka.

Japan marked the first time since the French Grand Prix in June that Red Bull have had two cars in the top four.

Sergio Perez, Kevin Magnussen and Nico Nulkenberg are now all tied on 53 points in the drivers' standings – although Perez's third from Baku means that he claims the seventh place honours.

Carlos Sainz's 10th place represented the first points for Renault at Suzuka since 2011.

Post-Suzuka, Fernando Alonso moves to second on the all-time laps completed list, overtaking Rubens Barrichello. Just 174 more laps will see him claim Michael Schumacher's top spot record of 16,825 laps.

One consolation for Sebastian Vettel... By taking the race's fastest lap, he denied Lewis Hamilton taking his sixth career grand slam – that's pole, win and fastest lap. Had Hamilton achieved that, he would have passed Alberto Ascari and Michael Schumacher in the all-time list, and find himself second only to Jim Clark, who scored eight.
DRIVER OF THE DAY – Daniel Ricciardo
DHL FASTEST LAP
Sebastian Vettel 1m 32.318s (lap 53)
What's next?
We head back to North America, and Texas' Circuit of The Americas. Race day is on October 21, and could see Lewis Hamilton take title number five. Make sure to tune in then.