Ricciardo 'upset' at missing Brazil podium despite trademark recovery drive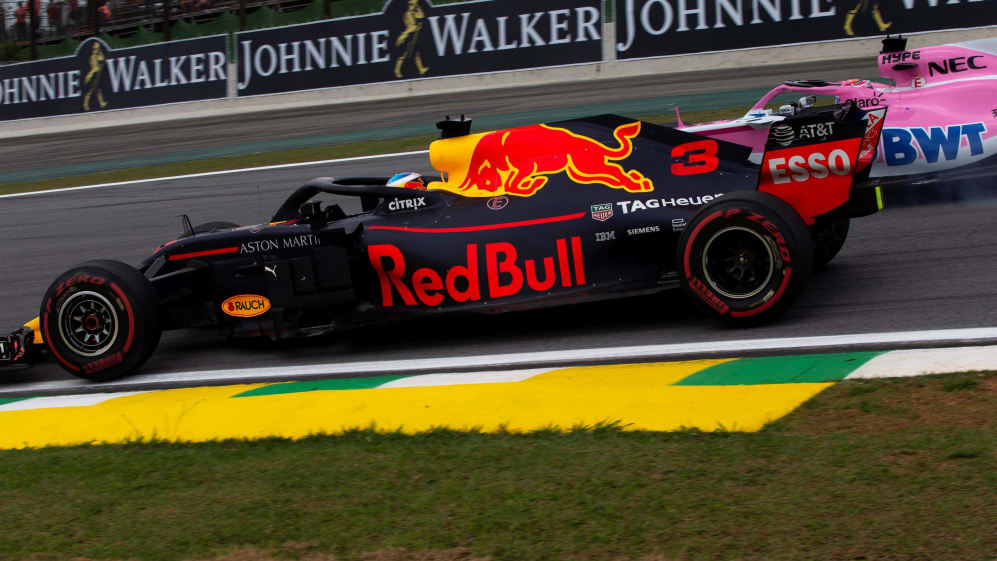 Daniel Ricciardo just can't catch a break at the moment. Ahead of Brazil, he had suffered two successive mechanically-related DNFs, and was then hit with a five-place grid penalty for taking on fresh power-unit elements, leaving his Red Bull down in 11th for the start at Interlagos. That meant a trademark recovery drive was required to stand any chance of a podium finish – and although he fought his way through the field in some style, he came up just short…
The previous two rounds in the United States and Mexico proved to be heartbreaking for Renault-bound Ricciardo - who is parting ways with Red Bull at the end of the season, 10 years after joining their Junior Team - but before those Grands Prix, the Australian produced classic fightbacks in Russia – where he climbed up 12 spots – and Japan, where he made up 11 places.
He repeated those exploits on Sunday, battling his way through the pack and performing superb passes on Ferrari's Sebastian Vettel and Mercedes' Valtteri Bottas to move into the top four. But then he encountered a problem in Kimi Raikkonen, and despite boasting a stronger-than-expected package, he was unable to get ahead of the Prancing Horse.
And while Ricciardo was pleased to have brought his RB14 home in one piece on Sunday, having suffered seven mechanically-related retirements already this season, he couldn't help but feel 'upset' after missing out on a much-craved top-three finish.
"It was fun, for sure, he said. "I don't want this to be another negative interview, it won't be - I'll finish on a positive. But if I'm honest, as soon as I crossed the line I was actually quite upset because the podium was so close and we had the pace.
"I don't have any regrets. I don't feel I lost the podium or the team lost it for me – we did everything we could. I'm not upset about that. I feel every time we start out of position or near the back, we have a fast car.
"So I guess it's probably a bit of built-up frustration. The race was fun. The battles with Seb and Valtteri, I enjoyed them all. We surprisingly had a very fast car today.
"I know we were better than fourth but anyway, I have one more chance with the team to get up there. Abu Dhabi – let's give it our best."
Red Bull were forced to change the turbocharger on Ricciardo's car ahead of Friday practice in Brazil, with Team Principal Christian Horner revealing that it was damaged when a marshal sprayed the fire extinguisher on the rear of the car following his retirement in Mexico.
And although Ricciardo is well aware that things are not going his way recently, he's looking to finish on a high at the season-ending Abu Dhabi Grand Prix in two weeks' time.
He added: "No there isn't (anything I can do). I mean I saw the replay, they showed it on Friday I think just to rub salt in my wounds.
"There was another stat that I have had more DNFs this year than Lewis (Hamilton) has had in the last five years or something - they're really throwing some uppercuts at me.
"I saw the replay and I thought it was just smoke but there was a moment when the flames was there. I'm not going to get angry at the marshal for doing that.
"Their job is to put a fire out if they see one. Again it's a bit like today, I'm not angry at anyone – I just wish it would run perfect. I'll keep trying."