Ricciardo happy to 'put smiles back on faces' as Renault get both cars into Q3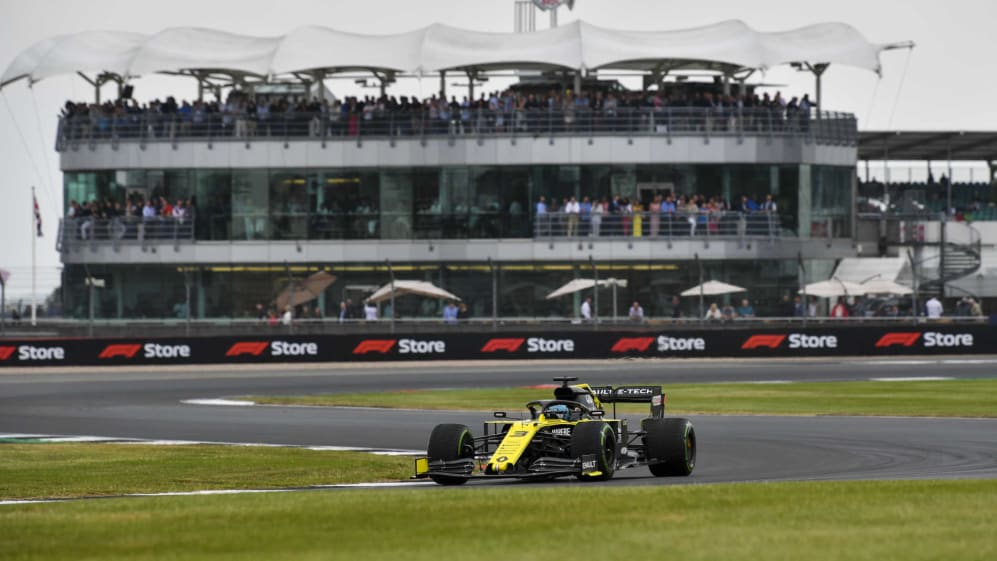 Daniel Ricciardo's weekend started in horrible fashion as his Renault came to a standstill at Chapel midway through Friday's second practice session. And after disappointing form in Austria two weeks ago, Renault must have been fearing the worst ahead of Saturday's all-important qualifying session. But both drivers bounced back in superb fashion to secure their third double top 10 grid result of the season.
Ricciardo broke his Silverstone jinx to out-qualify his team mate at the British Grand Prix for the first time in the turbo-hybrid era, as the Australian stole P7 in the dying moments of the top 10 shootout. Nico Hulkenberg, meanwhile, will line up tenth in a resurgent weekend for Renault after a disappointing Austrian Grand Prix qualifying session which saw both cars fail to make it out of Q2.
"I don't think Q3 was ever in doubt but seventh was definitely a good one for both of us," said Ricciardo. "Both cars in Q3 after Austria, it's a really good recovery. I know there was a lot of sad faces a couple of weeks ago but I'm sure today put a few smiles back on them."
Ricciardo's performance saw Renault top the midfield and beat the McLarens for the first time since Canada. The two teams are locked in battle for fourth position in the constructors' standings and are separated by 20 points heading into tomorrow's race.
Both cars in Q3 after Austria, it's a really good recovery
Ricciardo said: "I didn't really think we would actually make that much of a jump to match the McLarens, especially Lando [Norris] looked like he was really quick all weekend, but yeah we got him. It was a good qualifying all the way through."
Ricciardo made his F1 debut at Silverstone in 2011 and the historic layout has been a fairly happy hunting ground since. He has never picked up a win, but did secure one podium and a string of top 5 finishes when driving for Red Bull.
His former team mate Sebastian Vettel will line up one place ahead of him on Sunday's grid, but while Ricciardo would like to challenge the Ferrari in tomorrow's race, he feels that gaining points on Renault's rivals is his number-one priority.
"I think [Vettel] would need a pretty average race for me to get into his fight," he added. "I mean I've been there with a faster car and when it doesn't feel like it's going well you've still normally got enough to keep at least our pack behind for now.
"So I'd like to target him, but I think really we'll just try and hold onto this seventh and get some points back, on McLaren and the rivals."
Ricciardo lies tenth in the drivers' standings, tied on 16 points with team mate Hulkenberg who sits 11th in the table.