Ricciardo left frustrated despite having 'the race we expected' in Singapore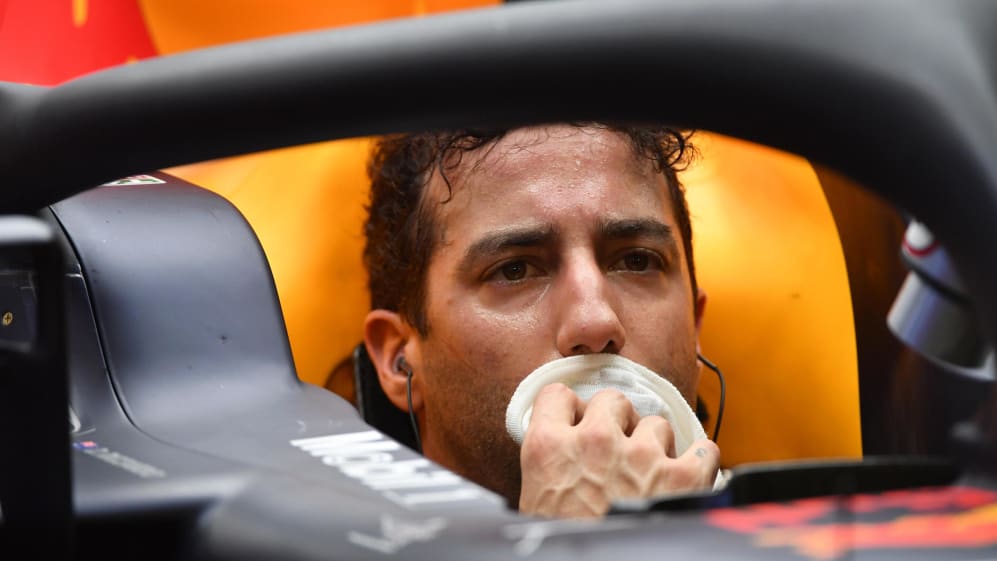 At Monaco this season, Daniel Ricciardo rubbed his rivals' noses in it, winning out from Sebastian Vettel and Lewis Hamilton despite the fact that he was nursing an MGU-K issue. In Singapore, it was the Australian's turn to feel the frustrations of street circuit racing, as he was left to finish sixth, stuck behind the fighting Finns of Valtteri Bottas and Kimi Raikkonen.
Ricciardo enjoyed an impressive record around Marina Bay heading into the weekend, having made it onto the podium at every Singapore Grand Prix since he became a Red Bull driver in 2014. That trend ended this year, however. It was a visibly emotional Ricciardo who spoke to the press on Saturday evening after qualifying sixth, the Australian mystified as to where the pace that saw him finish fastest in the Q1 segment of the session had disappeared to.
Then on race day again, Ricciardo was never a factor at the head of the field. Although he long-stinted his hypersofts until lap 27, he was unable to capitalise on his fresh ultrasoft rubber as he became hemmed in behind Bottas and Raikkonen – the Red Bull driver's hopes of getting by and making progress hampered by the dual factors of the difficulty of following the car in front at Marina Bay plus the difficulty of overtaking in Singapore in general. Ricciardo turned up the pace at the end, but to no avail, as he was unable to get close enough to find a way past the Finns.
In Monaco, I listened to Lewis in seventh place complaining about following closely and now I understand what he was complaining about
"Qualifying is so important here and the race was really lost yesterday," said Ricciardo, who had to watch on as his team mate Max Verstappen converted second place in qualifying to the same result in the race.
"I could catch Kimi, I would stay close to him for a couple of laps and then I would have to back off. I had the pace to get back on his gearbox but I was never quite close enough to make a move. I really had to hope for a mistake or that Kimi and Valtteri would start tangling and I could capitalise.
"I got close at Turn 13 on the last lap, but it wasn't close enough. Street circuits are my favourite tracks to drive but they can also be frustrating. In Monaco, I listened to Lewis in seventh place complaining about following closely and now I understand what he was complaining about. I think everyone was in the same boat.
"I would have loved to fight for something more today but I couldn't," he added. "I'd hoped for a better race but that's the race we expected."
As recently as the French Grand Prix in June, Ricciardo was considered an outside bet for title honours, lying third in the drivers' championship after stand-out wins in China and Monaco. That must seem like an eon ago for the Renault-bound Ricciardo, who's added just 30 points to his tally in the seven Grands Prix since then, and now finds himself down in sixth in the standings, 22 points behind fifth-placed Verstappen.