Ricciardo now part of three-way title fight - Hamilton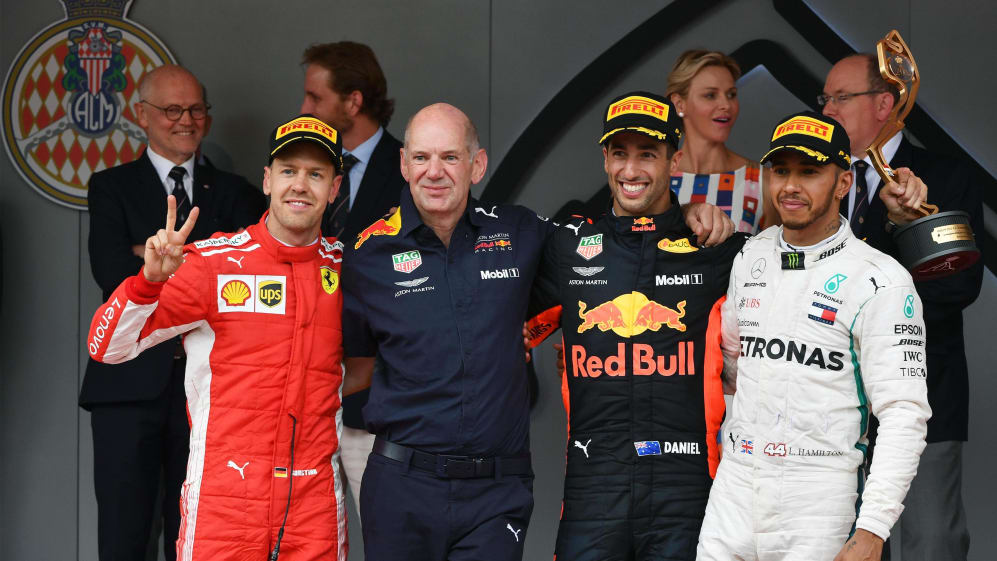 Red Bull haven't had consistently good results this season but Daniel Ricciardo's two wins – in China and Monaco - make him a real title contender in the eyes of Mercedes rival Lewis Hamilton...
Ricciardo's defensive drive in an ailing car in Monte Carlo was in stark contrast to his spectacular charge through the field to victory in Shanghai, but it moved him level with Hamilton and Sebastian Vettel on two wins apiece so far in 2018.
The problem for Red Bull has been retirements and issues in other races, with Ricciardo only adding a further 22 points to his victories and failing to finish in Bahrain and Azerbaijan.
Monaco's success at least saw Ricciardo move into third place in the drivers' championship and despite a 38-point advantage over the Honey Badger, Hamilton sees him as a genuine title threat.
"It definitely is a three-way fight," said Hamilton. "Ferrari, I think, are still the strongest. Their car was quick [in Monaco], their car was working quite well through the whole season so far and they have dropped the ball a few times and we've capitalised on that so we are further ahead than we would be if everyone had done the same job, if you know what I mean.
"But I still feel they're the strongest and Sebastian has been doing the strongest job. But it is a three-way battle. I think Red Bull potentially have got an upgrade coming at some stage, engine-wise I think at the next race, so it will be interesting to see their performance and they will continue to get stronger through the year.
"So hopefully, while maybe the race [in Monaco] was not the most exciting, it's great for the fans to see this battle that we have.
"I'm telling you, we're doing everything we can to win the race - and then the Red Bulls win it, then the Ferraris win it and then we win. It's great to have that. I personally love it and it's challenging me more than I can express.
"It's the biggest challenge that I've had with my boys, but I'm loving that challenge. I'm loving having to dig super deep in my technical knowledge and learning more and how I can communicate, how I can really pick the right set-up and get it right for the weekend - all these different things. I'm enjoying that."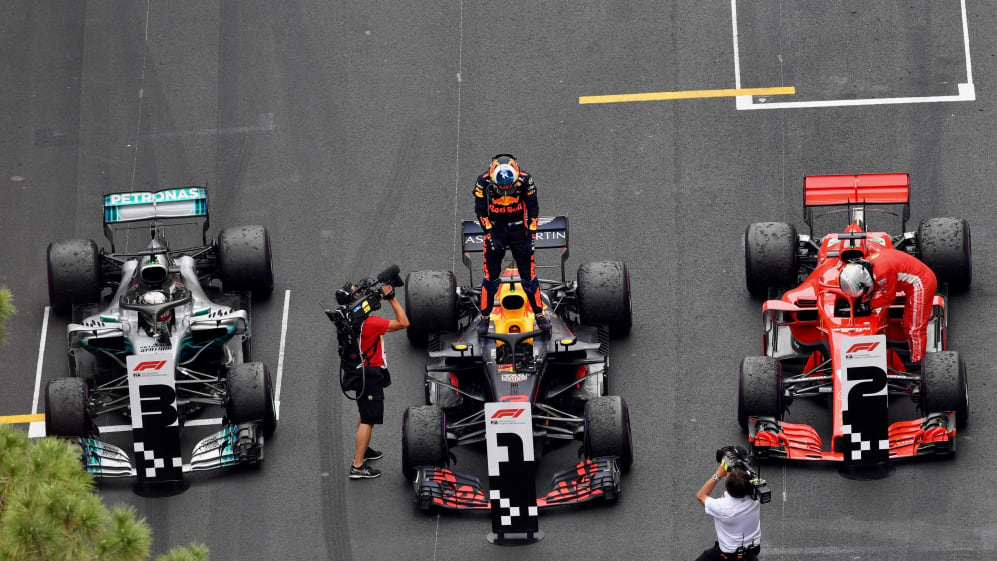 Like Hamilton, Ricciardo doesn't have a contract in place for 2019 at this stage, but the championship leader believes the Monaco winner should stay with Red Bull as long as he is getting equal treatment to Max Verstappen, given the opportunities at Mercedes and Ferrari are limited.
"Ultimately he's got a team mate that from what I hear is making a lot more money than him yet he's more consistent, keeping the car together a lot more and more often than not pulling through," said Hamilton. "So it's important in the team to always feel you're valued or at your worth and your contribution to it.
"I would imagine his future is there, but he's one of the top drivers so I'm sure there will be options for him. Obviously in the top areas there's only Ferrari and Mercedes he could ever consider, but currently here that's unlikely, I don't think that's going to happen.
"And then if you look at Ferrari I imagine Kimi [Raikkonen] is going to want to continue. I mean, why not? He's driving really, really well this year and he doesn't seem to be aging so I think he will go a little bit longer.
"At the moment [Ricciardo] is pretty much the lead driver in that team so it's not a bad place to be. If at some stage Red Bull get an engine they're going to be even closer in the mix with us, and there is still a long, long way to go [this year] obviously. Who knows? They could win many more races.
"So I think he's just got to keep his head down, keep doing what he's doing, but he should definitely have a contract on his table and he should have his options ready. I was talking to him and I don't know if he has all his options already lined out for him and I was like 'Get them to your manager dude! Let me know if you want me to do it!'"
Hamilton had to settle for third place in Monte Carlo, but the Briton still leads the championship on 110 points – 14 ahead of his nearest rival, Vettel.