Podcast
Ross Brawn on Michael Schumacher – the driver, the leader, the man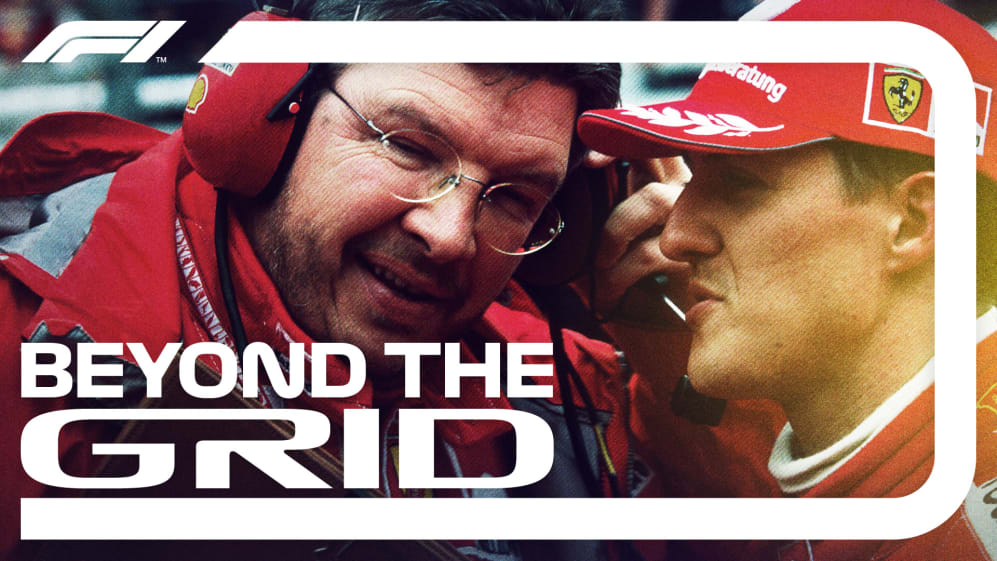 As part of a special week of content dedicated to the 50th birthday celebrations of Michael Schumacher, Formula 1 motorsport boss Ross Brawn speaks to the official F1 podcast Beyond The Grid, presented by Bose about what it was like working alongside the great German for all seven of his world championships.
Watching the heft of Derek Warwick tear down the Nurburgring pitlane, intent on punching the bemulleted head of a young German racer who'd just deliberately driven his Mercedes sportscar into Warwick's Jaguar – it wasn't the most auspicious way for Michael Schumacher to come to the attention of Ross Brawn.
Actually, Schumacher had been causing problems for the Jaguar team that Brawn was a designer for all through the 1990 and 1991 World Sportscar Championship seasons, as the stand-out super-fast young talent in a Mercedes shared with future F1 racers Karl Wendingler and Heinz-Harald Frentzen.
"The year we had the championship-winning Jaguar [in 1991], the only other opposition we truly had, quite frankly, was Michael in the Mercedes, because the other drivers weren't anywhere near as good," remembers Brawn in a special episode of Beyond The Grid. "Sportscars were about going quick but also driving to fuel – driving semi-economy runs during the race. But he was doing lap times on less fuel than the others, and beating them by a mile.
"We were saved a little bit by the fact that the Mercedes management gave each of their drivers an equal stint in the car, so Michael would go out and give us all sorts of grief and then the other two would give us some comfort."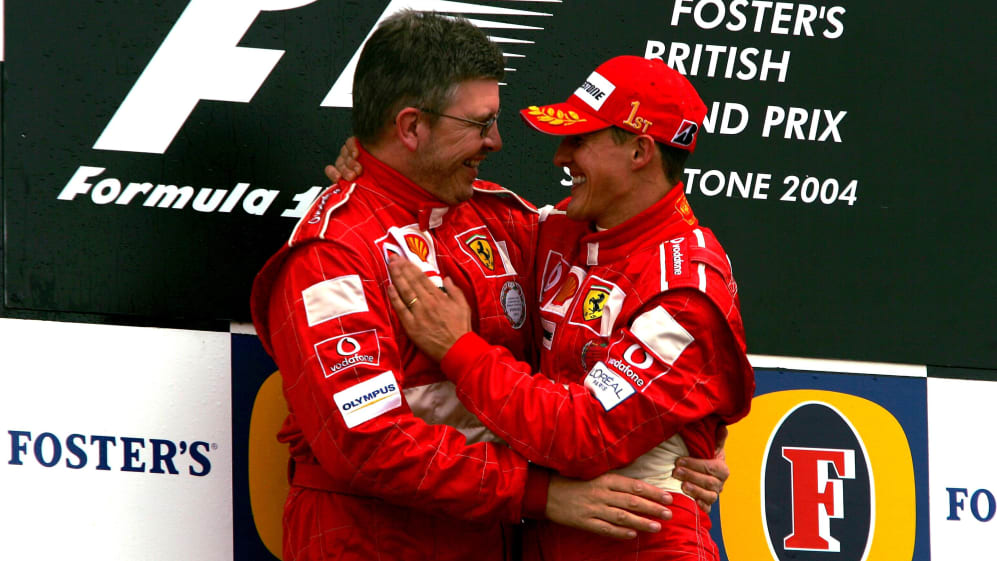 Just one week after Schumacher narrowly avoided a Derek Warwick-derived beating – "I had to stand between the two before Derek whacked him," chuckles Brawn – Schumacher was wearing Jordan overalls and competing in his first Formula 1 Grand Prix at Spa in Belgium, for which he sensationally qualified seventh. Two weeks after that – and following some costly and complicated contractual wrangling – Schumacher and Brawn were paired together for the first time at Benetton for the 1991 Italian Grand Prix. One of the most successful partnerships in racing history had begun.
You know what happened then, of course: the two championships for Benetton, the rebuilding of Ferrari that yielded a further five and their last hurrah together in three seasons at Mercedes Grand Prix. Now, as we arrive at Schumacher's 50th birthday celebrations, enjoy the very special reminisces and colourful anecdotes of Ross Brawn, the man whose technical prowess helped write the Schumacher legend in Formula 1, and who perhaps knew Schumacher the Man better than almost anyone else.
Listen to the episode via the player above, or via Apple Podcasts, Spotify or your favourite podcast app – and don't forget to subscribe to make sure you don't miss out...
Click here to check out all the episodes of Beyond The Grid to date.