Russell apologises for first lap incident with Sainz after 'miserable afternoon' at COTA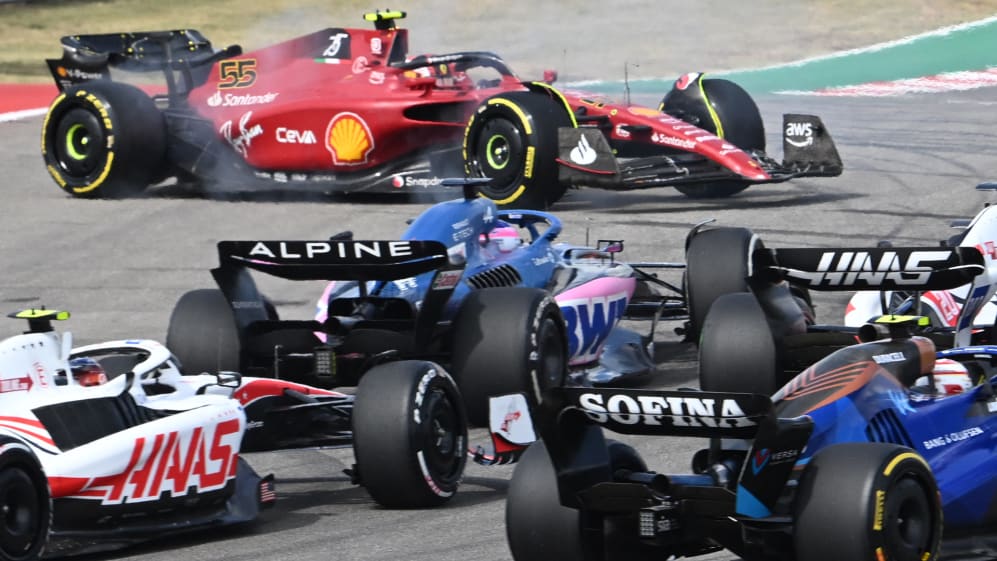 George Russell was left frustrated after what he called a "miserable afternoon" in Austin that saw him take the chequered flag in fifth place – as the Mercedes driver also reflected on his part in the first lap incident with the Ferrari of Carlos Sainz.
Russell started in fourth place on the grid and made a solid getaway on the run down to Turn 1. However, the Mercedes driver locked up into the corner and hit the side of Sainz's car, spinning the Spaniard around before he was forced to retire with water leak damage.
READ MORE: Pole-sitter Sainz says he 'paid the price again' after suffering sixth DNF of the season in United States Grand Prix start
"Firstly, apologies to Carlos," said Russell. "You never want to be involved in an incident that ultimately destroys somebody else's race. When I attacked Turn 1, I was focused on the three cars around me and I was expecting Carlos to try and fight it around the outside of Max [Verstappen] so I braked quite deep into the corner.
"Then when I saw he tried cutting back underneath Max, it was already too late for me there, and I couldn't avoid the incident. Hands up from my side, should have been aware of that possibility. From there on in it was a really miserable afternoon for me."
He continued: "I've been off the pace all weekend and then we had some damage. So, it would give me a bit of peace of mind this evening if that damage turns out to be worse than expected. But as soon I recognised that we were out of tracking range of a better position, it was a matter of fact of just trying to bring the car home."
Russell was later asked if there were any indications as to why he had struggled for pace compared to team mate Hamilton, who took P2 on Sunday.
READ MORE: Hamilton says 'it felt amazing' to lead US Grand Prix as wait for victory continues
"Few ideas. I think we've got a few reasons why," he replied. "Very difficult in these conditions and we clearly see compared to Red Bull where we are strong, were we are weak. But for me personally, not too sure.
"I'm not too concerned because it is a bit of a unique circuit. Quite bumpy, it was quite windy. It wasn't a straight-forward weekend and as I said the pace yesterday was pretty good in qualifying. The pace in my FP2 Pirelli test running compared to Red Bull and Lewis was good. It was just today it wasn't there. [We] need to understand why."
Mercedes outscored Ferrari in Austin and, heading into Mexico, the Silver Arrows are now 53 points behind the Scuderia in the chase for second.