Russell remarks on 'strange feeling' after first Mercedes test since signing for 2022
George Russell said it was a surreal feeling driving for eight-time constructors' champions Mercedes in the post-season Abu Dhabi test, after retiring from his final Williams outing last weekend.
This isn't the first time Russell has driven a Mercedes, having first tested for the team driving the Mercedes W08 at the Hungaroring in 2017 and even raced for them in the 2020 Sakhir GP.
In 2022, though, he'll be Lewis Hamilton's team mate, with Russell straight into action for Mercedes in the two-day Abu Dhabi session that saw him post 131 laps on the 18-inch Pirelli tyres on Tuesday.
READ MORE: De Vries fastest for Mercedes on day one of post-season Abu Dhabi test
"It's a strange feeling because I've tested with the team numerous times after races, end-of-season and now here we are again, but obviously it's my first time as an official driver for the team," said Russell.
"So it was a really great day to be back with the guys and learning about these new tyres. It's obviously always a pleasant experience driving a World Championship-winning car, the 2019 Mercedes, and with these 18-inch Pirellis, which seemed to react pretty positively so yes – it was a nice day."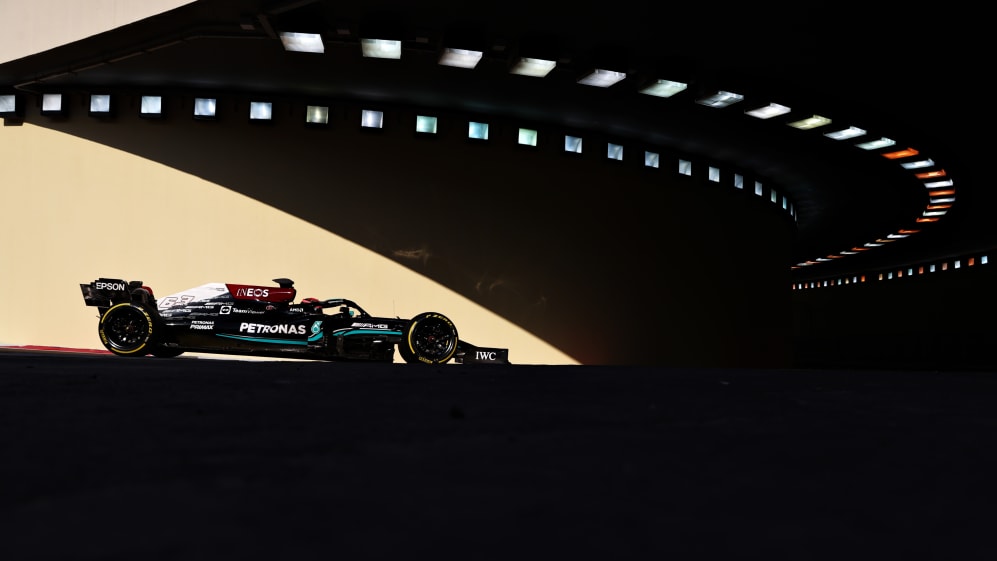 The 23-year-old tested with the permission of Williams, for whom he just completed his final race after three seasons. Abu Dhabi, however, ended with Russell limping his car back to the pits with a loss of drive. And he was asked on Sunday if that was the way he wanted his Williams tenure to end.
"No, it wasn't," he replied. "But I think it was very unfortunate; we had something fly into the airbox above my helmet which caused the engine to overheat and ultimately I had to retire.
GALLERY: Bottas, Russell and Zhou hit the track in their new colours in Abu Dhabi test
"Nothing anybody could do about that but nevertheless with both Alfas retiring we're still P8 in the constructors' championship so on the whole, as a season, it's been pretty spectacular," he added.
He's got a mission to accomplish with Mercedes now, the constructors' champions looking to add a ninth title to their bulging trophy cabinet in 2022 while aiming to reclaim the drivers' trophy too.
"It's a good car, it's definitely a very good car. Even though it's modified it gives you confidence and it's a real joy to drive, you can put it on the limit, you've got confidence in it and it's something I've struggled with a little bit in the past season," he said of the 2019 Mercedes, which he steps back into today.
READ MORE: Hamilton and Bottas hail 'huge achievement' as Mercedes clinch record eighth constructors' title
"That's why it won the championship back in 2019 and as I say, a great experience."
But Russell did have one issue: sore feet, as the 2019 W10 left him squeezing in and facing little in the way of breathing room.
"I'm a bit battered and bruised today to be honest, it's pretty damn tight in that car, but next year will be much better.
"I'll have a bit more room to breathe so looking forward to that. But suck it up, get on with it, and I've got all of Christmas to recover!" he summarised in Abu Dhabi.