Russell says no team mate has pushed him as much as Hamilton as he prepares for 100th F1 start in Austin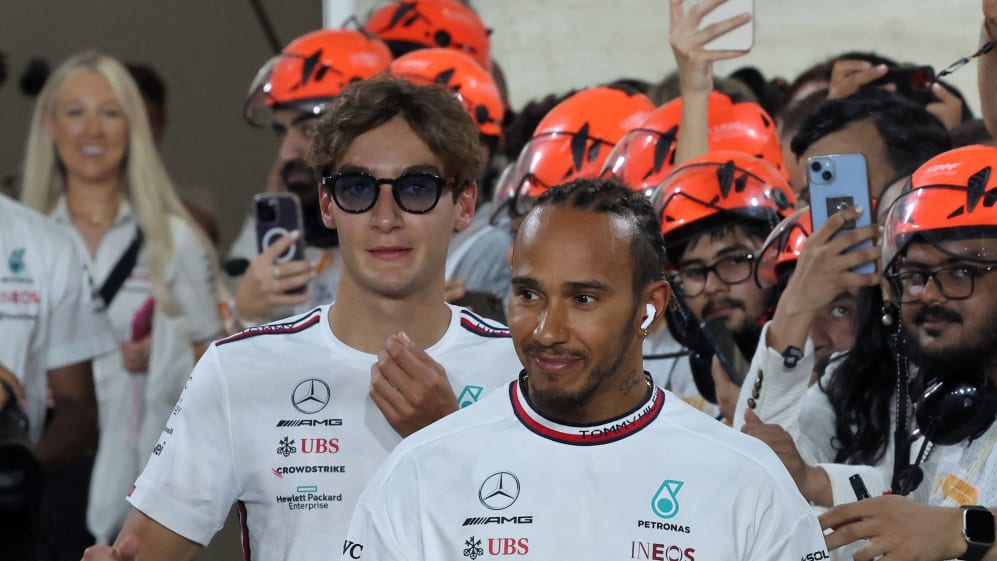 George Russell says he is in a "privileged position" being team mates with Lewis Hamilton, admitting that going toe-to-toe with the seven-time world champion gives him a lot of "confidence" in his abilities.
Russell – a former Mercedes junior driver – joined the Silver Arrows from Williams at the start of the 2022 season, joining forces with Hamilton – who has won six of his seven drivers' titles during his decade long stint with the team.
READ MORE: Allison explains new Mercedes floor in Austin as team hope to 'level terms' with McLaren
In their first season together, Russell finished fourth in the championship ahead of Hamilton, in sixth – with the pair separated by 35 points in the standings. As well as that, he led Hamilton in a Mercedes one-two finish at their lone win of the campaign in Brazil.
This year, however, Hamilton leads the inter-team battle as he currently sits third in the standings, 62 points ahead of Russell in eighth. Speaking recently on the Beyond the Grid podcast, Russell spoke about comparing himself to Hamilton.
"It's such a privileged position to be in, because not many drivers get that chance," said Russell. "We all believe in ourselves. We all believe we are the best and we all believe that when we get the car, we will win championships.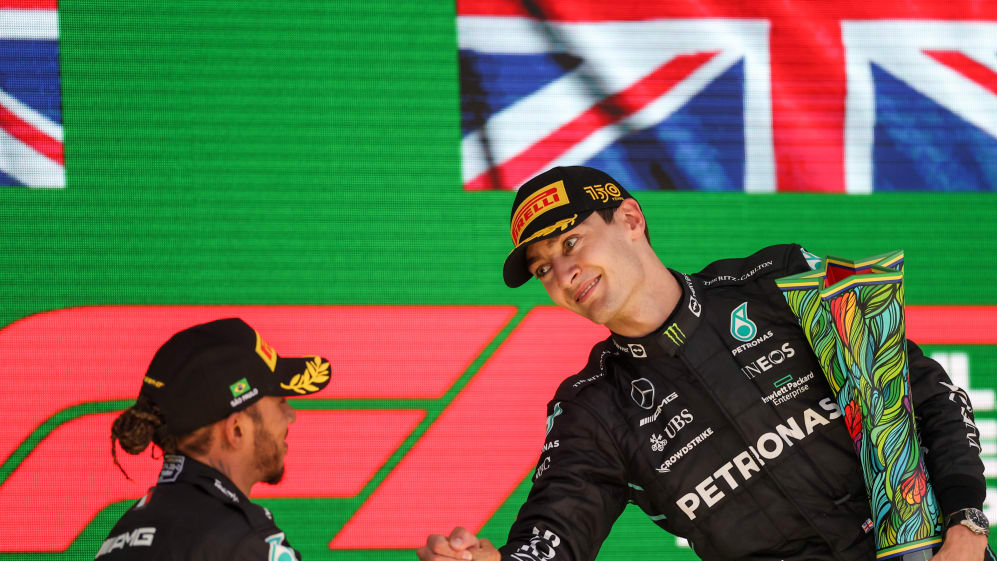 "I can very, very confidently sit here and say there's probably five drivers on this grid that, if you put them in the best car, they will win the championship.
"I have no doubt about that. For me, Lewis is one of those guys. If I'm going head-to-head with him, week in, week out, that gives me the benchmark.
READ MORE: Wolff admits frustrations following Hamilton and Russell Qatar crash but backs pair to 'grow' ahead of Austin
"I don't think I've ever been pushed in my whole career like I've been pushed in the last year and a half. To see that I'm swimming, and swimming well, gives me so much faith in myself, so much confidence, that I always had, but there's no doubt now.
"I truly believe in myself, the team believe in me, and that's been really down to the fact that I've been team mates with Lewis and held my own."
Russell made his debut for Williams at the 2019 Australian Grand Prix and five seasons later, he is set to start his 100th race in F1. His victory in Sao Paulo last year is his lone win so far, but Russell has no doubt his time will come.
"I really feel like I'm only just getting started," said Russell. "There's obviously a lot of races per season, so they rack up quickly and I don't feel like I've even begun yet. I think I'm performing at a really high level.
READ MORE: Mercedes target podium return in Austin but admit to key 'worry' against Red Bull and McLaren
"I'm really happy with my own performance, but I recognise that you need to sustain this performance and be ready for when the car gives you that opportunity. But I've got no doubt that my time and my chance will come.
"I hate that, saying that I'm going to be patient and wait, but that's unfortunately the nature of Formula 1. I'm not the only driver in this situation right now."