Russell says 'unpleasant experience' and misjudged recovery led to his Q3-defining mistake
George Russell explained that an "unpleasant experience" led to the mistake that saw him beach his Mercedes in Q3 at Sao Paulo, while Lewis Hamilton said he was "unfortunate" to end up eighth on Friday evening.
It was Kevin Magnussen who made the headlines on Friday in Brazil after the Danish driver got his Q3 lap in early, before the rain, and before Russell's off at Turn 5 that saw the Briton lock-up, head into the gravel, and then beach his car in an attempt to recover. That mistake brought out the red flags that saw Magnussen take his maiden pole position.
READ MORE: Magnussen masters timing at Interlagos to claim sensational maiden pole position in wet-dry Friday qualifying
"What was going through my mind was getting a really bad headache," said Russell. "I'd broken the headrest because my head was banging so much and it was a pretty unpleasant experience. And then I lost the rear and I booted [the accelerator] – I wanted to do a 360 – then dipped the rears in the gravel. Probably not the wisest choice I ever made, but as it turned out, we knew that first lap was it.
"There should be no damage," he added. "Always a bit tentative when it's being lifted up onto the tow truck and the guys are going to have to take the car to pieces tonight just to make sure we've got all the gravel out – but it should be okay."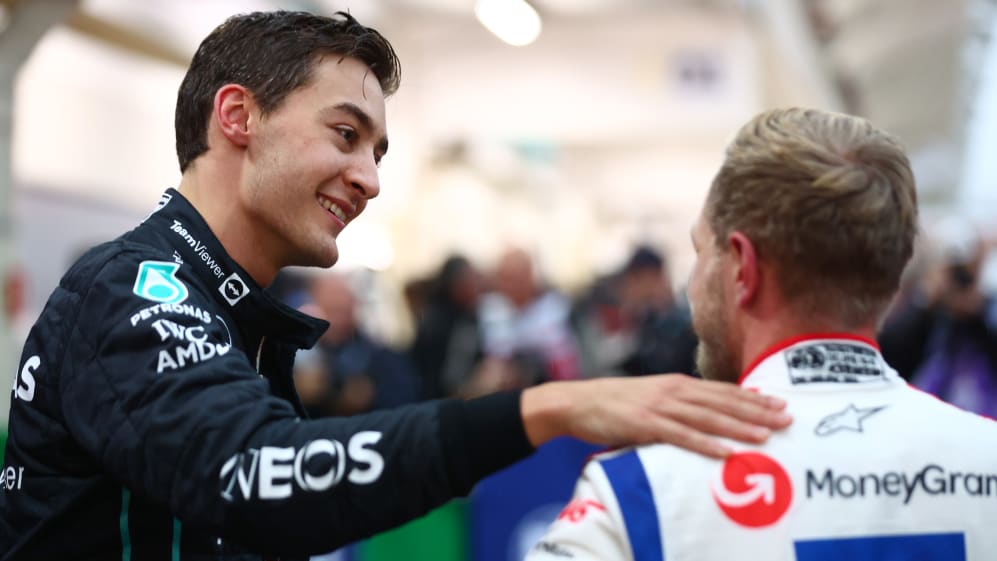 The Mercedes driver will start third in Saturday's Sprint and said that his position in the pit lane at the start of Q3 – towards the back of the pack – left him with mixed emotions in qualifying.
"I think probably more mixed emotions because we were obviously one of the last cars to go out in qualifying and it was such a unique experience, because as the lap progressed, the rain was just falling harder and harder.
"I got to the last corner, and it was a lot wetter than it was on the lap before – so we had to be really tentative – but massive congrats to Kevin and Haas. This is what Formula 1 and sport is about, to have some crazy results like this. But for us, P3, good place to start for the Sprint tomorrow," Russell explained.
READ MORE: Magnussen vows 'maximum attack' after clinching pole and securing P1 for Sao Paulo Sprint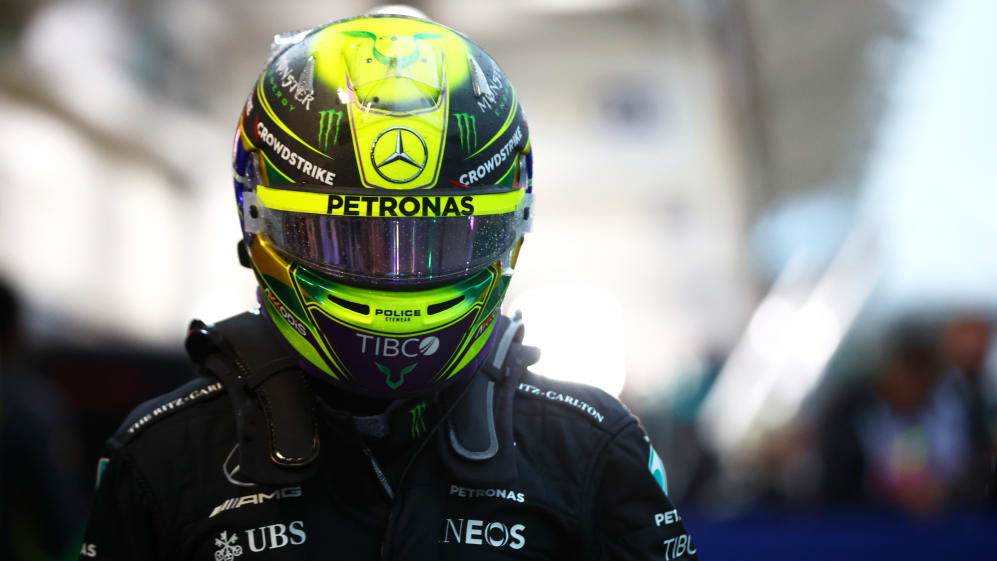 Hamilton, who qualified eighth ahead of Perez in P9 and Charles Leclerc in P10, also rued his position at the back of the line at the beginning of Q3.
FACTS AND STATS: Haas claim the record for the longest pole wait for a constructor in F1 history
"I was the last car out, so I think I got the… earliest part of the rain, or something, so yeah, probably lost too much temperature in the pit lane as well. Just a bit unfortunate, but George did a great job, and congratulations to Kevin," said the seven-time champion.
Mercedes entered Sao Paulo 40 points off Ferrari and now have an extra chance to catch up as the Sprint pays out for the top-eight finishers.