Magnussen vows 'maximum attack' after clinching pole and securing P1 for Sao Paulo Sprint
Kevin Magnussen pulled off one of Formula 1's great qualifying shocks as he topped qualifying for Haas in Sao Paulo. The 30-year-old was astonished by his result, which saw him take his first F1 pole position, on Friday evening.
In qualifying – which set the grid for the Sprint that, in turn, sets the grid for Sunday's Grand Prix – Magnussen emerged first and set the benchmark in Q3. That was just before George Russell went off at Turn 5 and then rain began to fall, which essentially cemented Magnussen and Haas's maiden Formula 1 pole position.
READ MORE: Magnussen masters timing at Interlagos to claim sensational maiden pole position in wet-dry Friday qualifying
"[It's been] a long time, yeah, and I still can't really believe it," said the Danish driver. "What a phenomenal job the team did to put me out on pit lane as the first car to give me the best piece of track. It was starting to rain, so that was the crucial part today, just getting the best track for me, and amazing job by them, you know."
Asked if he was aiming to win Saturday's Sprint, with Magnussen sharing the front-row with two-time champion Max Verstappen, the Haas driver replied: "Absolutely, I'm a racing driver, I'm on pole position… Yeah, maximum attack. Let's go for something funny."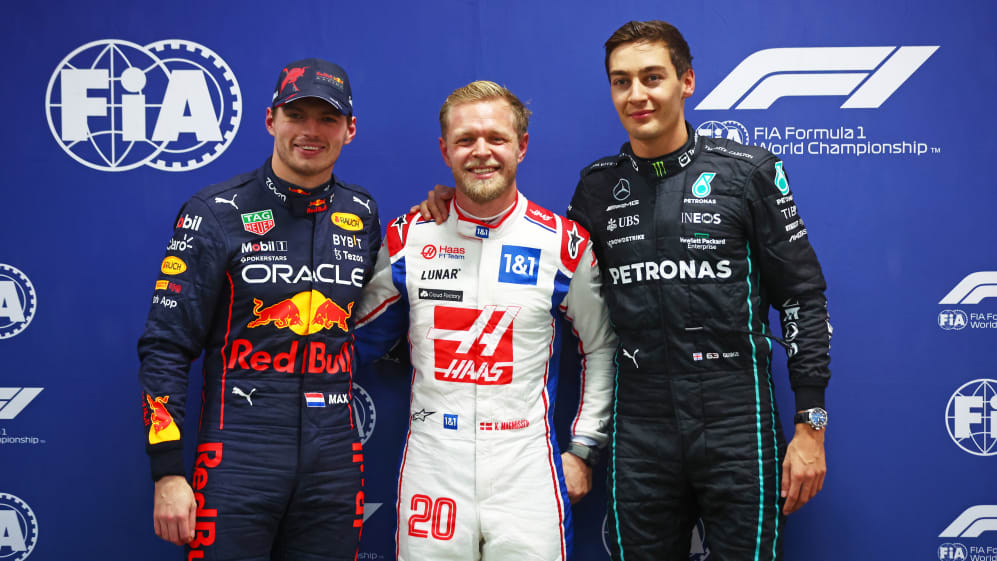 The Dane, who rejoined Haas in March this year after the departure of Nikita Mazepin, said that his car was "perfect" for the wet-dry conditions in qualifying.
"It was Q3, you've got to go for it. The car was strong, we were in contention for Q3, we were looking good enough for that, but it was always a bit drizzle, not fully dry, so our car was perfect for that," he said.
"Today the big difference was getting me out into the pit lane as the first car and giving me the best piece of track there today," reiterated Magnussen.
On his debut for McLaren back in 2014, Magnussen took a podium – and there were inevitable comparisons between those two career highlights.
"I think it [pole] feels better. I didn't know what to expect back then. I came in as this arrogant little kid thinking I was the king of the world and then I had a lot of lessons after that, showing how difficult it really is in this sport, and now I'm on pole position, so I've just got to enjoy it.
READ MORE: How does the F1 Sprint work? The format explained ahead of its return this weekend in Brazil
"Yeah I've just got to enjoy this moment until tomorrow, lining up on pole position and seeing my car, my white little Haas car there on pole position, it's going to be a lot of fun," he added.
Eighth-place constructors' Haas hope to cause another shock in Saturday's Sprint as they hold a one-point advantage over AlphaTauri going into the 100km dash.