Russell set to start from pit lane in Singapore after taking on new power unit elements
Mercedes have made the call to take on new power unit elements for George Russell's W13 for the Singapore Grand Prix – with the Briton set to drop from his P11 grid slot to a pit lane start.
Russell was a surprise Q2 drop out in the treacherous damp conditions of Saturday's qualifying session, the Mercedes driver dealing with a brake issue on his #63 car to boot, as he was forced to settle for 11th on the grid.
READ MORE: Hamilton escapes penalty for wearing jewellery as Mercedes fined €25,000 for self-scrutineering form 'error'
And with little to lose, Mercedes opted to kit Russell out with a new internal combustion engine, turbocharger, motor generator unit – heat (MGU-H), motor generator unit – kinetic (MGU-K), energy store and control electronics.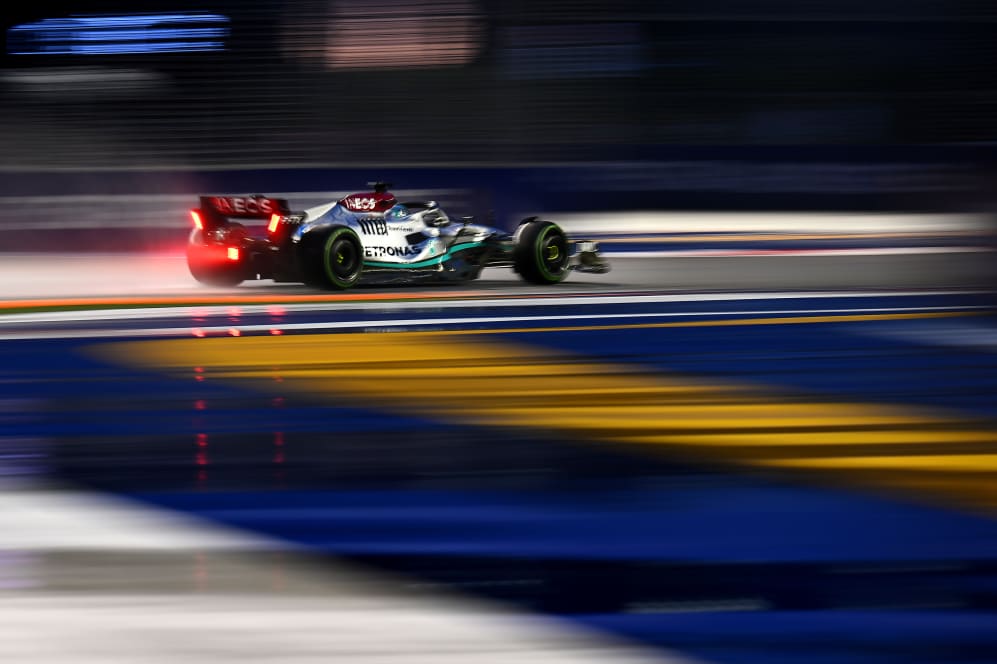 However, with those changes having been made without the approval of the FIA technical delegate, what would usually be a back-of-the-grid start will become a pit lane start, Mercedes having breached the terms of Article 40.3 of the 2022 Formula One Sporting Regulations.
READ MORE: Hamilton says P3 in Singapore 'incredibly rewarding', as Russell left 'bitterly disappointed' with Q2 exit
Meanwhile, on Saturday night in Singapore, Mercedes were also handed a €25,000 fine for an error on their self-scrutineering form which claimed that Lewis Hamilton – who will start the race from P3, behind Charles Leclerc and Sergio Perez – was not sporting his nose stud, with Hamilton himself escaping sanction.